Kawasaki/Racer X Race Report: Toronto
The term, "If this is any indication of what the rest of the season will be like, we're in for a great series" is often overused in motorsports, but perhaps we can dust that term off and bronze it this time. The Toronto Supercross, round one of the Amp'd Mobile World Supercross GP, will go down as one of the wildest and craziest nights in recent supercross memory, and there are now way more questions after the race than there even were before it.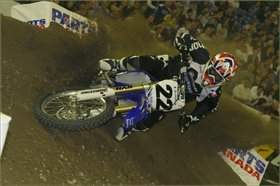 Chad Reed had speed, and he won on a wild, crazy night.


Many of those questions can't be answered at this point, as third-place finisher James Stewart—the title favorite—ended the race with a solid result but also a possible injury, and he could not leave the track under his own power. And this was the second controversy for Stewart today, after his run in with Ivan Tedesco during practice that left Tedesco with his own injury. And Stewart ended up hurt, and in third, due to a wild chain of events that had the Toronto fans basically exhausted after cheering the whole night long. Meanwhile, Chad Reed pulled out a huge, emotional win in his first ride with his new team. It was that kind of night.

In this race, the actions during the race on the track don't tell the whole story, but we'll give you the story of the race anyway. First, in practice, Tedesco and Stewart came together as they jumped a dragon back before a left had turn. Tedesco was on the outside and Stewart on the inside, and—depending on who you talk to-Stewart either landed on IT or the two came together as incidental contact. Either way, Tedesco appears to have a broken hand and will have a specialist look at the injury on Monday. Also, Suzuki filed a grievance with the FIM for rough riding on Stewart. No word on how that will turn out.

Anyway, that afternoon incident may have set the stage for a wild night show. Ricky Carmichael and Stewart won the heat races, but it was Xyience/MDK Honda's Nick Wey grabbing the Progressive Direct Holeshot in the main. Reed and Carmichael had good starts while Stewart was buried about mid pack. Carmichael was soon all over Wey trying to get into the lead, but by lap two Reed had caught fire and was all over Carmichael looking for a way around. As Carmichael stalked Wey, Reed knifed underneath his rival and took over second. Then Carmichael clipped a Tuff Block and went down, Reed took the lead from Wey and tried to check out.

Stewart was on a charge through the pack, and he moved into second with plenty of time to catch Reed. But the Australian was on his game and looked much sharper than he did a year ago in Toronto. Stewart would close, Reed would pull back away. On and on it went while Stewart's Kawasaki teammate Tim Ferry circulated in third. Lapped traffic also played a factor in the battle for first, but eventually, with about five laps left, Stewart was on Reed's wheel and the race was on.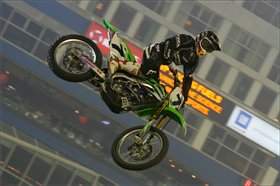 James Stewart ended the race injured and in third. No word is yet available on his condition.


Each rider had his strong and weak points on the track as they went back and forth. Stewart passed Reed in a bowl turn and shut off his line, preventing Reed from jumping onto a table top. Reed grabbed a handful and got him right back a few turns later. They raced around for another lap and Stewart passed Reed in the same turn. But this time Reed was able to jump onto the table and got a good drive into the next corner. He tried to get inside of Stewart, but Stewart had the line covered and instead they touched tires just as they approached the finish line jump. Then all hell broke loose.

The bump was just enough to send Stewart flying off the track. Reed rolled the finish but took the lead, and then, as Stewart was coming back on, he collided with Sobe/Samsung Honda's Travis Preston, who had just been lapped. They hit hard and went down. Reed looked over his shoulder and then saw he had victory in hand.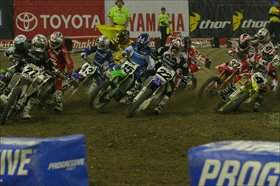 Wey (27), Reed (22) and Carmichael (4) battled in the early stages, and Reed would escape with the lead.


Stewart got up but appeared hurt, as he cruised through the final laps slowly. Amazingly, Carmichael had worked his way past riders like David Vuillemin, Wey and Ferry to get into third, and then he passed Stewart for second in an improbable comeback.

Reed crossed the line with an emotional win. The 2004 AMA Supercross Champ has had a rough few months, but the win and the speed he showed there proved that he may be able to climb all the way back to the top. So all eyes were focused on the #22 as he circulated the stadium celebrating his win. It seems like no one noticed what happened when Stewart came across in third.

Somehow, the Kawasaki rider ended up on the ground in pain. Also, Preston was all over him and his #11 bike was laying right near Stewart. Preston was in pain after his crash with Stewart and got up slow, but eye witness accounts as to what he did vary from a full-on T-bone to some simple screaming in Stewart's face. Either way, Stewart was in major pain from the crash as well, and he could not make it to the podium or the post-race press conference.

At this point that's all anyone seems to know. Again, there are more questions than answers after this one. But suffice to say, if this is any indication, it could be a wild season.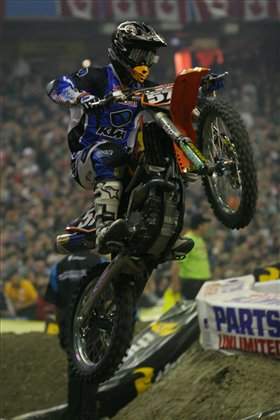 Supercross Lites winner Martin Davalos looked strong in his Red Bull KTM debut.


In the Lites class, the action wasn't nearly as intense. Red Bull KTM's Martin Davalos pulled a huge holeshot and checked out. Star Racing rookie Broc Tickle worked his way through the pack to finish second in his first real supercross, while another rookie, Zach Osborne, took third. Troy Adams was in the battle on his Rockstar/WBR Suzuki but collided with Osborne, which knocked him off of the podium. All of these riders expect for Tickle will also be racing next weekend in Vancouver