We're maybe 24 hours away from the start of a whole new season. Racerhead is coming to you from Toronto, where it's raining like hell. Thank goodness the Rogers Centre is covered; otherwise, this would be another Seville, Spain.
Last night, the hotel bar at the Renaissance that overlooks the racetrack was humming with riders, mechanics, industry friends and more. Ivan Tedesco, Nathan Ramsey, the Stewarts—everyone seemed ready for the racing. And speaking of Tedesco, we just got word that he just augured himself pretty hard just minutes ago, but he shook it off and walked off under his own power.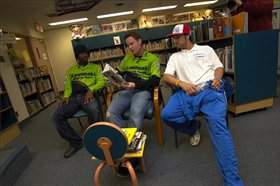 James, Tim, and Chad all support MX for Children
photo: Mario Marini
And full props to
James Stewart
for stepping in at the last minute and helping
Paul Gross
on his mission to help sick children in need with his MX for Children charity.
Ricky Carmichael
was supposed to go, but a last-minute scheduling snafu meant that he wasn't in town in time, so Stewart answered the call, joining his Kawasaki teammate
Tim Ferry
and L&M Yamaha's
Chad Reed
at Sick Kids' Hospital here in Toronto. Well done, men.
To see more photos from yesterday's event, check out Racer X Canada's Allison Kennedy's photo report right here. Also, our own Matt Ware went along and made a Racer X Film about the afternoon. Matt will hopefully have one up later after practice too.

And did you see the photos of RC testing a race car that Fox Racing's Scott Taylor sent over earlier this week? We posted them in a photo report on Racer X Online, but you can check out more over at www.foxracing.com.
This just in: Just minutes ago Live Nation issued a press release which discusses the race format changes that they have made for the 2007 supercross season to help facilitate the addition of a second live TV broadcast and will reduce the impact to the racing surface throughout the evening program. You can read all about it right here.
Tomorrow night, you can list the Supercross Live! webcast for free at www.supercrossonline.com. Our own Jason Weigandt will be joined by all-time-cool motocross man Jim "Hollywood" Holley (and if they let me, I may sneak in there too).
Also, keep an eye out for a new feature we're trying called TFS' Weekend Window. He will be plugging away all weekend long at every weekend. Check it out early, and check it out often!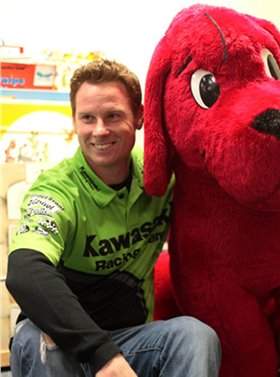 photo: Rex Backman
You can also check out the next-day coverage of the Toronto Supercross at 6 p.m. EST on Speed.
Ralph Sheheen
is the host, and
Jeff Emig
will be at his side—and sorry for roiling some feathers last week with the "Farewell Old Friend" mention of Fro and
Denny Stephenson
being on the outs. It's all good, and Denny is stoked because the +35 class at Loretta Lynn's will still be open, as only the +30 class will revert to B/C.
Also, check out the cool Team USA film that we put together, along with Matt Crutchfield from the DMXS/GK Films crew, using Simon Cudby's photos and some of B.J. Smith and Scotty Lootens film from the Motocross des Nations. It was for the AMA Awards Banquet two weeks ago in Las Vegas. Check it out.
By the way, the video led "Cobb" on Mototalk to have the quote of the week: "I get a total non-homo boner watching that vid." Okay.…
Got a note from Paul Pederson, a loyal reader down in Texas: "Do you guys have any news on Ernesto Fonseca? It's been awhile since I've heard anything and am curious as to how he's coming along in his recovery. I check his website almost every day but there hasn't been anything posted since June."
Paul, I know Ernesto and his wife, Carolina, are working hard to get their lives in order, and he was able to attend a MotoGP recently to visit with his longtime friend and fellow Honda factory rider Nicky Hayden. I'm sure we will be seeing more of the Fonsecas when supercross gets started in California next month.
Then I got more info from Road Racer X's Chris Jonnum: "Ernesto attended the Valencia MotoGP last month and was on hand to cheer on Nicky to his world championship. Through their Honda backgrounds, they've known each other for a while, and Ernie was actually hanging out with Nicky (along with RC) at the 2002 Honda dealer show in Chicago during the week that Nicky found out he was going to MotoGP with Repsol Honda in '03."
Also, we got a note from Randy Gordon on last week's Year End Awards: "It's not motocross, but more important than the 'Couple of the year' award: For the winner of the Jeff Fredette Award, I nominate … Jeff Fredette! Only 26 ISDE medals in 26 tries, this time another silver."
Very good point, Randy, and congratulations to Jeff. I once raced him at the Blackwater 100, leading him for maybe 85 miles before he wore me down on the last 25-mile lap. He was ten years older than me and just incredibly impressive. For him to still be out there making things happen—26 times now!—is definitely deserving of an award mention here.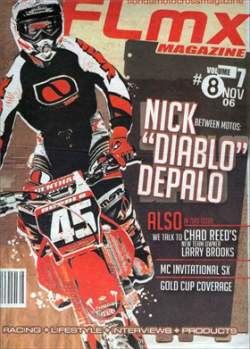 Get well, Nick
After the terrible accident that befell
Nick DePalo
, plus a few other kids down at the Winter Olympics, it really got the message boards humming—especially after a local newspaper down in Gainesville wrote a pretty salacious story focusing on all of the injuries at the weeklong event. It got to the point on Mototalk where someone basically called out
Dr. John Bodnar
—the single most safety-conscious man I have ever met in motocross—causing him to respond with this post:
"We are definitely NOT passive about the issue of rider safety (yes, maybe a little passive on Mototalk due to time constraints!). There are many hurdles to jump through to get changes made at the pro rider level, one being the acceptance of the idea that one should wear a safety device in the first place. The Hats Off Device has finally become a mandatory item for the 2007 SX/MX season, after 3 years of non-stop lobbying on our part.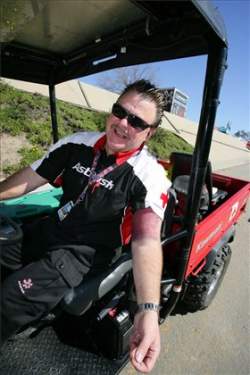 Doc Bodnar
photo: Simon Cudby
"Unfortunately, despite best intentions, not everything out there works as advertised. From a medical point of view, there needs to be some basic testing performed before any device can be recommended and this takes time. We are doing all we can to speed the process up. The Leatt-Brace looks very promising (tried mine this weekend!) and neck injuries are number one on our list of problems to be addressed. We will keep plugging away to get things changed for the better."
In a related note, this from Joanne Prior: "At the beginning of your intermission (Toronto, 8pm EST) a very cool ebay auction benefiting the Asterisk Mobile Medics will be starting. These track maps are very cool and will help keep the big rig rolling. I have put links to each of the ebay auctions on the Asterisk Superpass Website at www.asterisksupercrosss.com but they will not be active until the auctions begin. Here is a preview of the Las Vegas map. Our Superpass Auctions will be starting December 6, the Wednesday between Toronto & Vancouver."
If you can help Nick DePalo, a great kid and gifted rider who was on his way up through the ranks, please do: www.nickdepalo.com. Props to Nick's friends at the Georgia Practice Facility and www.mxwebsites.com for helping get this rolling.
David Bailey also stepped in with this letter to all his friends and fans who have been so generous to him in his time of need:
"I have an appointment tomorrow the 28th at Loma Linda to decide how best to put closure to my condition. It's not money that has kept me from the proper treatment, just our system. Loma Linda is supposedly ranked #4 in the country for surgery and the number 4 sounds good to me. Maybe I'll win something while I'm there. No telling how long before they actually do the surgery and I've heard up to 2 months or more. I'll know more tomorrow.
"I've noticed that some of you have been donating more money and items on my behalf the past couple of days and while I appreciate it, I want to make it clear that money isn't keeping me from making progress. The letter my friends put out there as well as the Extravaganza have me taken care of for now. However, the Full Circle Foundation plans to contribute to as many of these kids who have been hurt and are getting hurt. Please don't ignore them. Your donations have and will continue to help me and others.
"Although this is the hardest thing I've ever endured, it's hard not to notice all these other kids and their families suffering as well. My heart goes out to Nick Depalo and his family as well as Chase Borders and his family who have some challenges ahead.
"Finally, who is going to step in and force riders to wear specific gear? How about horsepower and tracks? I for one am getting sick of fundraisers! They have a purpose and I like being able to contribute and receive, but it's getting ridiculous. Lets pull together as a sport and take responsibility and do something to lower the odds of serious injuries! I obviously can't do much, but I would do what I could if there was an experienced group of people talking. I used to keep quiet out of respect for those still racing, but it's time!"

Let me shift gears right here and turn this over to Ping:
The big dirt bike function out here last weekend was the annual A Day in the Dirt grand prix. The three-day event is the only one I know of that brings heroes of yesterday like Rick Johnson, Jeff Ward, Mike Bell, Ron Lechien, Erik Kehoe, Jeff Emig, Phil Lawrence and Jeremy McGrath out for a day of racing.
It also brings young motocross stars like Mike LaPaglia and the entire Gosselaar family (I think there's about twelve of them, but I may have counted some twice), Supermoto stars Cassidy Anderson and Chris Fillmore, FMX stars Brian Deegan, Twitch and Ronnie Renner, and even off-road riders like WORCS vice-champion Bobby Garrison.
While the competition is tough, most come out to enjoy the camaraderie of the sport without all the pressure. Phil Lawrence and I made a run at the weekend's biggest team event, the Moto-A-Go-Go, and had a lock on second place until Factory Phil got a flat. We shared my bike and hung onto third right behind Erik Kehoe and Honda mechanic Lars Lindstrom. Two of the Gosselaar brothers won that race—could have been Caleb and Drew, but I can't keep all the names straight.
The Coup de Grace was won by Bobby Garrison, which makes sense. The 90-minute-plus final is suited for someone whose rear end has been callused by a season of grueling off-road races.
Kenny Alexander and Jimmy Roberts do a great job hosting the race each year and it definitely seems like they found a permanent home at Competitive Edge MX Park. The track was tons of fun for everybody. Make plans to be there next November. A portion of the event proceeds support the Steve McQueen Foundation, which benefits wayward children, so it's all for a good cause.
I bumped into Josh Hansen's trainer, Johnny Louch, yesterday at the gym. I had heard earlier this week that Josh broke a bone in his thumb and John gave me the details. "It's not a big deal, but he broke a bone on the top of his thumb," Louch said. "He's using a bone stimulator on it, and honestly, he will probably be riding again in a week. It's a very small fracture."
John also told me that Hansen is absolutely flying at the KTM test track. Hansen has been turning lap times four to five seconds per lap faster than any other KTM rider, including Mike and Jeff Alessi. Obviously, Josh won't be racing this weekend in Canada, but there is a chance he will be racing at Anaheim. Hansen has run the East Coast for the past two seasons but may be making the switch to the West Coast this year.
If that happens, the West Coast Lites class is going to be epic. Villopoto, Grant, Gosselaar, Laninovich, Hill, Hansen, Hahn, Alessi, Lawrence, Morais and more will all be fighting for wins and podiums out west. You've got to like the way that looks on paper.

Thanks, Ping.
I don't think Ping checks out the MXA website, or he might have noticed the post about Mike Alessi apparently breaking his foot while practicing this week. My best wishes go out to 800—Mike and little brother Jeff just might end up together racing on the East Coast now.
Team Yamaha's Broc Hepler (feels weird to even type that) is not here in Canada, but someone over at the new MyMotoSpace.com posted a video of Broc doing some local riding in Western PA. Check it out. Props to Motoholics.com for making the vid.
Racer X reader Brandon Norris sent this our way, from NASCAR site www.jayski.com.
"[H]earing that former motorcycler Ricky Carmichael, who recently signed with Ginn Racing [formerly MB2 Motorsports] is testing today for Ginn Racing at New Smyrna Speedway in FL. Supposedly, some of the team members welded motorcycle handles on the steering wheel so Carmichael could feel more comfortable."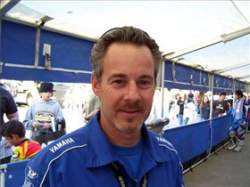 Dave Osterman is out at YoT
photo: Mike Farber
It was surprising to see the e-mail from
Dave Osterman
that the longtime moto man had
parted ways with Yamaha of Troy
, where he's been manager for a couple of years. I think Dave did a good job in a tough situation and I wish him well. No word yet on a replacement.
Mike Farber just let me know that Racer X Brand has launched the new 2007 casualwear line. Check out www.racerxbrand.com. Racer X clothing is the gift that keeps on giving all year long!

The Toyota Ride of Your Life Sweepstakes recently awarded two lucky winners with a trip for two and the chance to ride at the famed Castillo Ranch, courtesy of Toyota. One winner was selected from online entries and the other selected from entering onsite at The Toyota Zone.

The onsite winner was David Wildner from Tarpon Springs, FL, and he is bringing his best friend Cary Hunt (not Hart) to ride with him. The online winner is Thomas Lagergren from Aberdeen, WA. Thomas is bringing his brother Carl Lagergren as his guest. The four will be riding at Castillo Ranch both Saturday and Sunday with bikes of their choice provided onsite. Have fun out there, guys.
Here's a quick Toronto update from the Weege:
Everyone seems to be in a good mood in Toronto. There might not be much of an off-season anymore, but I suppose it was just enough to give everyone the itch to go racing again. Chad Reed is definitely pumped to be back at it. You can tell from talking to him that there are a lot more changes in his life and in his racing program than you can see on the surface. Chad said he went to Australia to find himself and make himself a happy person again, and he didn't book his flight back to the U.S. until he had done that.

I also talked to his L&M Team Manager Larry Brooks, and he is pumped on the work the team has put in. They even drove their new semi all the way to Chad's house in Florida so they could test down there. That's commitment! Larry said they had three major goals to improve on the bike this year, and they have already accomplished two of the three, and they're working on the third. Reed admits last year's results bummed him out big time, and he took those feelings back home with him during the week. His goal for this year is to be happy. Then the results will come. That team should be good.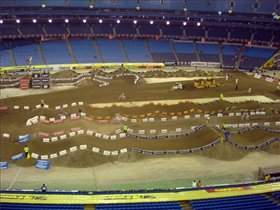 The view from the press box
photo: Jason Weigandt
But Chad's mood wasn't even as good as
Ricky Carmichael
's. You can see the difference in Ricky now that he doesn't have a championship to win. He always says he's super pumped, but now he's even more super pumped, perhaps ultra pumped. Ricky is happy to be here, and he says he'll race the two Canadian rounds, Anaheim 1 and Phoenix, and then he's taking some time off.
His teammate
Ivan Tedesco
says he has made major strides with his bike since the U.S. Open. He was losing the front end at that race (recall his crash while battling for the lead on Saturday night there) and had a new suspension set up designed to prevent that from happening again. Ivan took a digger during the first practice today. He got up slow but looks to be only shaken, not stirred.
And finally there's
James Stewart
. Last year James declared a "New Beginning" at this race, and he went out and won it. Not so this time. James is thinking full season and full championship. He said he will not be bummed if he loses this race, he's just trying to stay in the points until Daytona and then see where he is at that point. Sound familiar?
So for the most part, all of the riders are just getting started here, and they're thinking about the whole season with championship aspirations. As always, you can't win the title in one race, but you can lose it, and everyone says they will ride accordingly. But then we have this champion guy here who isn't even interested in titles anymore. This should be interesting.
And finally, we got this from Parts Magazine's Jen Emde, adding on to our "Things to do in Toronto" list.
"Another Toronto suggestion for those with a Red Bull addiction like my own--the Bovine Sex Club (yeah, I was scared at first too, but it's just a bar, I swear!) downtown was the ONLY place we could find that actually served Red Bull! It's a cool and funky little rocker bar, good live music. Check it out! www.bovinesexclub.com"
Okay, time to head over for practice at Rogers Centre. Keep an eye out for TFS Weekend Window, right here at Racer X Online. Thanks for reading Racerhead, and see you at the races, eh?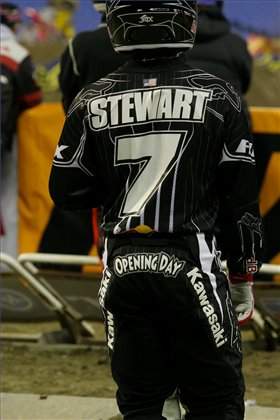 Opening Day!
photo: Matt Ware