Hello, everyone, and welcome to the Rev-Up. What a great week it has been! There has been a constant hum here in the office as we speed into supercross 2007 this weekend. While there wasn't much of a lull to speak of, it was still too long for my tastes. Bench racing has filled the air with talk the upcoming kickoff race Toronto. Even though we were spoiled in 2006, I still think 2007 has a lot to offer.
Ricky Carmichael
is not pursuing a full season and there are some new additions that will be applying the pressure to the obvious title favorites,
Chad Reed
and
James Stewart
.
If we learned anything in 2006, we learned that anything can happen. The vault of variables is deeper than most of us are aware of, and like Carmichael's famous quote reiterates, "They don't hand out the trophy 'til after Vegas." The 2007 World Supercross GP series will begin this Saturday night. While the World title is coveted, it remains as a warning shot for the holy grail in supercross racing, the AMA title belt. It's coming, everyone's talking about it, so let's get revved up about the Toronto Supercross!
Lites
This is always a huge race in this division as it is one of the few supercrosses all season long that is devoid of regional separation. As I glanced over at the rider list for this weekend's showdown, a couple of names really jumped out at me. Troy Adams and Kelly Smith have been riding supercross for a long time. Both veteran riders are owners of podium finishes and get amazing starts. With this in mind, I predict that we will see both of these cats on the podium Saturday night.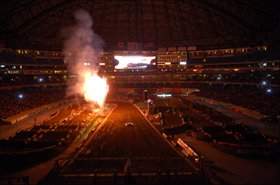 Will there be fireworks on the track Saturday night?
photo: Steve Bruhn
The third candidate to stand on the steps leaves much to deliberate. On one hand,
Josh Hansen
has the speed and ability to win the race. But man, I struggle to remember the last time he so much as finished a race. His back has been jacked up, and the issues just get weirder as you move up his body. I would really like to see Hansen come out swinging and get this year started on the right foot, because I think a personality such as his belongs on the microphone. Heck, I just want Weege to have a shot at him in the press conference so he can ask him if he ever thought he was "Ooover it."
Part two of the orange crush for Toronto is this week's Number Cruncher star Zach Osborne. Nobody has seen Zach ride supercross yet, but his outdoor speed was strong. He could surprise some people. And do not count out canucks Kyle Keaton and Michael Willard. They will be hanging it out for the local crowds. Other notables will be Andrew McFarlane and the ever-exciting Martin Davalos. Both will be out to prove different things: Andy Mac, that he will be fast on yellow; Martin, that he will be fast and not stack it up.
Supercross
Man, this is going to be good. At least I hope so. Last year at this event, Bubba #259 became James Stewart #7 and he waxed everybody, while appearing to toy with RC. Overconfidence and lack of concentration may have been his demise in losing the AMA title, but his domination in the two Canadian rounds were the deciding factor in him winning the World title. That championship has picked up some steam in the bonus category, so at least for James and Chad Reed, this race is very important. As last year showed, every single point and every single race is equally pivotal toward the title. Any number of things could have made the difference between Chad, Ricky, or James winning the title or both of them.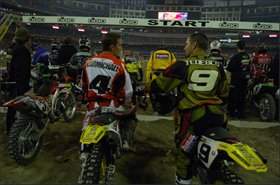 These two riders will be up front
photo: Steve Bruhn
I don't really have titles in mind when I think about this Saturday night, though. I am just anxious to hear Holly and Weege belt out the webcast on XM Radio, then watch the TV package on Sunday and see how Jeff Emig and Erin Bates do in their new gigs. More eyes will be on our sport than ever before, and I can't wait to see it shine. I think Ricky is going to make it a race. I think
Timmy Ferry
, David Vuillemin, and
Ivan Tedesco
are going to surprise some people. I also think
Nick Wey
is going to make some people regret their scouting efforts.
We're back, guys.