Welcome to the Shift Number Cruncher! Motocross is unique in many ways, but none more so than our attachment and association with numbers. I grew up racing at a track called 59th and Douglas. One year we spent 23 weekends making the three-hour trek to the red dirt of Sooner territory to do battle with the "Okies." To this day, everytime I see the number 59, it takes me back to the days I saw Robbie Reynard riding a motorcycle faster than anybody on the planet! He had days there that were, well, let's just say I will stand by that statement to anyone!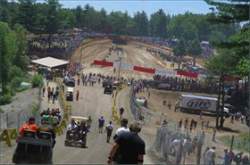 A look at the infamous MX338
photo: Steve Bruhn
For the Northeast boys there is a number that I am sure bestows a similar symbol to them. Some of the fastest and most popular riders the world has ever seen will perk up and aim their attention in the direction of hearing or seeing the number 338. Motocross 338, of course, is the moniker of the world-renowned
Southwick
motocross track. When I see 338, names like JoJo Keller, Jim Meenan, Carlo Coen, Mike Treadwell, Tony Lorusso, Scott Carter and Pat Barton pop in my head, not to forget Doug Henry and
John Dowd
!
Southwick
must rate as one of the greatest sand tracks on the globe. A lot of European riders have made the trek across the pond to try their hand at Motocross 338, GP giants like Joel Smets, Alessio Chiodi, and Marc DeReuver had high hopes of winning at the GP-style track, but to no avail.
Grant Langston
guaranteed victory in his first attempt at the track in 2001 but just like the other GP speedsters, he arrived at the realization that we yanks can ride the soft stuff pretty well too (though he didn't do bad for a guy with a separated shoulder!)
There have also been some other men of distinction that claim the three three eight. One may surprise you, one you may scoff at, and one you might be seeing a lot more of in the very near future. Enjoy this week's edition of the Shift MX Number Cruncher as we give a nod to the nostalgic number 338.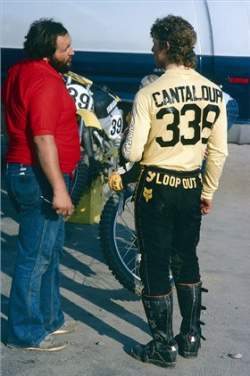 Donnie Cantaloupi
photo: Courtesy of Moto Verte
Donnie Cantaloupi
is a former factory Yamaha rider from Northern California. He was one of the first riders that
Fox Racing
sponsored and stood alongside Mark Barnett, David Bailey, and Steve Wise as Fox-sponsored factory riders. He is also a rider that will always look at the number 338 a lot differently than the rest of us, as his history with the number is full of fast memories.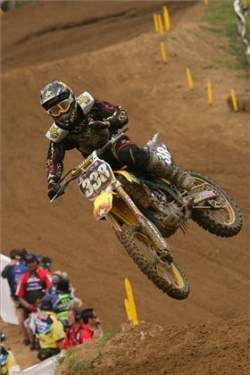 photo: Simon Cudby
I still don't know what to make of this kid. The first story I heard about him was when he sank a golf cart in the creek at Loretta's, drawing the ire of the ranch security… Soon, Jason Lawrence was thrust into the pro ranks as a wild child and his finishes and antics mirrored the hype. Brilliant top ten runs were followed up by mechanical DNFs, which saw him abandon his bike for his mechanic to retrieve. But his biggest blunder of 2006 had to be dropping the F-bomb after slithering his way to third at Seattle.
With 2007 bringing a new team and new hope for him to shake out the cobwebs of his rookie season, the future may have some good things in store for the rider formally known as J-Law. He has phenomenal speed and if he can get the daily Otter Pop count into the mid teens, he might have a chance to avenge his notorious podium speech.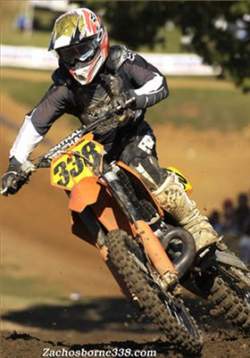 Zach Osborne
photo: Courtesy of Zachosborne338.com
Zach Osborne
kind of flew in under the radar when he lined up at
Hangtown
for his first pro national. Even though, he has an impressive amateur resume consisting of dozens of championships, very few expected to see much out of the hard charging son of a former professional drag racer. While he showed some considerable speed—a solid sixth in his first pro moto—he waited until Budd's Creek to show the world his potential. Osborne pulled a gigantic holeshot and quickly opened up a big lead. Although, when he began to look for the white flag, he was given the cross flags instead. Zach dropped anchor and faded, but noticed was served that when he gains the juice to run 30+2, he will have the speed to win races. His efforts were enough to gain the support of KTM as they signed him to a substantial multi-year contract.
I've known Zach and his family since he was on a 50, racing with number 338. They are an extremely agreeable group of people that have racing in their blood. As I mentioned earlier, his father, Mark Osborne, used to be one of the fastest Pro Stock drag racers in the country.
We had a great response to last week's Mike LaRocco trivia! The five winners are:
-Ken Smith from Fredrick, MD
-Josh Bailey from Plano, TX
-Trea Purdy from Muscatine, IA
-Tim Holas from Ridgefield, WA
-Matt Wozney from North Haledon, NJ
This week we have another chance for you to flex your trivia muscle, only this time with a sandy Southwick flavor. The first three contestants to answer these questions correctly will win a free copy of Nitro Circus 4: Lock and Load.
Who were the winners of the 125cc class in 1987, 1990, and 2003?

In closing, If you have anything to add on these guys or have some more number 338s that you know of, be sure to e-mail me at andy@mxsports.com and we will try to throw your contribution into the Number Cruncher Redux.