Welcome to the Shift Number Cruncher! It's been a while since we have given a nod to one of the low, big numbers of motoctross. As the Shift MX Number Cruncher grows older you may see a pattern developing: We'll only do the lower, more popular numbers once in awhile, and if something of significance happens (like last week's retiring of #103 Sebastien Tortelli) we'll throw love in that direction. And as always, keep sending your e-mails with ideas and suggestions of what you want. We just blew the dust off another vault of old school slides and I assure you we have some great stuff on the horizon.
But for now, we have another special number in the incredible number 15. This is one of my favorite numbers because some of the riders that wore it and the events they wore it at carry some heavy meaning. One rider took the number from relative obscurity directly into supercross history, while another man used the number during a comeback year upon which conclusion all we could ask ourselves was, "What's stopping you?" So, please enjoy this week's collaboration of motocross legends and pay proper homage to the one-five.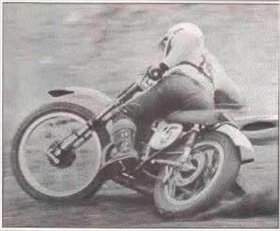 Joel Robert
No sooner did I get started with the one-five before DC shot me a message with an old pic of six-time World MX Champion
Joel Robert
. He had received it from William at Motor Werx, and that really got the ball rolling. Robert, of course, was the all-time world championship title leader with his six crowns before fellow Belgian Stefan Everts came along and wiped out all of those records.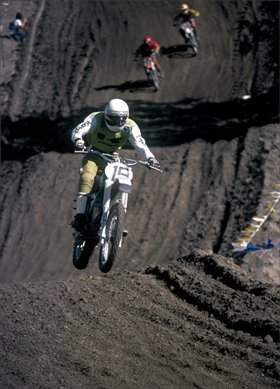 Gary Semics
photo: Dick Miller Archives
A very early American motocross pioneer was
Gary Semics
of Lisbon, Ohio, This man was fast in the early 1970s, through the early 1980s, and even now—as one of the top motocross instructors in our sport—Mr. Semics can still flat out haul around a racetrack. He wore the #15 one year while racing for Team Kawasaki, and along with Roger DeCoster, he was an early champion of the full-faced helmet. Semics was always a style master and a bonafide holeshot king!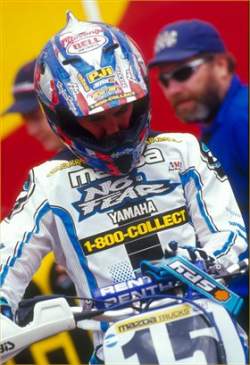 Jeremy McGrath
photo: Simon Cudby
Jeremy
is mostly known for being number 1. Although, his second favorite number has to be the 15, for he wore it twice during his pro career. His first tenure with number 15 was far more significant and better remembered than the second; nobody could have anticipated the seven-year storm that was coming at the beginning of the 1993 season. He banged holeshots like this Daytona special all season long and began a reign of dominance never experienced before and likely will never be duplicated, winning seven titles in eight years!
Jeremy was still running the SX table in 1999 and had recently become "Supercross-only" but he signed up to race the
Glen Helen
National. Five years later, "Showtime," as he had now come to be known by, raced his last outdoor national at
Steel City
(though he was wearing his selected #2 digit by then). But the history books show him with 17 outdoor national wins—not bad for a guy known as a supercross specialist!
Check out the Suzuki squadron here from 1992. There are two #15 alumni in this picture. Obviously one of them is the "
Swinkster
," shown here representing the 15 as he ran it in the 1992 125 Nationals. But to his right of Brian Swink is the guy that used to be one of my all-time favorite number 15s. In 1987
Guy "Airtime" Cooper
raced a privateer CR250 with 15 on the plates. That year he shocked the world by holeshotting and leading the Los Angels Supercross for 18 laps before Ricky Johnson finally reeled him in. I wore out two VCR's rewinding the one handed whip he uncorked at the finishline!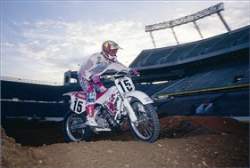 Doug Dubach
photo: Courtesy of Moto Verte
Speaking of Cooper, had he known what would happen to him in the '91 season, he might have tried a little harder to hold Johnson off at LA. Four years later, Guy had yet to win a main event as he came into the 1991 San Jose SX. With the win in his sights, he was cleaned out by Jeff Matiasevich and could only look on as
Doug Dubach
rode off with the win wearing number 15 on his white YZ250. If you remember this race, he barely held off a last minute charge by Bradshaw at the checkers. "Dr D" as he was called, was one of the most astonishing holeshot artists of all-time and can still ride a motorcycle really, really fast. He made his first trip to Loretta Lynn's this summer and while he had some bad luck in one class, he claimed the +40 title and vowed he would be back for more in 2007.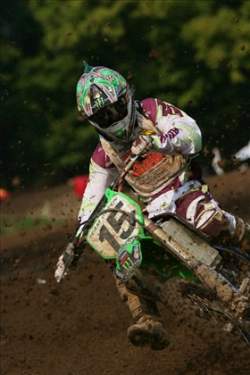 photo: Simon Cudby
And speaking of Loretta Lynn's,
Ryan Villopoto
raced he last amateur race of his career with number 15 on his plates. Ryan typically raced with 615; so it was probably a logistical decision to just drop the six to coincide with Loretta's two-digit policy. He would go on to win the AMA Horizons Award (in a controversial nod over
Jason Lawrence
) and the rest is history. I guess it is kind of cool that he only reversed the one five as he became #51 – and the 2006 AMA 125 National Champion.
Not very many people expected Doug Henry to come back after his infamous Budd's Creek crash. It could have and probably should have ended his career. But as we know, some people are just tougher than others. Some folk's bodies just refuse to break. And while Doug's back did get bent, his heart and determination were unbreakable and he would do the impossible and comeback in 1996 wearing the number 15. Two years later, he would win the 250 National Championship.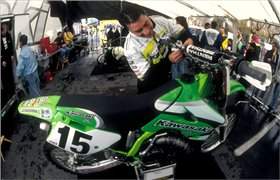 Damon Huffman's bike
photo: Simon Cudby
I loved this shot of Anthony Paggio working on
Damon Huffman
's KX250. 1998 wasn't a great year for them as Huffman was coming back from a broken femur, but it ended well, as they would go on to win a hundred grand at the inaugural U.S. Open of Supercross. Huffman retired last year after a couple of seasons in Canada with Blackfoot Honda. As for Paggio, he has seen the sport from about every angle possible. He has ridden in main events as a rider, won main events as a mechanic, and now he is the main moto guy at Oakley.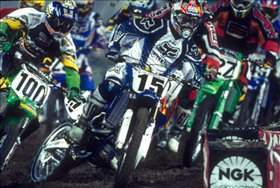 photo: Simon Cudby
2001 was one of
Timmy Ferry
's last good years before bad luck and injuries began setting in. He put in some really good rides in the outdoor nationals this year. He won the season opener at
Glen Helen
after RC sailed off the side of the mountain and he backed it up with another moto win later that summer at Budd's Creek. From there "
Red Dog
" has been on an extremely unfortunate string of injuries. But he appears to be back: Timmy rode his ass off all summer on a Moto XXX CRF450R and will take his permanent AMA number 15 over to Team Kawasaki. Ferry still knows where the throttle is and I think he will surprise some folks in 2007.
As I said at the beginning, I think the number 15 is one of the greatest motocross numbers of all-time. The amazing buffet of outside sponsors we see at the Anaheim pits in a direct result of the spark McGrath and his breakout '93 season created. When you throw in the fact that it was the number Doug Henry wore in his comeback season, that it was worn well by the great Joel Robert, and the first-time wins from Dubach and Huffman, the number 15 only gains strength. Here are a few other top riders that were handed the #15 at tome point:
-Erik Kehoe '94
-Eric Eaton '86
-Donnie Canaloupi '84
-Chuck Sun '83
-Pierre Karsmakers '77
FLASH TRIVIA
With it being the holidays and us being the moto trivia fanatics they we are, we have a treat for you for Turkey Week. This is Mike Larocco wearing the 15 at one supercross in his career. We have a Supercross Exposed DVD for the first five people who can name the year and event! Send your answers to: Andy@mxsports.com and include your name and mailing address.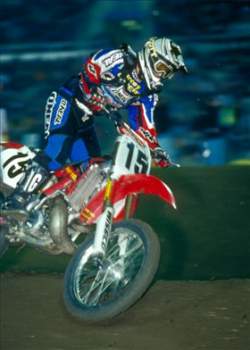 Name the year and the event where this picture of Mike LaRocco was taken.
photo: Simon Cudby
In addition, If you have anything to add on these guys or have some more number 15's that you know of, be sure to e-mial me at andy@mxsports.com and we will try to throw your contribution into the Number Cruncher Redux.