Between the Motos: Ricky Carmichael
Last night Live Nation was kind enough to organize a teleconference with the defending motocross and supercross champion, Ricky Carmichael. So for today's Suzuki Between the Motos, we've decided to show you what RC had to say. A big thanks to all of our fellow journalists who asked questions throughout the teleconference.


RC on 2006:
Last year was a dream come true. I did a lot better than I expected to do. I had a lot of bumps and bruises along the road in supercross, obviously, and still to come back and win that title was simply amazing, and a great way to accomplish all of my goals. I was very excited about it.
On how the sport is received in Canada:
I think the fans are very gracious, and I enjoy going there. The abbreviated schedule that I'm doing, that's why I picked to do both of those races. I enjoy the cities and the venues, and I think Toronto is a little bit bigger showing than Vancouver, obviously, but I think it's growing. I think last year with myself and James battling, I'm looking forward to a great crowd and a great turnout. But the main thing I can say is just the growth from the two years I've gone—it's growing and getting to where it needs to be.
On his preparation this year as opposed to last year:
I'm preparing 100 percent just like I'm racing a full series. I think in this sport, it's very physically demanding, and I don't want to hurt myself at this day and age. So I'm preparing like I'm going to race a whole series. The injury is good. I still have to baby it here and there as far as stuff at the gym, but riding there is no pain and it's 100 percent riding. Everything is going good and I'm going through my bootcamp right now and training—you have to be fit. So I'm training like I always do.
On which supercross races he will be doing in 2007:
As far as making an announcement, that has yet to be determined, but I have a pretty general ideal of what ones I will be racing. I know I have to do at least do 15 more races, so I know I'm going to be doing at least 8 to 10 more supercrosses this year, and obviously a few outdoors. I want to do the Motocross des Nations in Maryland, so that's the plan.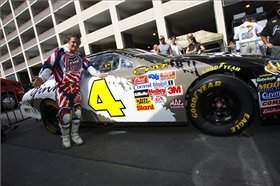 RC is excited about his new ride

photo: Mario Marini

On balancing riding and driving:
Actually, I have some car testing coming up pretty soon—next month. I'm looking forward to that, but my car driving stuff, MB2 has been very willing to work with me during the supercross season, because obviously it takes a little more work and time than outdoor does for me. They don't have too much stuff going on right now, so it's been pretty easy to juggle for me. But I'm going to ride a lot. I'm that kind of person that requires a lot of riding, and the driving is just for a day here and there, so that's the easy part.
On what he'll be driving this year:
I'm going to start out doing some late-model testing and ARCA testing. As far as racing, I'm going to do some late-model racing and see how that goes, and then go on to ARCA after that. I know we're going to start out in the late models. It's a lot easier. And actually Mark Martin has some stuff down by Daytona, so it's easy for me to get down there and drive with him and get the coaching that I need. But they also want me to get in an ARCA car and test that because it's a bit heavier and it's more along the lines of what our goal is to race one day. But late-model and ARCA is going to be most of what I'm doing next year.
On racing the Busch Series:
The glass is always half empty for me, so I would say all that focus is going to be in '08. But if I go in there and just light the world on fire and do good, they want to move me up as fast as I can, but not too fast. But if they feel that I'm ready for a Busch Car then we're going to move up to a Busch car.
On his motorcycle plans beyond '07:
Yeah. I'm going to be affiliated with Suzuki. I'll be with Suzuki through '09, actually, doing some testing and still attending some races and helping the younger guys out. But as far as racing, I'm not sure. I have the option to race some selected events if I want to, but as far as right now I'm not committed after this year to ever race.
On trying to win Anaheim 1 for the first time in his career:
I think it's good to do the first races of any series, but I think the guys have a lot of trust in me and I've never been the kind of guy that is just going to go out and take someone down just for a win. Those guys are going for a title and I don't want to mess anything up. And I don't want to put myself in danger, either. So I'm just going to do my best and hopefully it'll work out for me.
On his last Anaheim race:
That'll be the last Anaheim race for me. I'll then be at the next race in Phoenix, but that'll be probably the last Anaheim for this year.
On ever racing the 250F class outdoors to ever get the record back from James Stewart:
No, records are made to be broken and obviously he broke mine. I don't think anything can come out of that but bad for me, so no 125 stuff for me that I know of right now, and I'm not planning on doing anything. Would I like to? Yeah, I love riding those bikes, but I'm just real busy with other stuff.
On missing the San Diego Supercross because of the Daytona 500:
I'm not sure yet about that. We're kind of juggling some stuff. I know that I probably won't be down in Daytona. That one I haven't committed to yet, just because of that reason, but San Diego—that race is special to me because it's the first time I ever won a 250 supercross, so I do like that place. We'll have to see. I'm up in the air on that.
On the differences of racing a motorcycle and a car:
I just think what you bring to the table, we're all racers and I love to race, so obviously on the car side that's what I bring and I just have that racing mentality. But what I find, I've always driven the shorter track stuff, and the amount of concentration you have to have is way more in a car than a motorcycle for me. Riding a motorcycle is like walking for me, so when I get in a car it takes way more concentration and it's just like tunnel vision.
On the 2006 MXdN:
I was just sick to my stomach when I knew I wasn't going to race that race. It was an awful feeling, and it was cool taking the role that I did, but I wasn't ready for that role yet. But things happen, and it was fun. I think I have some good advice, and if I was able to help just a little bit, I think it was good for me to be there.
On racing the 2007 MXdN:
I love that event and I'm a huge supporter of it, and I can't wait to race that race.
On always being underestimated in motocross compared to NASCAR:
I don't really think they really underestimated me in the car racing stuff, just because they've been very gracious. Everyone has opened up their arms, and it's a great feeling to be involved with a sport that is so big as NASCAR, and everybody knows everybody and everyone treats everyone the same. There are no entourages getting in the way, and the jealous isn't too bad for now at least. It's just awesome, and those guys are so laid back. Their respect level is a lot higher, too.
On his parents being involved with his car racing career:
I'm ready to see them kind of retire. I would love to see my mom help a younger kid coming up, maybe a guy that is riding the A class at Loretta Lynn's. I would like to see her kind of grow with someone like that, and see my dad maintain my property and stuff like that. I think between my mom and trainer Aldon Baker helping out Ben [Townley], that should keep her busy for a while.
On why Anaheim 1 is so difficult for him to win:
I have no idea! It's always got the best of me. I think the best chance I ever had was that year in the mud. I had the dang thing won and messed up. I never seemed comfortable at that race for some reason. But I'm not racing Anaheim 1 just because I never won it—I like that race and I love going to do the press conference there at the Diamond Club and I just like everything about it. I always win the second race but could never win the first one.
On going on top:
As an athlete or a coach, it's a double-edged sword. When you win you think you could go another year, and if you get beat you think you can maybe do it again next year. I'm done competing for a title. I know I've had my time and I feel the only think I can do now is tarnish what I've done. I just want to go out and race for the love of the sport, and it's now time to enjoy what I'm able to do and have fun.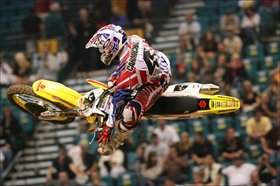 RC is contracted with Makita Suzuki throughout the 2009 season

photo: Simon Cudby

On how involved he'll be with Mark Martin:
It's amazing working with him. He's been on me saying that I need to get down there and drive. To have a guy like that help me is amazing. You don't see that much in moto, and I wish it would be like that. I wish people would let their guard down, because we all are created equal. It's amazing that each guy helps. There are top guys out there that help other top guys that can potentially beat them the next day—it's crazy.
On who can be contenders in 2007:
I think Ivan Tedesco is going to be the heart breaker this year. I really focused on trying to get the bike good—good enough for him to contend for the win and be on that podium every single weekend. I think we got it pretty close. Roger [DeCoster] has been working really hard—we all have—and I think we got him feeling very comfortable, and I really believe that he could do it. He's very motivated and he wants it to be a breakthrough year for him like he did at Pro Circuit.
On the popularity of motocross and supercross in the future without him:
I feel that with James and with him being the first African-American, I think it's a great story and I think he has what it takes to take it to the next level. I want the racing to be good, and I think we need to make tracks to make the racing better—even to where a mid-pack guy could get a start and lead for 10 laps. With that I think the sport will keep growing and growing. I hope it becomes as big as NASCAR someday. It has provided a great life for me and it's what I love, so obviously I want to see it do the best. Everyone thought that when Jeremy McGrath retired, it would die, but it has kept going. With me not racing I think it'll keep growing.
On what will motivate him to race for the win in 2007:
Well, I'm riding now and feel better than I ever have with how the bike is working, so my motivation is to go in there to win. I'm still riding just as much as I ever had, so there's no reason that I shouldn't be a contender to win the events that I do race.
On supercross being more like NASCAR:
If there's one thing I don't like about going to the races is the jealousy and envy. You just feel so unwelcome, and that can be bad. It's not fun for a lot of people and you just can't go and talk and have a good time. The better image is better for the sponsors. I think the better we look the more we're going to appeal to the mainstream, but that's just my personal opinion. A lot of the guys in NASCAR get along and work together because they all want their sport to keep growing.
On having his Suzuki motorcycle in his NASCAR pits:
There are some fun things we're working on, and I'm sure the Ginn crew wouldn't mind it, but the pits in NASCAR are a lot different than motorcycle racing pits. There's really not any room, so if anywhere, my bike will probably be outside by a t-shirt hauler or something.
On the NASCAR crowed noticing him:
I was surprised. There's a lot of guys that really keep up with moto and watch us and they know what's going on. We're on speed and there are guys sitting around after qualifying with their coaches watching SPEED, so they're up to snuff with racing. It's awesome because you go and you have something in common and something to talk about.
On bringing a new crowd to NASCAR:
I think I have a great opportunity to bring new fans to NASCAR, but I feel I can bring more fans to moto. I think it's a great story, so hopefully that'll be something fun for the fans and I look forward to that.
On having the idea of cutting down into the infield when racing Daytona for the first time:
Last year when I raced the Daytona supercross, I was just kind of intrigued by being down there in the tri-oval and I would love to do a burn-out in that grass. If I make it to there, I would have done something.
On Ricky Johnson and Jeff Ward helping him to get his in:
I don't know if it helped. I think the exposure that motocross and supercross has gotten and what I have accomplished has helped more than anything. If I do good, I really believe I can open a lot of doors for other motocross riders to come in and have a chance at NASCAR. Or if I do bad, I could hurt it.
On not stressing about winning a motorcycle championship:
You have no idea how nice it is! I think the training has been easier than it ever has, and it's just nice to do my training and know that I don't have to go the whole season. When I get to the race I can just take a step back and say, "Hey, I can try this bike set-up today because I don't have to be here at week eight." It's nice not to have hanging over my head.
On his training regiment carrying over and being an advantage in NASCAR:
I know they have stepped it up and they train in NASCAR, and maybe a little bit of it gives me an advantage. I definitely can't hurt me.
On having the #4 on the race car:
I think it would be important just from the marketing standpoint. As far as when I'm out there racing it doesn't matter what number I have on the side of my car. The team that already owns #4, they have a lot of value behind it and they won the Daytona 500 with that number, so chances of it happening are slim, but we'll need Mr. Ginn to keep pushing it. It has sentimental value, but it's something I have no control over. I can only do so much. The teams own the numbers, and if they don't want to give it up it's something I have to deal with.