Bench Racing Ammo: John Dowd
We've touched on this subject before, but every year it seems that John "The Junkard Dog" Dowd does something to one-up himself. John Dowd turned 41 years-old August 10, 2006. Forty-one! Every season we talk about the amazing records that Ricky Carmichael owns (and extends), but Dowdy keeps adding some age-related records to his resume as well. Most recently (this past weekend) John won the Maxxis Endurocross inside the Orleans Arena in Las Vegas, which makes him the oldest rider to ever win that rather young event. Let's take a look at some other records by Dowd.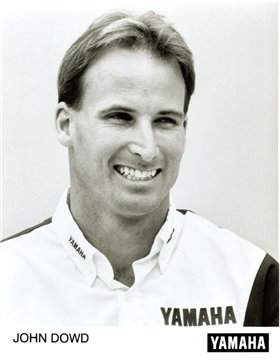 He may have lost a little off the top, but he hasn't lost any speed

Oldest rider to make the podium in a National Arenacross main event
The weekend prior to his Endurocross victory, Dowd raced the Toyota AMA Arenacross event in Albany, NY, finishing second to Robbie Reynard on Friday night in the 450 main event.
Oldest rider to win a 125 National
Back when he was on a Yamaha, Dowd beat Ricky Carmichael for the overall win at the '98 Southwick National. John was 32 years, 10 months and four days old.
Oldest rider to win a 250 National
On June 22, 1997, John Dowd won the Southwick National with a 1-1 sweep as a member of Team Yamaha. John was 31 years, 10 months and 12 days old. (By the way, in 2006 John finished sixth overall at Southwick with 6-7 moto scores—at age 40!)
Oldest rider to win a 250 SX
Well, not anymore. John held this record till March 20, 2004, when Mike LaRocco won the Indy SX. Mike was 33 years, one month and ten days. Dowd's 250 SX victory in the '98 Charlotte SX came at 32 years, eight months, eight days.
Oldest 125 Regional SX champion and winner
April 25, 1998 marked the last 125 SX win for John Dowd, as well as his one and only 125 regional SX championship, which was on the west coast. The win came at the Dallas SX when John was 32 years, eight months and 15 days old.