Monday Conversation: John Dowd
John Dowd picked up an extra $10,000 at the Maxxis Endurocross in a bar-banging last-lap fight with Nathan Woods for the win. The Orleans Arena crowd was on its feet, and with one turn to go, Woods was on the ground and Dowd was the winner. Just a week after a strong showing at the Albany Toyota AMA Arenacross, Dowd made his way to Las Vegas on AMA banquet weekend to try the lively and unique Maxxis Endurocross, now in its third year. With Ryan Hughes winning the first one and off-roader David Knight taking the second, Dowd breaks the tie and puts the supercross/motocross guys back on top!

Racer X: John, how did you win this thing?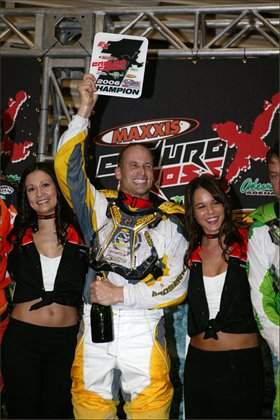 Dowd can still win big races. He even had his own fan club and cheering section here, taking up about 50 seats.
John Dowd
: By the skin of my teeth, I think! It was fun. The whole night went good for me. I don't know if I had the luck of the cards with me or something. I did good in my heat and had good times in practice, and I got good starts. I would like to say I stayed on my bike, but actually, I did fall off once. It was good. It was a little tight at the end, but I would have done the same thing if I were him. He was going for it. It was fun, though.
So it seems things were a little rough but you guys are cool with it? How many times did you bump?
Three or four, maybe. I was grabbing the insides to protect the line because I knew he was going to be there going for it. It might not have always been the fastest way, but it was the safest, when someone is right on you like that. I was just trying to do the best I could think of at the moment. It worked out. It was close. I guess we had the crowd on their feet, so that was good.
How do you even plan for a race like this?
I was at home riding over logs and rocks and stuff. It's real different from any riding or any racing that I've ever done, even the GNCCs. It's just so different. It is fun, but it's hard. It seems so easy to screw up and not even make it. I just came into this race thinking I would give it what I had, and if it didn't go my way, then screw it. There were a lot of good guys that screwed up. Just a little crash or a bobble kind of ruins your night. I was telling myself not to be upset either way, I was just trying to do what I could do and hopefully win. If I didn't ,I would come back next year and try again.
How do you set up a bike for rocks and logs like this?
My friend Kenny Germain, Ernesto's old mechanic, was helping me out this weekend. I had Factory Connection do my suspension. I guess it's just an off-road setting, just soft. You're not going fast or doing jumps, really. I used the same tires. I always run my Pirelli tires and Pro Circuit pipe. The motor was stock, actually, and I brought my handlebars. The same stuff I normally use, just softer suspension.
You did an arenacross last weekend. Did that help you get going for this weekend?
Maybe the little stadium, yeah, to kind of get out there and sprint. This kind of thing, you can't try and go too fast. If you try too hard or get too aggressive, these logs and rocks will bite you.
Did you have to ride that way on the last lap with Woods?
He bumped me a few times, and I knew he was going for it. I just tried to put my arms out and hold on real good. We bumped pretty good.
You didn't have any words about it then?

No. I did the same thing to
Ricky Dietrich
last year. It was last-lap. On the last lap like that, almost anything goes. It wasn't dirty. It was just an aggressive move. I like that kind of racing. The fans like it.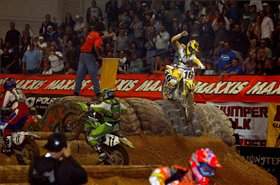 Dowd takes the win as Woods moves out of the track

What was the deal, you your own cheering section?

Oh, they were all excited. I could hear them. I had a great time and can't wait until next year.
Can you talk any of your former competitors in SX/MX to join you for this thing? And what would you tell them?
I almost had Doug Henry come out this year. I don't know what happened; he said he couldn't make it. Next year I'll keep working on him. He would be pretty good out here.
What's next for you?
I don't have anything, actually. It's coming into winter at home. I might try and do a couple more arenacrosses. I might go to Florida and do some winter series races or something to stay in shape, and to do that first GNCC in Florida . If I can keep myself in riding shape, I would like to race that GNCC.