Hello, everyone, and welcome to the Rev Up. Wow, are things getting interesting or what? As we speed into the weekend there are some astonishing things going on in the motocross industry. On one side of the country there will be a confederacy of off-road enthusiasts trying to negotiate obscure tractor tires, jagged rocks, and slippery water crossings, all inside the climate-controlled environment of the Orleans Arena. Meanwhile, there is a herd of families migrating south towards a destination marked "Gatorback." Both of these events are about as unique as it gets for motorsports and the elements surrounding both spawned the title for this week's column. More on that later. For now, let's get Revved Up about these two special gatherings of dirtbike type folks.
There need to be more men like Eric Peronnard. As the co-inventor of the Bercy Supercross, the U.S. Open of SX and the Endurocross, he deserves to be regarded as one of the most creative, forward-thinking men involved in the motorcycle industry. This weekend will see the third running of the Endurocross and Friday night there will be a flashing sign that reads, "Tonight's event sold out!" That is a direct result of Mr. Peronnard and his associate Tim Clark's hard work.
On the other hand, I guess it isn't that much of a hard sale when you look at it on paper: "Men on 60hp dirt bikes, riding though a torture chamber of a course that Dr. Seuss himself would be proud of!" Hell, sign me up! I think this event is awesome. Take a look at that course and imagine not getting to do a practice lap, but having to ride around it as fast as you can right out of the shoot! The gladiators of the GNCC Series, the WORCS tour, National Hare Scrambles and National Enduro and other off-road tours are incredible riders and have more bike control than most people think. Guys like David Knight,
John Dowd
, Ty Davis, Mike Lafferty and Nathan Kanney will be going gangbusters for the $10,000. The packed house has a treat in store for them. Guys will be going ass-over-teakettle in that rock section and the boys will be spending a lot of time with their feet flapping in the wind.
The Endurocross is a brilliant event, and I hope when The Weege belts out the opening ceremonies, Eric is sitting in the VIP suite drinking a cold beer wearing a proud smile.
(squiggly, fading, effects)
Enter Gainesville, Florida. While the off-road guys are still pulling loose skin and picking rocks out of their elbows, about a thousand amateur dads will bring in the new day by warming up their bikes. I remember waking up to that sound and feeling the blood rush through my adolescent veins when the first bike fired to life with the aroma of mom's French toast filling the inside of the motorhome. This race was always so special because all of the new gear and new bikes have just arrived, and most of the time it marks your first appearance in a new class, bike size – most of the time both.
The Mini O's are a weeklong struggle that test a rider's overall skills on the bike with a Turkey Dinner pit stop in the middle. It's how guys like Jeff Stanton, Damon Bradshaw, Jeff Emig,
Kevin Windham
,
Ricky Carmichael
and
James Stewart
grew to know Thanksgiving. While the event has lost some of its disciplines—flat track and Grand Prix racing, for instance—due to the size of it all, it still ranks as one of the most important weeks of the year in American motocross. And as the amateur side of our sport negotiates through the four-stroke revolution, this coming edition of the event may be one of the most pivotal in its rich history. The CRF150R is going to make its major debut on the track.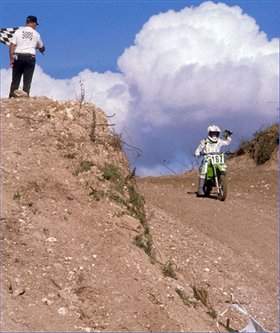 Ricky at the Mini Os
photo: Racer X Archives
Or is it? The word on the streets in there is a big pow-wow going on this week in Vegas that will determine the fate of the most controversial minibike ever made. Regardless of the outcome, in three years, there will be an RM-Z, a YZF, and a KXF version similar to the one Honda put out this year. "Bad" Billy laid it all down in a must read in the latest
Racer X
.
A few of you may have glanced at he title of this week's column and smiled, while I am sure most of you may have raised an eyebrow or two. A few months ago I was turned onto a website called Wikipedia by a friend and since then it has brought me a ton of enlightenment and entertainment. If you find a few spare minutes of free time, check it out and enter this week's title into the search engine. It should give you more of a clear understanding for my theme for the Rev Up this time around. "Lateralus" is actually a song (my favorite song) that is for the most part about expanding horizons and progression. I've gotten to look at our sport from a pretty amazing perspective from my desk in the past eight months. As I take a step back and look at it I can only smile…
Chad Reed, Lebron James and Tiger Woods now have the same sponsor; we can watch the Paris Supercross live on our computers; kids are doing backflips over gaps once considered not jumpable. Check out page three of the new Racer X and get a load of Nate Adams going all Spiderman on us. Or how about Pastrana's double-back attack? How about James Stewart throwing a bike you aren't supposed to be able to whip almost completely backwards then landing straighter than the Pope?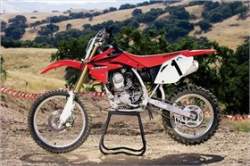 How will the new 150 do at Gatorback?
photo: Courtesy of Honda
I mean, we have sellout crowds watching cats race over man-made waterfalls in a casino? How big is the sport getting? A retiring great just signed a lucrative multi-year contract in bigtime auto racing virtually on his motocross reputation alone. And next week there will be around a thousand kids sound asleep in their motorhomes dreaming about all if it. Motocross is blowing up guys! We just have to keep the wheels on the wagon, cause it is rolling fast.
Till Next week, I urge you all to do something this weekend that you haven't done before. If you go riding, try something new. Heck, just go ride! When you're finished, take the girl to a different restaurant. Check out Wikipedia and learn something new about your favorite subjects. Be creative and think for yourself. Be like Eric Peronnard. Be like RC. Be like Travis. Spiral out. Keep going.
-Andy Bowyer