Privateer Profile: #660 Robbie Smith
Last weekend was a good one in Albany, NY, for Honda-mounted riders named Robbie from the state of Oklahoma. First of all, on Friday night Oklahoma City's Robbie Reynard took the main-event win in the 450 class, and on Saturday night Guthrie's Robbie Smith took the win in the Lites class—the first big win of his young career. Robbie (Smith, not Reynard) is a former factory BMX racer who didn't start racing motocross until he was 12. We talked to him today for this week's Sponsorhouse.com Privateer Profile. Please show Robbie and his sponsors some support by clicking on the links at the bottom of the page.
Racer X: Robbie, I take it you're on your way to Reno, NV, right now.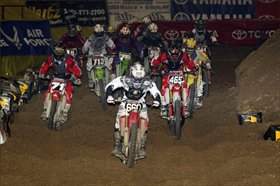 Robbie pulled the holeshot last Saturday night and never looked back
Robbie Smith: Yeah, actually we just got here. I'm outside working on bikes right now.
That has to be a tough drive going from New York to Nevada in one week.
Oh man, it was quite the drive. You have to be really close to the people you're in that motor home with! We all switched off driving and it was just a long trip.
Did you have the opportunity to stop anywhere and ride along the way?
This time we didn't have a chance to stop anywhere—we just had to drive straight through. We stopped to do laundry and stopped at Wal-Mart for some groceries, and that's about it.
Who are you traveling with?
"Dirt Bike" Mike, my teammate, and his wife, Pam. We're all loaded up in the mtoor home, and the guy who drives the Toyota truck, Philip, he's also our mechanic and he follows us. Every once in a while we'll get out and ride with him so we're not all couped up in the motor home.
This trip is probably a little easier for you since you're coming off of the Arenacross Lites main event win last Saturday night.
Oh yeah, it was really exciting. That's probably the biggest win of my career.
Take us through the main event.
It was good. I got the holeshot and when I was out front I just kept thinking to myself, 'Ride smart and stay up on two wheels.' Everything was clicking for me and I wasn't making any mistakes. I could hear [Phil] Nicoletti coming up on me, and I just held my own line and he ended up going down on his own. We got in some lapped traffic, and it got a little difficult, but after I got through that I was just happy to see the checkered flag. That was my biggest win.
What are some of your other major accomplishments?
Two years ago I rode the pro challenge at Swan Raceway down in Tyler, Texas, and I finished second there behind [Josh] Demuth, and that was probably my biggest accomplishment until now. After that my 2005 season just went to crap. I ended up breaking both of my arms and didn't start riding till February of this year.
So, do you have a lot of previous arenacross experience?
No, not really. I've only ridden some local arenacross races. I rode two National Arenacrosses in '05, but I really didn't do that well. So this year is my first year that I'm committed to do the entire series.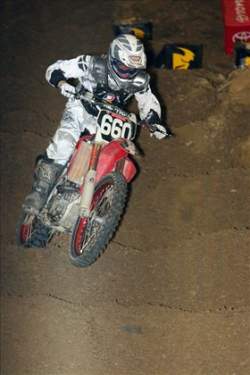 Smith is on a Honda 250F for now, but will soon be riding a Kawasaki

You're riding the 450 class as well, right?
Yes. And you're only allowed to sign-up in one region to have points recorded, and I'm doing that in the West Region, which starts this weekend in Reno. There are only two West Region races that counts towards the Lites championship. So I just have to stay consistent this weekend and in Denver, also.
Give us some background about yourself. How old are you and where are you from?
I'm 21 years old and I live in Guthrie, Oklahoma. I've been racing since 1997, and I've been pro since 2004. I actually rode the '04 and '05 East Region Supercross series, but I just never made a main event. We're doing that series again this year, so I'm hoping to make some mains this year.
Wow, it's going to be a long winter for you.
Oh yeah, real long!
So what do you do when you're not riding or racing?
I actually work full time for my dad in his automotive shop. I'm just a mechanic. I also teach a lot of kids to ride locally. I do a lot of one-on-one teaching. I then try and train as much as possible. Luckily I have a pretty flexible schedule working for my dad, so it works out really well.
Who do you ride with back in Oklahoma?
I ride with Robbie Reynard and Chad Cook—just some local guys. Johnny Marley also rides with us, but I think he's taking some time off because of a shoulder injury.
It's probably nice to have someone you grew up riding with like Robbie Reynard on this year's AX tour with you.
Yeah, I used to ride for his dad for a long time. But it works out really well because you can learn a lot from him and Robert. Even when we're riding he helps me out a lot. This year he's doing well and I'm really happy for him.
So what's the deal with Team Dirt Bike Mike?
Dirt Bike Mike's wife actually works the National AX Series, so he was going to be at all of them, and he wanted to help out some riders locally. He's helping out me, Beau Romdstadt, Chad Cook, and Tolland Weems. He's just helping us out to get us all to the races. He also hired a mechanic, Philip Mariage, to help us out with the bikes. They're helping us out to get sponsors, too. Terra is kind of like our team manager, and she's helping us get sponsors. And Shane Richardson from Western Power Sports, I told him about the team and he really put a lot of time and effort into our team. Last year I did pretty much everything on my own out of my van, so having a motorhome and a trailer to pit out of is really nice.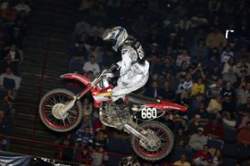 Robbie Smith hopes to qualify for some Eastern Regional SXs in 2007

Are all of you riding the same bikes?
Actually, I'm the only one on a Honda still. I was supposed to get a KX250F but I didn't get it in time, so I just got some arenacross suspension and I'm riding it in the Lites and I'm riding a KX450F in the AX class.
Is it difficult switching back and forth?
Yeah, it's a little difficult. They're actually quite a bit a like, but I'm still trying to adapt to the Kawasaki. When we have our five-week break I'm going to ride it a lot to get used to it.
Well, once again, congratulations on the win, and good luck this weekend, Robbie.
Thanks a lot!
Robbie Smith's sponsors

Team DIRTBIKEMIKE
Turf's Up
Jerry's Auto