Welcome to the Shift Number Cruncher. We had a bigtime double-digit number ready to roll this week before the news hit the airwaves of Sebastien Tortelli's retirement. It the wake of this major and somewhat sad announcement we have decided to throw some much deserved respect to the man that epitomizes this week's number, the 103.
In a way, the number kind of stands for the way his career went in that it contains the haunting number 13 in it, surrounding a goose egg. The number stands for the luck he had—unlucky 13—and the zero is for the amount of titles Sebastien won in his painful tenure in the United States.
As always, we found other cool riders that wore the number that shared some similarities to the proprietor of this particular triple-digit. So join us in taking a look at some other guys that ran #103 in their careers and help us send off Seb with some love.
Chad Reed
only raced with the #103 for one season. In 2002 Chad rode the Yamaha of Troy YZ250F to the East Coast Supercross championship, as well as his first AMA National win. In fact, check out this cool shot of Chad nailing down the holeshot at
High Point
on his way to the overall win there in May '02. Who would have guessed that this would end up being the last time Reed would ever win an overall again in his outdoor career?
It wasn't because he didn't try: Nobody in the world, including Chad, could stop James "
Bubba
" Stewart on a 125 for the remainder of 2002, save for a broken engine at
Southwick
in early June (allowing Danny Smith through for his one and only AMA National win).
The next year Chad moved up to the 250 class and from then on rode outdoors in the wake of
Ricky Carmichael
. Chad won the last moto of his career at
Southwick
in 2005 when RC went down, but he came up just short of the overall. Sadly, that was as close as Chad would get to another win outdoors, and he never finished out the series and now enters into a supercross-only gig. So for Reed, #103 stands for the amount of outdoor overall victories he has, the number of ourdoor races he's won, and the total number of titles he has earned in his professional career: 2002 125 East Coast SX, 2003 World Supercross, 2004 AMA Supercross title.
Those of you with a poor short term memory may have forgotten that
Kevin Windham
raced with two three-digit numbers in his professional career. He raced with #510 his rookie year in 1995, then last year at the 2005 MXdN he ran the 103 for Team USA. Kevin's career mimics the other cats we have chosen to focus on for this week in that he is one of the greatest riders the sport has ever seen, but is short on championships. In fact, the only three number one plates that Kevin has on his mantle are the '96 and '97 125 West SX titles he earned, and the Team USA win in 2005 in Ernee, France. Regardless, he remains one of the most popular and respected men in the sport.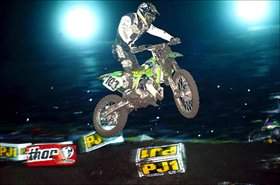 Sebastien Tortelli
photo: Courtesy of Moto Verte
When I heard the news that
Sebastien Tortelli
had decided to hang it up I took a while and reflected on his career. When Sebastien came to America on the heels of two world championships, many were predicting him to be the next Jean-Michel Bayle. After all, he had a 125 and 250 world title, and then he shocked everyone when he won the 1998 Los Angeles SX wearing the #103—and that was before he was even here full-time!
Sadly, that '98 LASX win would be the last time Sebastian would enjoy a victory in the American stadiums. But Tortelli had some great days ahead of him in the outdoor nationals, beginning with a win in his first-ever AMA National—the '99
Glen Helen
250cc opener—which is another JMB-like accomplishment.
But dark clouds (and highlight-reel crashes) loomed on the horizon. For some reason, the broad-shouldered Frenchman could not stop hitting the ground and when he did he hit it very, very hard. It began going wrong even before he went to number 13 (after stints with 44 and 21). Some of the most horrific moments I can recall of Tortelli's career were when he suffered a late moto crash at Kenworthy's that resembeled Emig's from Terrafirma 2. The footage of him standing like a drunken sailor and looking out the bottom of his helmet was truly gut wrenching. Then there was the 5th gear downhill crash he had in Brazil at the '99 MXdN that sent him spinning like a seahorse in a tidal wave. That particular impact blew out his front wheel and shoved his front spokes through his tire.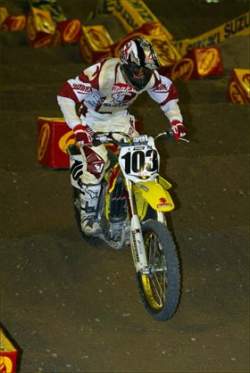 Seb in 2005
photo: Steve Bruhn
A move to Suzuki and a change to number 103 brought new hope but more crashes and injuries. Not even a subsequent move back to Europe in 2006 and a switch to the KTM team could give one of the nicest guys you could ever meet any luck at all. It's too bad things didn't turn out any differently, or better, for Sebastien Tortelli. When the track was rough and had diverse terrain, there were very few that could go as fast as he. He was a truly great guy, and his presence on the AMA circuit is truly missed.
This is Illinios'
Brian Battaglia
. In 1991 he also raced with #103 on a Suzuki. That's all we really know about the guy.
-Jeff Matiasevich had a brief return to action in 2006 and returned to the track on a purple KX250 running the 103.
-Brian Swink's 1997 season began with him wearing number 13. After some awful early season luck he switched to #103, which did about as much for him as it would do for Tortelli. This would be the last we saw of "The Swinkster."
If you have anything to add on these guys or have some more number 103's that you know of, be sure to e-mial me at andy@mxsports.com and we will throw your contribution into the Number Cruncher Redux.