Your Collection
November 14, 2006 10:32am
This week's collection comes from Brian Finmark:
"What more can one ask for? I used to live five minutes from Roger DeCoster's house in Palos Verdes, CA. My friend cuts his hair at his hair salon, so he invited us over for dinner one night, so along went the poster for an autograph. He even thought it was real neat and asked me how I got it. That factory Suzuki RH with the number 1 on it sitting in the corner of the garage was kind of neat too!"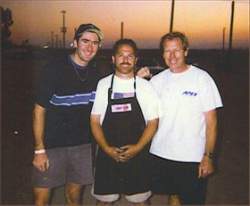 JMB, me, and Roger
Do you have a collection you'd like to see here? Just click the Throttle Jockey logo at the top of the page, click "Contacts," and use the provided e-mail address.