Bench Racing Ammo: Bercy SX Redux
November 14, 2006 12:30pm
Now that the annual Paris-Bercy Supercross is in the books and we have crowned another King, let's look back and find some ammo from the biggest supercross in Europe.
When the smoke cleared from both the fireworks and the racing, it was France's own Christophe Pourcel standing atop the podium, adding yet another impressive win to an already extraordinary 2006 season. After all, Pourcel is the 2006 MX2 World Motocross Champion—the first Frenchman to win that coveted title since Mickael Maschio did so in 2002. But what Maschio did not accomplish in that same year was winning the King or Prince of Bercy crown.
Although French riders have won in Bercy numerous times over the years—especially Monsieur David Vuillemin—it has been almost ten years since a Kawasaki won there. The year was 1998, and the rider was Splitfire/Pro Circuit Kawasaki's Nick Wey. But when Michigan's Wey won back in '98, the race was still being run under the old format, which focused on both classes, and Wey won the then-125cc class and was crowned Prince of Bercy. (Suzuki's Larry Ward won the King of Bercy title that year.) In 2002, the event shifted focus and concentrated on one main class, with 125cc and now 250F motorcycles.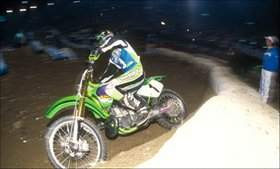 Jeff Emig on his way to victory in Bercy
photo: Chris Hultner
So if Wey was crowned Prince, who was the last Kawasaki racer to win the King of Bercy title? That distinction is held by Jeff Emig, who wrapped up his amazing 1997 season (in which he won both the AMA SX and MX titles in America) with a win in Paris for Team Kawasaki. In fact, it was the second consecutive year a Kawasaki rider was crowned King of Bercy, as Ryan Hughes won the event in 1996. And going a step further, our own David Pingree took the Prince honors in 1995 as a member of Mitch Payton's Pro Circuit Kawasaki team, setting off a nice winning streak in Paris by Kawasaki riders.
"It is a very prestigious title to win, and to be able to win all three nights made it even better," Pingree says. "At the time, McGrath was the only other guy to do that. Andrew Short is also in the club now."
And in case you're wondering, the first rider to win the Bercy Supercross on a Kawasaki was Jeff Ward, back in 1988.
Now Pourcel moves to America for a little while to enjoy learning some supercross—American-style—with the Pro Circuit team. As the kid made obvious last weekend in Paris, he's a fast learner!