Race Report: The 2006 Bercy Supercross
November 13, 2006 11:11am
It's hard to write an introduction to the amazing Bercy Supercross in Paris, France, that you haven't heard already. Whatever you heard, it's probably that and louder. It's wild. It's mayhem out there. The pompom girls are totally hot. It's three nights of supercross mayhem, and there is always a great story to tell. And if David Vuillemin is there, he's going to win.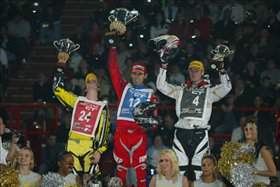 Saturday night's podium finishers
This weekend's Bercy was all of the above, but the 2006 King of Bercy is the young French sensation and MX2 world champion
Christophe Pourcel
. Pourcel was on a Pro Circuit KX250F (parts, anyway), and while his closest rivals fell or broke bikes, he won the first night, was second to Vuillemin the second, and struggled a little after a crash but still finished fifth the last night—enough to make him King of Bercy! That's a nice end to the year—he also won the MX2 World Championship and has started confirming his plans in America.
Everyone else seemed to have more problems than Pourcel. For instance,
Mike Alessi
made his third trip to Bercy and was accompanied by his new trainer/coach Gary Bailey, but he struggled in some really gnarly whoops the first day, fell and had trouble starting his bike on the second, and pulled off with a hurt shoulder and hand on the third. His new bike, the way they brought it, seemed to sink in the whoops in the beginning, and his weekend sunk with it. By the last night, they were going with 2006 settings, but then he hurt his shoulder and hand and couldn't finish the last main.
Vuillemin made just one lap of the main Friday when his bike crapped out and tossed him, and he walked off the track wondering where his next motor would come from. He made some calls to the U.S. to try to get a release to use a spare sent over for
Tommy Hahn
(who was out inured), but he ended up borrowing one from fast Frenchman Pierre Alexandre Renet, who was riding not only the premier class but the SX Tour class (a French SX series) as well. On night two, Vuillemin was back on his game and turned a last-row start into a charge to the front for the win. He won the third night too. Hey, Pierre, thanks for the loan. I will be passing you now….
Besides Pourcel and Vuillemin, the rider to watch was
Josh Grant
on his first trip overseas. Grant was on the gas all weekend and also on the ground. His crashing started in the gnarly whoops in the first practice, and later he provided some of the most spectacular crashes of the weekend.
Bercy has, for the last four years, incorporated a unique France-vs-USA-vs-Rest of World format, with three teams scored for the overall. The U.S. has won every year, until now. France won that too.
The American team was Alessi, Grant,
Mike Brown
(on his 12th visit here),
Justin Brayton
(also on his first overseas trip), Jason "Where's My Passport" Lawrence, and Zach Osborne, who is just 17 but already a world traveler.
Things came apart for Vuillemin and Grant just a few laps into the main on Friday night. First to go was Vuillemin, when his motor quit and caused him to fall. He got up, determined it was munched inside, and walked off.
Just a lap or so later, Grant, who was pinning it in the whoops to get away from a hard-charging Pourcel, wiped out hard in the whoops and DNF'd. That left Pourcel with a clear track and an easy win. Alessi got to the first turn late and was stuck on the outside, leaving him back in the pack. Brayton was a solid second, and Renet third.
Night two was an awesome race. It started with Pourcel and Grant racing to the first turn side by side, with Grant getting away first. Grant was really on the edge and pulled the field just a little, then Pourcel seemed to find more speed and close the gap. There was a great race between the two until Grant jumped up on a table that had inflatable track barriers, and he hit one and wiped out hard. Pourcel kept the lead until the end, when Vuillemin closed the gap and made a late pass for the win. This time, the podium was rounded out by Lawrence, who had his best ride of the weekend. Alessi struggled again when he fell on his own and couldn't start his bike for a while.
By night three, France had pretty much locked the overall for the weekend, since the team scores are simplified to France=1, USA=2, and Rest=3 each night. France was 1-1.
Sunday was Lawrence's turn to have bad luck: his mechanic ran out of time while trying to fix a problem with his rear shock. They held the gate for a few minutes but, despite a valiant effort, couldn't make it. Lawrence thought he might get a reprieve and get a "promoter's choice" invitation to the main anyway, but the answer was no, since he didn't make the gate for the LCQ at all. He even had words with Colton Facciotti, who assumed he was out while the bike work was going on and took the gate spot that Lawrence wanted. Brayton wiped out in the same spot Grant did the night before but got back up and kept racing.
Grant again had the early lead in the main, but with the crowd about to shout the roof off the building, he made an error and DV12 made a pass for the win. Grant stayed up this time and finished second. Pourcel's luck went downhill too when he injured his ankle in the first turn and had to tough it out in fifth. That was still good enough to win the overall King of Bercy title.
Sunday had even more hard luck for Alessi, who pulled out with a hurt shoulder and hand. Brown's luck on Sunday was worse. He seemed to be on the ground and getting run into all weekend. Still, he wasn't on the ground as much as Osborne, who found dirt friends in just about every heat and semi he was in! At least on the last night, he made the main—just barely with a third in the LCQ, the last transfer spot.
Italian 2005 MX2 World Champion Antonio Cairoli was also at Bercy to try supercross for the first time in two years, but it went about how you would expect for someone who hasn't ridden supercross much lately: his bike looked like it was having problems staying on in the whoops, but he toughed it out.
France has another young star to keep an eye on, Kounsith Vongana, but he hit the wall coming into the stadium in the LCQ Sunday and broke two fingers, which will screw up his SX Tour chances.
Eric Sorby didn't make any podiums, but a 4-10-4 for the trip was good for a respectable fourth overall in the King of Bercy (individual score) rankings—and he stayed out of trouble! The most unexpected overall wasn't Pourcel, it was Renet, who was second in King of Bercy with 3-4-3 finishes. Vuillemin was third, even though he had one DNF.
France just cleaned house this time. They won every night and swept the top four in individual scores, with
Justin Brayton
the top-scoring American in fifth.
Next year will be the 25th Bercy!