Between the Motos: David Pingree
We didn't have to search far for this week Between the Motos subject. Our own David Pingree won the 250F main event at this weekend's Troy Lee "Duel at the Docks" AMA Supermoto finale in Long Beach, CA. It's been awhile since we've heard from Ping—he's way out there in California and often doesn't take our calls—but with all of the post-race media blitz going on, we caught up with him before he goes on Letterman or Leno.
Racer X: Ping, now that the parades in Temecula and Menifee and the festivals have kind of calmed down after your big win on Sunday, how does it feel.

David Pingree: Well, we're still sweeping up the confetti, but it's good. As you know, that kind of took me away from work quite a bit this summer, as well as home and a pregnant wife, so to get a win kind of made it feel like it was all worthwhile.
Who did you feel more pressure from: your boss or your pregnant wife?
It was kind of squeezing me from both sides, like a Thighmaster.
Well, we were impressed. When someone texted me and told me you won, I was pretty stoked for you. I know you put a lot of time and effort into this. Let's start with the event: all of the returns are in, and it sounds like Troy Lee had a Grand Slam on his hands with the Queen Mary race.
Yeah, he definitely did. Some of the Supermoto races we went to, that sport has a ways to go, and I think it has a ton o f potential in it, but they have a learning curve they're going to go through here. And some of the rounds would be back in the Midwest at a Go-kart track with 40 people on the fence, and it looked like anything but a professional motorcycle race. So, what Troy did out there, he called in all of his buddies, whether it was Red Bull or Moto Brew, all of the manufacturers, and it looked like a professional race. And in typical Troy Lee fashion, there were parties every night on the Queen Mary. He makes it a big social function and party, as well as a race in itself. There are a few little bugs that he needs to work out for next year, but that's going to become one of those "must see" races every year. He did an awesome job.
Well, how was the track? I heard it was tight in areas, but that kept the racing close.
It did. Like I said, a lot of the tracks we've been to this year were little go-kart tracks, where he had to fit this into a parking lot and grassy field, basically. Marc Peters built the thing—the dirt sections—and he did a great job working with what he had there. And it went under tunnels and they had this gigantic over/under bridge which is two times taller than what you see at a supercross, because they had to get buses under it because there was a road underneath it. Actually, the entrance to the 710 freeway, we went right over the top of it. So, they did a great job, but it was very tight, which probably played into my favor a little bit. Some of the road course stuff, I'm obviously not as experienced in that area.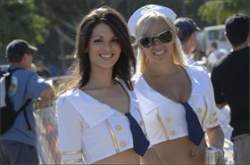 Nice shirts!

What about going under the Red Bull Tunnel? I heard they had some graffiti in there and it looked pretty bitchin'.
Oh man, it was crazy. It was probably 80 yards long and it was a long tunnel. It had a concrete entrance, and luckily you weren't coming in that fast. You were fourth-gear pinned by the time you get into this tunnel, and it was dark in there and you couldn't see very well. And when you came out of it, it was a sweeping left-hand turn with a concrete wall around the outside. They lined it with hay bales, but anyone who ever hit a hay bale at speed knows that those things aren't the greatest. It was a little sketchy, but for people watching, and once you got used to it as a rider, it was very cool.
So you beat the eventual champion Cassidy Anderson?
Well, I actually battled with Brandon Currie, the Team Yamaha guy. Cassidy only needed to earn like two points that day to win the title, so he told me earlier that day that he was just nervous and he wanted to tiptoe around. He definitely has more speed than he was showing that day. He cruised around, got a fifth and won his championship, which was awesome.
And then he had his first beer on the Queen Mary, kind of like a prom.
[Laughs] It was kind of like a prom, only without the powder-blue tuxedos. Currie had nothing to lose. He had second wrapped up even if he DNF'd, so I knew that going in that he was just going to hang it out. He had nothing to lose and everything to gain. I was in the same boat. I missed half the rounds, really. I didn't go to a bunch of the east coast rounds.
Well, but you didn't have nothing to lose—you actually, in fact, had a job to lose.
[Laughs] True, so I actually had more pressure then Currie.
I was there when you beat James Stewart at Anaheim in 2002, and I remember how ecstatic you were then. How does this match up with say, winning a 125 supercross championship, or wait, you wouldn't know about that! [Laughs]
I wouldn't know about that. Thanks for pointing that out.
Okay, a 125 supercross main event.
Well, not quite as good. At a supercross race there are 50,000 people there, and to me, supercross and motocross is the pinnacle of motorcycle racing. Some people say MotoGP, but I still think as far as coolness goes, supercross is it.
And you're a motocross/supercross guy.
Exactly. And I kind of followed earlier this week about Casey Johnson winning the Vet National, and I was real happy for him. He even said that it's just good to win something when it's been a while, whether it's a local race or a Vet race. Even moreso when you put in some work like we did with this supermoto deal. It's just a great feeling to win, standing up on the podium, squirting Moto Brew or whatever they gave us. I even found myself laying in bed that night smiling.
When you talk to other people Dave, do you squeeze in Racer X as often as you squeeze Moto Brew when we interview you. I noticed that you're really good with your sponsors, but how are you with your paychecks?
You know what, I'm usually introduced that way so I don't have to necessarily pump it up. The plug comes at the very beginning: Racer X's David Pingree.
Okay, in true Jimmy Lewis fashion, you're starting to accumulate a very wide variety of race wins and accolades. You got a 125 supercross win, a podium outdoors, a Mini-Moto win…
That's an AMA title, Davey, don't cut me short.
[Laughs] I'm sorry, an AMA Mini Moto title. Did you win at Loretta Lynn's?
Yeah!
And the ground you broke as the first American Chinese Factory rider. Dude, we're going to have to send you to Erzberg with Travis and Lewis.
I think the next thing I'm going for is a Hillclimb win.
That's right! Didn't you just get second or third at one?
In the Pro class I actually finished 11th, but in the 450 class I got second. Not all the best guys were in there. But I was pushing the top 10, and it was my first time out. So, I'm going to line something up to do one next year. They actually have one at Glen Helen, so I'm going to try and add that to my list. You know what though? I had a lot of people asked if I'm going to race Supermoto full time next year, but I don't know yet. I'm kind of having fun just mixing it up and doing different stuff, without having the pressure of just one thing.
What about the series itself? Obviously over the years there have been so big hits, with Troy's race and the Reno race, but then they missed on some other ones, with maybe the wrong time of day or some weather issues. As someone who has participated in that series on and off the last two years, where would you like to see it go in 2007 and beyond?
Well, I think you just can't go to a kart track and expect people to come out of the woodwork to watch supermoto—it's just too young. They either have to keep it in Southern California, where the motorcycle industry is, or combine it with some Champ Car stuff, which they're doing, and take it to some cool venues. Maybe do one down in Florida in Jacksonville or somewhere. You have to do it somewhere interesting. The only complaint I heard about Troy's race was it's hard to see, a lot like a road race where everyone is glued to the fence and they come flying by and that's all you see. I think for Troy this year it was an expense issue with bringing in grandstands, but that's what you're going to have to do to get the fans up so they can see more of the track.
Well, if anyone would be willing to further invest in an event like this, it would certainly be Troy, because it sounds like he hit the ground running, and there's a lot of momentum for that event at Long Beach. They've tried BooKoo Arenacross in Long Beach, and it failed pretty badly, and they tried some other stuff. But for Troy to pull something like this off right out of the box, maybe he's on to the secret formula that it's going to take to make the sport more vibrant for spectators and participants.
Anything that Troy does, especially when he's passionate about it, is going to get better. He was willing to lose a bunch of money, and as much of a success it was I think he still lost money, but he's willing to do that to help grow the sport. I think as long as he is in the promoter's ears, they'll listen to him now that he's had a successful event. When you got guys like Wardy, Henry and Micky—those are amazing riders and great people. They have stars in the sport and it's going to continue to grow.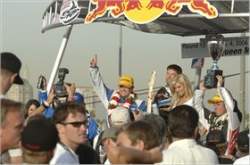 Ping celebrates with Moto Brew

You mention those three guys—Wardy, Henry and Mickey--and you and I both know that the evolution of motocross and MX tracks doesn't really lend itself well to a 40-year-old guy to get out there, unless you're Doug Dubach. But with Supermoto, which offers an opportunity for guys to race close and show they still have skills, maybe that's the direction they should go. Man, I bet Jeff Stanton would just kick ass out there. The only thing missing from a Ward/Henry battle is a Jeff Stanton! So maybe that's the direction Troy and the gang should go.
Even Ricky has said that he's excited to try supermoto and he wants to try the X Games.
I hope that more people latch on to it and it sounds like it was a wonderful event. Everyone hear at Racer X was stoked for you. And now that we've done this interview, you can actually write your entry fee off. And what is our share of the winnings?
The check is in the mail!
Oh, okay, so is yours!
Thanks boss.