Bench Racing Ammo: French Connection
The month of October has been a good one for MDK Motorsports' David Vuillemin. The veteran Frenchman put together some solid rides at the Jeremy McGrath Invitational and the Rockstar Energy Drink U.S. Open, then traveled to England to win the Sheffield Supercross before heading to Tijuana, Mexico, for yet another win. But this weekend he heads to his home country of France for the 24th running of the Paris-Bercy Supercross, which pits some of the best 250F supercross racers in the world against each other in a USA vs. France vs. Rest of the World format.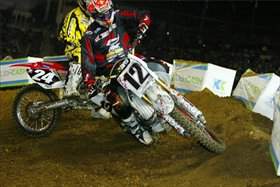 You'll be seeing a lot more of this at Bercy
Four years ago, the Paris-Bercy Supercross underwent a major change, focusing solely on the MX2 (then 125) class. At first the change was questioned—it meant that the reigning 250 SX Champions would likely pass on the race, but Carmichael has only raced there once anyway—but after the first year, people realized it made for some spectacular racing, as fans get to witness Open-class riders such as Vuillemin, Mickael Pichon, and Sebastien Tortelli competing against younger 125 and 250F racers from around the globe.
David Vuillemin—all 6'2", 180 pounds of him—racing a 250F? Yes, believe it. In fact, DV12 can ride a 250F pretty damn well, and he has proven that many times at this event. He's won the King of Bercy crown four times, and the Prince of Bercy title twice, but Vuillemin has his reservations about this year's event.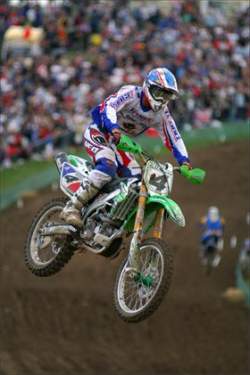 Sebastien Pourcel at the 2006 MXdN
"I've won a bunch, but this year might be the toughest race ever for me," said Vuillemin in an earlier Racer X Online interview. "It's not my class, it's not my bike. We're trying to do some testing on the bike, and MDK is doing a great job trying to make the bike as good as they can. But I'll be racing with
Josh Grant
, Alessi,
Tommy Hahn
, the Pourcel brothers—there's a lot of guys that know their bike and have good equipment."
Aside from Vuillemin, other crowd favorites will surely be the French Pourcel brothers. Christophe is the 2006 MX2 World Champion, and his older brother, Sebastien, is no slouch either. Christophe has recently been spending some time in the United States, and rumors from the Kawasaki test track is that Pourcel can get around a supercross track quite well. Being on a Mitch Payton-tuned Pro Circuit KX250F won't hurt matters, either.
Benjamin Coisy
will also be joining Team France, along with AMA circuit veteran Eric Sorby and Cyrille Coulon. So can Team France pry the Bercy crown away from the firm American grasp? With the combination of old and new talent, it will surely be interesting to see—especially with twice-running King of Bercy
Andrew Short
out with a knee injury.
But you can argue that this year's French team pales in comparison to what it could be. France has produced its share of motocross world champions: breakthrough champ Jacky Vimond of the 1980s, world-beater Jean-Michel Bayle, the elegant Sebastien Tortelli, and the well-rounded Mickael Pichon, plus 2002 125cc world leader Mickael Maschio. But missing from this year's Bercy pre-entry list are three French riders who all have amazing supercross talent (but amazingly bad luck): Tortelli, Pichon, and Stephane Roncada. Tortelli was twice a world champion, and Pichon and Roncada have combined for 16 125cc supercross victories and three East Regional SX championships. Now each appears at the end of their respective careers.
Which brings me to this: if you had to create a French fantasy team for the Paris-Bercy SX, what would it be? Mine would be DV12, Pichon, Seb Tortelli, Ronron, and the young Pourcel brothers (no JMB because he's a touring car champion now!). I'd have
Steve Boniface
as a backup.
Nonetheless, the French team has to deal with an American team consisting of Grant,
Mike Alessi
, Yamaha of Troy's
Jason Lawrence
, Red Bull KTM's Zach Osborne, the veteran
Mike Brown
, and more. And Grant just may be our ace, as he has been on a roll, finishing second at the Jeremy McGrath Invitational and first at the U.S. Open. Stay tuned to Racer X Online all weekend for breaking news and results from the 24th running of the Paris-Bercy Supercross, where it's 100 percent supercross plus 100 percent freestyle for 200 percent show!