Where Are They Now: Dale Spangler
Dale Spangler got his first motorcycle in 1981. His dad was a drag racer, and his love of competition would be passed on to his son when they went to their first motocross race, outside of Cleveland, Ohio. Dale and his father both became fanatics for the sport, and before long they were racing every weekend. By '84, Dale had won the 125 C championship at the Florida Winter-AMA Series. He secured a Team Green ride with Kawasaki and continued to show promise at the amateur national events he attended. Spangler went as far west as Texas and hit every major amateur championship event east of the Lone Star State. His best finish at Loretta Lynn's was a third in the 125 A class in 1985.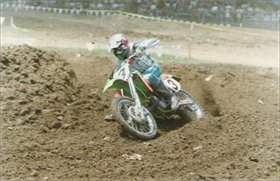 Spangler in the 125 A Mod class at Loretta Lynn's in 1988
"Growing up, I was always racing with
Mike LaRocco
, Fred Andrews, and the Beckingtons brothers," Dale says. "Those guys would beat me most of the time, but it really pushed me to improve as a rider. I had to work really hard to keep up with them."
Spangler's first pro race was the national motocross at Lake Sugar Tree in Axton, Virginia, in 1988. He didn't qualify, but he would go on to be a regular top-twenty finisher in motocross and even finish as high as sixth overall in the 1989 East Region 125 Supercross Series. His best moto finish was a third at
Red Bud
that same year aboard a Tuf Racing Suzuki. It would end up being his last season of full-time competition.
"My dad and I always talked about a time line of opportunity," Dale explains. "We said that if I didn't have a factory ride by a certain time, then it was probably best that I try doing something else. I earned national #41 for the 1990 season, but I never used it once. I quit racing and became a regular working guy. I got married and went to a two-year trade school for computer drafting. My marriage only lasted a few years, though, and about that time I really got the itch to ride again."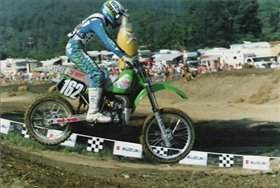 Broome-Tioga in 1988
Spangler hit the road with a bone-stock Honda 250 to race some nationals in 1994. The following year he even put together a pretty solid deal with F&S Suzuki, a prominent dealership out of Ohio. But shortly after the Charlotte Supercross that year, Dale broke both of his wrists in a bad crash and hung up his boots once again.
After bouncing around for a while, he took a job with Smith Optics in 1999. Out of a rental car, he prepped goggles for Greg Albertyn as he made his championship run that year.
The job at Smith took Dale to Boise, Idaho, where he still lives; he currently works for Pro Moto Billet/Fastway Performance. In addition to working full-time, he is working on a four-year degree with an English major. He plans on graduating this May.
"I still follow the sport very closely," he says. "I love it. It's something that will always be in my blood. I sold my bike until I finish college, but I'll buy another one pretty soon. I really think that racing taught me a lot about how to be successful in life. The same principles and work ethic transfer right over to daily life. I've had to work so hard to keep up with my credits at school and my hours at work, and without the competitiveness that I learned racing motocross, I don't know if I would have been able to do it."
Check out Dale Spangler's personal website at www.spangledesh.com.