10th Annual Leroy Winters Memorial ISDT Reunion Ride
If you like dirt bikes from the '60s, '70s and '80s, are a fan of the ISDT, reliability trials and qualifiers, and like hanging out with the heroes of your youth, then you missed the opportunity of a lifetime if you weren't at the ISDT Reunion Ride … at least until next year.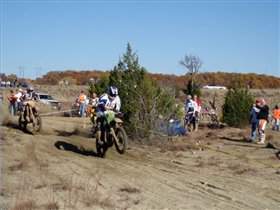 Jeff Fredette aboard 1983 KDX175 leading overall winner Jim Stanfield on modern KTM EXC. Freddie was 2nd overall.
We had guys like John and Jack Penton, Carl Cranke, Jeff Fredette, Dane Leimbach, Doug Wilford, Ed Kretz, John Greenrose, and a slew of others show up to either ride or bench-race in the midst of over 150 vintage off-road fanatics. The Missouri Mudders were the host club and did a great job of setting up a weekend of fun in the woods and on the grass track. Mother Nature threw a wrench in the gearbox with almost a half-foot of rain on Friday that made the Saturday trails a real slopfest in some places, but Park Hills drains off fast and by Sunday trail and track conditions were perfect.
The ISDT Reunion Ride was started by two of America's off-road legends, Leroy Winters and Dick "Bugs" Mann. This is the tenth running of the Reunion, and it is meant to give honor to the original, tough International Six Days Trial, the motorcycles used three and four decades ago, and the hero riders who represented the USA at the "Big Show."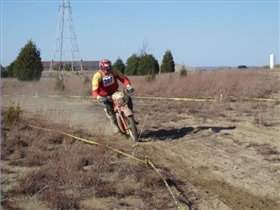 Retired Indiana Pacer basketball pro Rik Smits aboard Maico 490...he makes it look like a mini-bike, but then he's something like 6'11" tall!
The ISDT has historically been held in Europe since its inception in 1913, and only the best of the world's off-road talent makes the cut. U.S. involvement really took hold in the mid-'60s, when guys like Bud Ekins, John Penton and Malcolm Smith tried their hands at international competition. Just about any big name in off-road motorcycling has been to the Six Days at least once, and many have been there eight or ten times. And then there's Jeff Fredette, who departs for New Zealand in a couple of weeks for his 26th Six Days!
But let's talk about the event. It actually started on Thursday night at Dave Mungenast's Classic Motorcycles Museum in nearby St. Louis. Our pal Dave passed away earlier this summer, and a reception at the museum honored him and his stellar career as an off-road racer, Hollywood stuntman, successful businessman, and philanthropist.
Friday brought rain, rain, and more rain as competitors poured into the riding area to get their bikes tech-inspected and impounded for the night. Old friendships were renewed, new ones blossomed, and the Six Days vets were kept busy signing autographs and telling tales of their past adventures.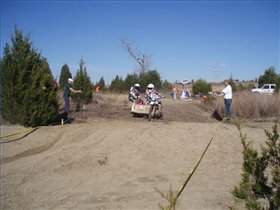 Ken Clements and Wayne Peladeau
Saturday dawned clear and cool, but the half-foot of rain that fell on Friday would play havoc on many a rider's plans to bring home a gold medal. The majority of the course was in great shape, but a couple of miles of case-deep mud put a damper on the weekend for a number of competitors. The majority that pushed on through the tough sections were rewarded with some great trail riding with timed special tests interspersed between the regular known checkpoints.
The time schedule at the Reunion Ride is purposely slow so that riders can have time to chit-chat at checkpoints or made repairs as needed. The usual Reunion Ride "formula" calls for about 45 miles of trails on Saturday, along with some special tests to establish class ranking. A shorter course on Sunday, generally around 30 miles, gives time to squeeze in the much-anticipated afternoon grass-track motos before everyone has to head home.
Saturday evening brings a catered awards banquet that is a chance for more photos, autographs and bench-racing. Speedvision's Larry Maiers, himself an ISDT veteran, serves as master of ceremonies and summons the many legends in the audience forward to tell of their exploits. A number of awards are presented to individuals or groups in recognition of their past accomplishments in the Six Days or their help making the Reunion a success.
Sunday morning brought even milder temperatures and plenty of sunshine as the riders started out on the Day Two course. The Park Hills terrain sheds water like a duck's back, and trail conditions were nearly perfect. Saturday's slop was almost completely gone, and the course was arrowed around the one or two real problem areas. Smiles were abundant at every checkpoint, and every rider was ready to dice it up on the grass track shortly after noon.
A total of thirteen four-lap motos were run, with riders of like ability and like-year machines racing against each other. The spectating was a motorcycle history buff's dream. One moto would pit the big BSA and Triumph thumpers against each other, then the next would be full of buzzing Pentons and Husqvarnas.
The racing was serious too! Perhaps the most anticipated race was that of Canadian Helmut Clasen and German Burchard Lenz, both aboard beautifully prepared Sachs GS250s. These two former Six Days riders battled handlebar to handlebar after grabbing a huge holeshot over the rest of the field, and neither would let up. Speedy Clasen finally edged his friend Burchard out for the win, but not my much. Did I mention that both of these guys celebrated their 70th birthdays last year … and smoked their moto by 15 to 20 seconds over everyone else? Wunderbar!
The final moto pitted most of the former ISDT riders together. These guys can still twist the throttle and always put on a great race. Top dog this year was Jim Stanfield who took advantage of his Six Days veteran status and opted to ride a modern KTM for the event, but hot on his heels was Jeff Fredette aboard an air-cooled 1983 KDX175. Stanfield only edged Freddie out by a few feet at the finish line. Watching these guys on the track is amazing, but seeing them in the woods is absolutely incredible. To say they are fast is an understatement!
All too soon, the weekend is done and the medals are handed out and everyone has to pack and head for their corner of the world. Not to worry, though: the Reunion Ride will be here again before you know it. Next fall, the Reunion will return to New Blaine, Arkansas, another awesome place to ride.
Watch the AHRMA website, www.ahrma.org, for more details. For vintage bikes, vintage racing, and all of your favorite off-road legends, the ISDT Reunion Ride is the place to be.