Privateer Profile: #798 Billy Ainsworth
The 2007 AMA Motocross/Supercross National Numbers were recently released, and it's always interesting to see who got what. But do you ever wonder who is the first rider to miss the boat? Well, the rider who just missed #99 was Columbia, Connecticut's Billy Ainsworth. The 21-year-old Chaplin Kawasaki-sponsored rider finished 14th in the first 250F moto back at the third round of the AMA Toyota Motocross Nationals at Southwick, but unfortunately those seven points weren't enough. It looks like he'll just have to score more points next year, and he'll have a lot more help in doing so as he is one of three riders on the newly formed Chaplin Kawasaki team for 2007. We talked to Billy for today's Sponsorhouse.com Privateer Profile. Be sure to show him and his sponsors some support by clicking on the links at the bottom of the page.
Racer X: Billy, unfortunately, you're the first guy that didn't get a 2007 national number. What a bummer!

Billy Ainsworth
: I know! I saw that, and I did the math and knew I was on the fence. It doesn't really matter either way, but then I saw they left off #20 and #21, I was like, what the heck?
Did you think you had a chance of getting a number?
I thought I would, but I knew it would be close, and it just didn't work out.
How many points did you have this year?
I had seven, and they all came in the first moto at Southwick.
What do you think about the current system for national numbers?
I think it's good. It makes the top guys very recognizable. But I always look forward to seeing the new numbers every year. But I don't really agree with the rule that all you need is one point to hold your number. Like, I hang out with Doug Henry, and I think it's cool that he gets #19, but it's a pretty good number to only see one race every season.
How long have you been riding?
I've been riding since I was first able to, and I started racing around the age of six or seven.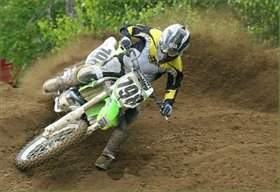 Billy has signed with Chaplin Kawasaki for 2007

When did you turn pro?
I got my pro license in 2003.
How many nationals have you qualified for?
Broome-Tioga in 2005 was the first national I qualified for. And then I qualified at Southwick and Broome-Tioga this year.
What's it going to take for you to get to that next level?
I'm really confident now as far as going to the outdoor nationals and being able to qualify. It's just getting there is the hard part. It's expensive to travel and do it.
How old are you, and do you have a job?
I'm 21 years old, and my father owns a machine shop, so I kind of help him off and on since I graduated high school. This year I ran the entire NESC series in the spring and won the 125 championship in that. Just doing that stuff, I make enough money to not have to work full-time now. I also live with my parents, so I don't have to pay rent or anything, so that helps.
Well, the points you earned in 2006 came at Southwick, and that's one of your local tracks. What is it that makes local racers so damn fast at that track?
I probably race there four or five times before the national comes around each year, so that has to help. Southwick is pretty much my favorite track around here, but I wouldn't say that I'm a sand rider or that's my best track. I just think the added track time prior to the national is an advantage.
Did you race any supercross?
Yeah, I did five rounds of the East Coast supercross series last year, and St. Louis was the farthest. The first couple I was nervous, but then I made a couple night shows.
What's the plan for the off-season?
This off-season looks pretty good. The dealership I've been riding for the last three years, Chaplin Kawasaki, they just bought a semi like two months ago, so they're all gung-ho on having a team. We're going to have a three-man team and we're doing the entire East Coast series, and I think we're going to do Toronto too. It's going to help out a lot. The owner is really into it, and we're all going to have real good bikes because we're getting some good support from Kawasaki.
Who are your teammates?
Robby Marshall and Craig Dube.
Will you guys race the AMA outdoor nationals?
Yes, the plan right now is to race the close nationals, like Red Bud and everything east of that, but they're still working out some issues, trying to get sponsors on board. I'm hoping we do them all, because all three of us are definitely way better outdoor riders than indoor right now. But this entire winter we'll be able to ride supercross, and I think we'll all learn a lot. Robby is friends with a guy in North Carolina who is going to allow us to ride there a little bit.
Right on. Sounds like you have a busy off season ahead of you, so good luck with that. Before we finish up, you have anyone you want to thank?
Yeah, I want to thank my mom and dad and all of my sponsors.

Billy Ainsworth's sponsors:

www.chaplinkawasaki.com
P-Lok