Bench Racing Ammo: Duel at the Docks
For all us diehard motocross and supercross fans, this time of the year is the worst. We're in between motocross and supercross seasons, and although there have been some great one-off races—the Motocross des Nations, Jeremy's SX, the U.S. Open—plus a few overseas' supercross events going on, it's not quite the same as a full-blown Toyota AMA National or Amp'd Mobile Supercross event.


Nonetheless, the next best thing to wet our appetites is AMA Supermoto, and if you're yearning for some bar-to-bar racing, I'd urge you to check out this weekend's season finale which is going off in Long Beach, CA, right on the docks next to the Queen Mary, which is the historic ocean liner and World War II troopship. Dubbed the "Duel at the Docks," this event will not only feature the regular contenders, which includes former factory motocross racers Jeff Ward (seven championships) and Doug Henry (three), but also Red Bull KTM's
Josh Hansen
and AMA Pro Superbiker Josh Hayes will be in the mix as well.
But if you haven't paid much attention to the 2006 AMA Supermoto Series, let's get you up to date with what's going on: There are three classes, with the premier class being AMA Supermoto. After nine rounds, Team Troy Lee Designs Honda's Jeff Ward leads Graves Motorsports Yamaha's Doug Henry, 382-351. Ward's teammate, Chris Fillmore, sits in third with 318 points.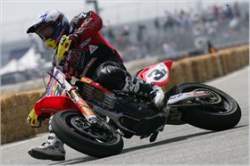 Jeff Ward is going for a championship this weekend in Long Beach
photo: Simon Cudby
In the Supermoto Lites class, it's Team Troy Lee Honda's Cassidy Anderson leading the series with 219 points over Graves Yamaha's Brandon Currie, who has 196 points. France's Alexandre Thiebault sits in third with 136 points.
And finally, in the Supermoto Unlimited class it is Red Bull KTMs Ben Carlson leading Husqvarna's David Baffeleuf, 178-174. Pennsylvania's John Lewis sits third on his Red Bull KTM with 160 points. For more information on the AMA Supermoto Championship Series, please visit
www.amasupermoto.com
.
Now for some history on the Queen Mary:
War Service: March 1940 - September 1946
War History: Carried a total of 765,429 military personnel. Sailed a total of 569,429 miles (916,407 km). Carried up to 15,000 troops at one time. Carried wounded returning to the United States. Transported Winston Churchill three times to conferences. Carried 12,886 G.I. brides and children.
Resumed Peacetime Passenger Service: July 31, 1947
Retired from Regular Passenger Service: September 19, 1967 (after completing 1,001 crossings of the Atlantic)
Departed on "Last Great Cruise": 9:30 a.m. Tuesday, October 31, 1967
Arrived in Long Beach, California: 10:00 a.m. Saturday, December 9, 1967
Troy Lee's "Duel At The Docks" begins on Friday, Nov. 3rd with practice sessions that are open to the public. Saturday the 4th will feature amateur racing in the NASMOTO (North American Supermoto) championship, with the AMA Supermoto Championship national final taking place on Sunday the 5th. Tickets are available at www.troyleedesigns.com and at participating Southern California Honda motorcycle dealers.