Monday Conversation: Jason Thomas
This past weekend was the Sheffield Supercross in England, and the top American finisher in the premier class was Florida's Jason Thomas, who finished second to David Vuillemin. JT$ promised us last week that he would check in to tell us about the race, which also saw Mike Alessi take the 250F class main (both Alessi and Vuillemin are likely staying in Europe for the Paris-Bercy SX). Here's what we talked about for today's Alpinestars Monday Conversation.
Racer X: Jason, when did you get back to the States?
Jason Thomas: I just got back last night. I flew all day yesterday, and then I go back over Thursday.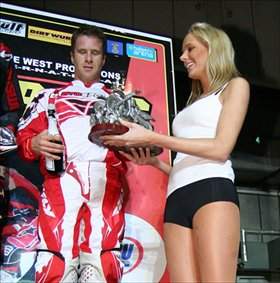 Thomas finished second at the Sheffield SX

Photo: Maxime MARTIN - www.mxmax.com

Was it your first time racing the Sheffield SX?
Yeah, it was the first time for both me and David Vuillemin.
So it was one of those deals where you just fly over, race, and then fly back—no time for sightseeing, right?
Yeah, I'm only going to stay over there one week throughout the winter. For the rest of the races, I'm just flying over and flying back. But this past weekend, I went over a couple days early and worked with my agent's son, Brad Turner, who is just starting to go pro over there now. So I worked with him a couple days before the race, and then I raced. So I was over there a little earlier than normally. Usually it's fly in, get the bike built, race, fly home.
I'm assuming you don't have to pay for all of your airfare?
The promoter pays for airfare, accommodations, and start money.
So that makes for a good weekend for a privateer like yourself.
Oh, for sure. It wasn't always like that, but I've been going over there for a few years and would do pretty well, so they stepped it up for me.
Well, congratulations on your second-place finish at the Sheffield SX over in England this past weekend. You were the top-finishing American in the Open class.
Thanks. That's the way you have to do it. If you're going to go over there and try to make any money, you have to step it up. We beat all of the guys like [Gordon] Crockard and Billy Mackenzie and all of the GP guys.
Is it obvious that the Americans—or the guys racing in America, like DV12—have an advantage in supercross?
Oh, for sure. From what I saw this weekend, those guys are all great riders; they just don't have the supercross experience that we get.
Who supplied your bike?
Roger Harvey at Honda Europe kind of organized everything, along with my agent, Allison Turner. They got everything set up, so it was really easy when I got there.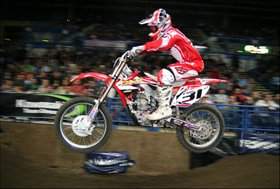 Photo: Maxime MARTIN - www.mxmax.com

Tell us about the actual race. First off, is the format similar to supercross here in the U.S., where you have qualifiers and semis?
Yeah, it was actually really easy because they don't have so many classes and so many riders. We just basically had a heat race, and Vuillemin won his and I won mine. We then had a little break and I watched Mike Alessi run his main event, and then we ran our main event. It was really low-key and really easy. I'm sure that's what it's like for Ricky and Chad Reed and those guys—just race your heat and then the main event. But it was nice for me.
Did a lot of spectators come out for the race?
Yeah, I think they had like 8,000, which, for an arena like that, it was really good.
Did you keep DV12 honest throughout the main event?
Yeah, but he had a little more than I did, for sure. I was winning in the beginning and he passed me, and I just tried to stay with him and keep pressure on him as much as I could, but he was riding really well. And I think that has been reflecting in his results lately.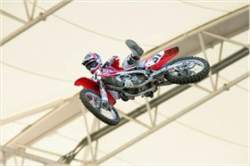 photo: Simon Cudby

Did you have a nice cushion over third-place finisher Gordon Crockard?
Yeah, we had a pretty good gap on him. I actually couldn't see him. I know we lapped up to fourth or fifth. The whoops were pretty big, and there was some tough rhythm sections, so I think we were able to put some time on those guys every lap in those sections. Other than trying to stay with DV, I didn't have too much of a problem in the main event. I was just trying to put consistent laps in.
How long were the lap times?
They were pretty short—26 seconds or something like that.
Do you plan on going back to Sheffield next year?
Yeah, I'd definitely like to, providing that I can work out arrangements with the promoter again.
What are your plans for the few days that you'll be home in Florida this week?
I have to test on Tuesday and Wednesday with the '07 stuff, and then I leave Thursday to go back to Europe. I go to Prague this weekend, and then I'm going to stay in Germany next week. Hopefully, I can ride one day or something, but it's just really hard with the weather over there. I then race in Germany the following Friday and Saturday, then I'll fly back home.
When you're staying for that long in another country like that, what do you do for training?
We actually train more than normal because we don't get to ride that much. There's really nothing else to do. The weather is crappy and you can't really talk to people with the language barrier, so we just hang out with the people we know and just try to find stuff to do.
Anyone going to Prague with you?
I know Joe Oehlhof will be there, and Doug DeHaan. It'll be good. It's usually the same group each year, and we all get along and have a good time.
Are you looking forward to next season here in the U.S. with the Butler Brothers team?
Yeah, it should be good. I'm doing some testing tomorrow, but everything has been great. So far, they've been awesome. Everyone, including BTOSports.com and Rick Case Honda, Fly, just everyone has been very helpful.
You have anyone you want to thank before you set sail for your next overseas adventure?
Yeah, I want to thank Allison Turner, my agent; John Hellam, the promoter; Roger Harvey from Honda Europe; and my team for all of the help they've given me so far, which is Butler Brothers MX, BTOSports.com, Rick Case Honda, Fly, and a special thanks to Chuck Miller from American Honda for helping me out on a personal level next year. And thanks to my parents too.