Halloween is upon us! The second most commercial holiday in America now (which says a lot about our sense of humor and partying) is basically a weekend event that will stretch into Tuesday. There are parties everywhere—Ryan Hughes is having the must-attend motocross get-together—and the more flamboyant and funny the costumes, the better.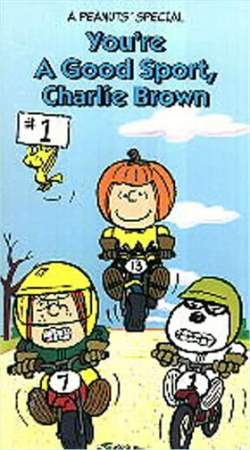 Happy birthday, Charlie Brown and the Great Pumpkin!
Today, October 27, also marks the 40
th
anniversary of the first airing of
It's the Great Pumpkin
,
Charlie Brown
, which is the second-best cartoon ever put on TV, for my dollar. Of course,
Merry Christmas Charlie Brown
is the gold standard, and a close third for me is the barely remembered
You're A Good Sport, Charlie Brown
! That's the one where Chuck and the gang get dirt bikes and race motocross. If you've got it, you know how good it is!
So happy Halloween, everyone. Look for photos from the Racer X Party next week. And happy birthday today to David Brozik, who just turned 6'4".
As we settle into the off-season, there's not much going on in the way of big races, big winning streaks, or big exchanges—unless you count the never-ending Team USA-won-but-lost threads going on around the Motocross des Nations. As a fan of Team USA, never has winning been so bittersweet. Watching people twist what they saw in their minds on the moto boards into our-side-is-better rants is kind of funny but also way over the top. It reminds me of the political process we're undergoing here in the States right now, which has gone from centering on a war in Iraq to whether or not the guy from Back to the Future is on his meds or not.
Well, anyone who's not quite sure about who won and why, please visit the AMA offices in Pickerington, Ohio, and ask to see the Peter Chamberlain Cup. It's been there for two years now.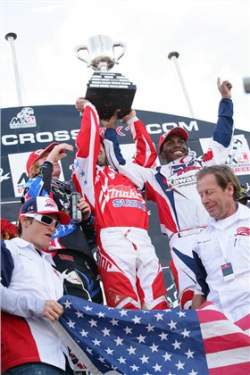 Want to see the trophy? Visit Ohio
photo: Simon Cudby
And anyone on this side of the ocean who doubts
Stefan Everts
' credentials needs to see the record books. He's got 101 wins and 10 world titles in 18 years on the circuit. While it's not an RC-like domination, his last five years sure as heck are. And winning 14 of 15 Grand Prix is as close to a perfect season like Ricky's as you can get without actually pulling it off. He was the fastest man that day. Period.
The other thing I don't get is the Cairoli-whipped-Villopoto part. Was I at the same race? Because I thought Villopoto won the MX2 overall. Tony is very, very fast, and he would certainly contend for championships here, but a 10-1 doesn't beat a 3-2 in any scoring tally that I've ever seen. Once Villo flew off the track and went through the fence, it was understandable that he would back it down a notch. He showed a lot of brains, stamina, speed, and teamwork for a rookie—and even after all that, he was only three seconds between the highly impressive Cairoli.
As for the stem-cell research political flap and Michael J. Fox and Rush Limbaugh, my dad told me to never get political in motocross talk—there's no way to not offend someone out there—but I will say this: I know enough people in wheelchairs and worse to believe that if there is the slightest hope for curing paralysis, let alone things like Parkinson's disease or leukemia (which touches very close to home for me), why not give it a shot? Sometimes, hope is the best medicine of all, and the thought that our scientists have every path and opportunity (within reason) available to them would offer more hope. It would have for my dad.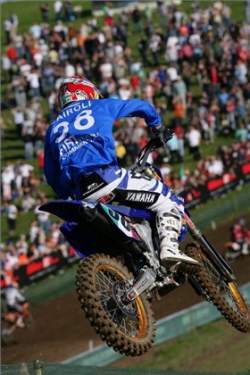 Cairoli has some game for sure—for one moto
photo: Simon Cudby
Speaking of my dad, check out this letter an old friend sent me: it was sent in 1985 with a savings bond that the rider won from Loretta Lynn's. His mom took him to the bank last week, opened their safety deposit box, and pulled out the letter and the old bond, which was worth $300 when it was issued but now is worth something like $2,800.
Anyway, the letter was signed by my dad and his old partner Paul Shlegel, and the young rider who won it and kept it—Trampas Parker, who went go on to win two FIM World MX Championships—told me there was no way he was cashing it in.
Parker, by the way, is moving back to the States full-time soon. His son Ricky (named after RJ) is a hot road racing prospect, so keep an eye and ear out for Ricky Parker.
Stefan Everts finally got beat again. Actually, it was at the Weston Super Mare Beach Race in England, and Stefan was there having fun, just like always. Only this time World Enduro Champion David Knight also showed up and beat the MX sand god straight up.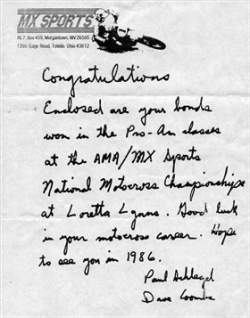 Here's the letter "Chad" Parker got after doing well at Loretta Lynn's in 1985
Next weekend will see Everts racing again, this time at a big international motocross event at Taupo, New Zealand—the home of
Ben Townley
. It's the same place that
David Pingree
visited last season, only to come back with his kidney belt between his legs! Everts and fellow Belgian great
Joel Smets
will both be making their final international race appearances. They'll be up against Townley and his fellow Kiwi
Josh Coppins
—the heir-apparent to Everts in MX1. Veterans like
Darryll and Shayne King
will also be there. We'll have more on this event next week.
And speaking of Stefan, wow, is there a cool book out on his amazing '06 season. It's called Stefun: The Last Fight and it includes comprehensive pics of the entire MX1 campaign. The photos are by the legendary Max Zanzani and rising shooting star Plons, and it's 256 pages of nothing but cool shots. You get to see Stefan's march to the finale checkered flag in Ernee, shots of beautiful tracks like Loket (Czech Republic), Sugo (Japan) and Montevarchi (Italy). The book is available right now on his website, www.S72.com. It is WELL worth the price.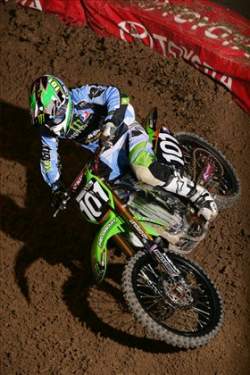 "BT57" is going back home for some racing
photo: Simon Cudby
Just because there are no SX races on the North American horizon until December in Toronto doesn't mean the guys are sitting at home doing nothing. Team Kawasaki's
Tim Ferry
was out practicing and testing in California this week, and
Simon Cudby
caught up with him for a very cool Racer X Films mini movie.
Check it out
at Racer X Films.
Also, yesterday Cudby cruised over to the Honda testing grounds and found new signee Tommy Hahn hard at work on his supercross game. Hahn put in a whole bunch of laps, and Simon was impressed with the kid's work ethic. Check out the movie he made with the #42 at Racer X Films as well.
Makita Suzuki riders Ricky Carmichael and Ivan Tedesco were also working hard preparing for the Canadian WSX rounds. They became really close during all of the training and testing last year, and it's carried over to this year—they are even spending this weekend together with their wives at Ricky's beach house in Destin, FL.
Also, check www.mbrmbvmotorsports.com. Jay Frye is Ricky's new stock car boss. He is a former college football player who also helped develop another pretty popular race car driver at a young age: Jeff Gordon.
The next absolute must-attend race in America is
Troy Lee
's Duel At The Docks, otherwise known as the AMA Supermoto Championship Final. It will take place next weekend right in front of the
Queen Mary
in Long Beach. It will be an all-time party, from what we're hearing, and the racing should be amazing:
Jeff Ward
,
Doug Henry
, newly crowned AMA Superbike Champion
Josh Hayes
,
Chris Fillmore
and
Mark Burkhart
—even
Li'l Hanny
!
Troy Lee's Duel At The Docks begins on Friday, Nov. 3, with practice sessions that are open to the public. Saturday the fourth will feature amateur racing in the NASMOTO (North American Supermoto) championship, with the AMA Supermoto Championship national final taking place on Sunday the 5th.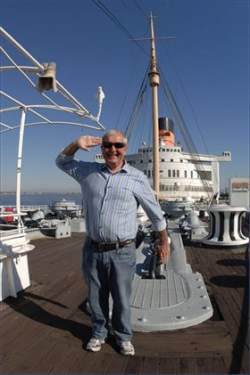 Here's hall-of-fame promoter Gavin Trippe at the Queen Mary, having a Benny Hill moment.
photo: Courtesy of Tripp
This from TLD: Tickets are available at
www.troyleedesigns.com
and at participating Southern California Honda motorcycle dealers. Prices are $15/Friday, $25/Saturday, $35/Sunday, or $50 for the whole weekend. Kids age 12 and under get in free with a paid adult using a voucher available at Honda motorcycle dealers. A limited number of motorcycles will be able to park in the Queen Mary lot, while those in autos will park at the nearby Long Beach Convention Center and take advantage of a convenient stream of shuttle buses and watercraft to and from the racetrack.
Stephane Legrand, Moto Verte's U.S. editor, got an interesting birthday present from his wife, Karen: a skydiving lesson! "Le Big" has jumped before – 23 times as a French paratrooper – but never skydiving, which starts up way, way higher, apparently. He was jumping today, and in between lessons, he sent over this picture:
Anyway, if you're ever in Vegas and feel like flying—for real—check out www.vegasextremeskydiving.com.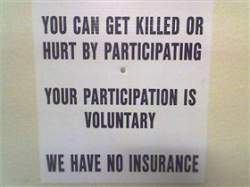 Now that's a sobering thought at sign-up
photo: Stephan LeGrand
There is some racing going on this weekend in England. The annual Sheffield SX kicks off, and
Mike Alessi
is once again on hand with the #800 KTM. He will have some U.S.-based competition in Butler Brothers MX rider
Jason
Thomas and MDK Honda's
David Vuillemin
.
Thomas checked in yesterday through IM and said he was glad to be there, but he was also kind of bored, as no one else was showing up until this morning. JT$ promised to check in with us on Monday with more from the race.
MX2 World Champion Christophe Pourcel added another win to his 2006 haul. He won both races of the final Japanese Championship last Sunday in the Land of the Rising Sun. Pourcel should be landing on U.S. shores anytime now to start getting used to American SX, which he will be riding in January with some help from Pro Circuit Kawasaki—his future employer.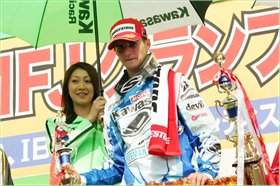 The new French superstar is on his way to America
photo: Courtesy of Kawasaki
The new numbers finally came out (a couple of times, actually, as there was a clerical error that saw
Jeff Gibson
about 20 digits too low).
Bill Ursic
went through and explained some of the little hiccups in his
Bench Racing Ammo
on Tuesday but here's something that was mostly overlooked: #20 and #21 were not assigned this year. The previous holders—
Damon Huffman
and
Stephane Roncada
, respectively—both retired. That would open those numbers to other riders who finished in the top ten in overall points in 2006. However, all of those guys already has numbers, so no one chose #20 or #21.
Also, Ryan Villopoto had a choice to take any number he wanted that was available, but because there were no single digits open—MC's #2, The Rock's #5 and Lammy's #6 won't be free until next year because they all scored points in '06—Villopoto deferred and will have first pick next year when those numbers are all open.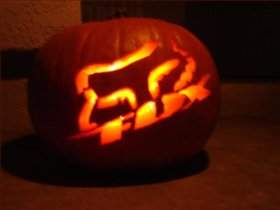 Check out pumpkin that Chris "Beeker" Onstott and his girl Megan carved last night
photo: Langers
It was also cool to see #10 still in the hands of
Ernesto Fonseca
, and while
Travis Pastrana
's #199 was not on the list of claimed numbers, the AMA's
Steve Whitelock
told us that no one would be allowed to have that number.
Pastrana, by the way, would have scored points in 2006 had he lined up for the main event at the Daytona SX, which he did qualify for. But after banging his head hard in the whoops in his heat race, and then somehow making it through his semi with a concussion, Pastrana decided to surrender his spot on the gate (and one sure point) to Jason Thomas.
What does Eric Johnson do when he's not on the moto beat out in Southern California? Check out his report on surfing in Mexico.

The rarest motocross book of 2006 was made by Rex Backman—and it's fantastic
A shout-out to
Rex Backman
, who dropped one of the coolest presents on me that I've ever gotten: He self-published 40 books titled
Contrasts: Images of American Motocross 2006
. Inside, Rex ran his favorite shots from this past summer. They are absolutely fabulous images, and I am really stoked to have this book. Thanks, Rex!
Out in California, Team Yamaha's Grant Langston—kind of weird typing that—just got back on the bike about 10 days ago. He is working with Jeff Spencer, the world-renowned trainer who most recently worked with Chad Reed.
And speaking of Reed, the word on the street is that he's also back on the bike and it full swing. One of my friends out West said he looks like he's never been off the bike. Even more interesting is the fact that the team may have a big sponsor lined up, and it could involve a few good men.…
Did you catch a glimpse of the latest installation of the epic
Great Outdoors
DVD series over on
www.racerxfilms.com
? This year's movie is
Industrial Strength
and it's about teamwork. It looks like another homerun for the
TGO
crew.
According to the press release, "It's those behind the glory that tell the story of what it takes to compete. The crew again adapts a classic sports-journalism style. We mic the tire guys, engine guys, suspension technicians, mechanics and team managers who are the strength behind riders such as Ricky Carmichael, Ryan Villapoto and Davi Millsaps. Often overlooked, they are the integral piece behind the makings of a champion. A focus on each team is the framework for this year's movie. Nine teams are highlighted and their stories inter-woven in a sixty minute saga." Look for it at www.nofearmx.com, as well as fine video stores and motorcycle dealerships everywhere.
Dear Racer X:
I thought DC might like the attached Halloween photos for Racerhead this week. I assure you they're not Photoshopped in any way. Ever since I saw Charlie Brown wearing the pumpkin helmet in the motocross race in You're a Good Sport, Charlie Brown when I was a kid, I've always wanted to make my own pumpkin helmet and I finally went for it last year. Enjoy!
Scott Williams. Newport Beach, California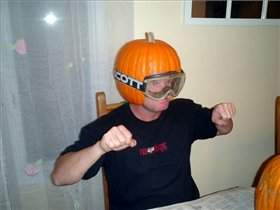 Scott Williams fulfills a lifelong dream…
photo: Courtesy of Williams
There's an ISDT Reunion Ride that is going on this weekend in Park Hills in Missouri. The late Dave Mungenast, who passed away last month after a brutal fight with brain cancer, had a huge part in hosting the event back in '01 and '02, along with the Missouri Mudders. It's supposed to be beautiful weather there this weekend, so if you feel like checking out some old-school cool, visit
www.momudders.com
.
Dear Racer X:
I'm reading mail room in the latest racer x and a guy writes about an article on Jaroslav Falta and the '74 world championship called "Stolen Glory." You mention how it may be online in the fall. Maybe you could tell me when it may be out or even what month - year mag it was in. I remember as a kid reading about that race in Cycle News and being so upset and sad I almost cried. Falta and Cz's glory were never the same.
Jim Musich
Jim: Ask and you shall receive. We'll post it online Monday (and I remember my dad telling me about that race and how Falta lost. I cried too.) DC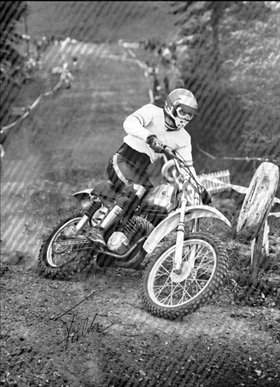 This picture of Jaroslav Falta appeared in the 1974 Mid-Ohio Inter-Am race

Rupert X. Pellett reported this on Mototalk: Tyler Bowers, along with Zach Ames, of Prospect, OH, have joined up to form a privateer team campaigning in the BooKoo Arenacross Series. Bowers, 15, and full of potential will be aboard his Honda/Shift Racing/One Industries/Tag Metals-backed machines. Bowers plans on attending the opening round at Fresno, November 3-5, along with teammate Ames, also Honda mounted.
I can't remember anybody competing in an AX Series pro class that young since Robbie Reynard did it right before he turned pro in 1993.
And speaking of Rupert X, check out his piece on next year's MXdN at www.amamotocross.com. Rup's as big a fan of the sport as there is, so it's no surprise that he's already getting ready for the big race.
Also check out our MXdN countdown clock on the front page of Racer X Online. It's such a big happening that we are already counting the days!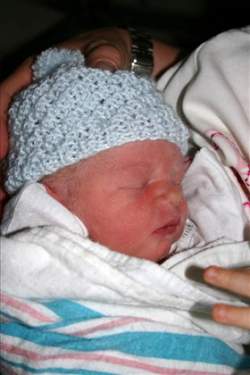 Leyton Rally Smith
photo: Kelly Smith
And here he is, the newest little motocrosser on the planet,
Leyton Rally Smith
. He was born to Michigan Mafia member
Kelly Smith
and his wife
Kristen
. Congratulations to the Smiths on starting their own little team.
Wait, we did find some racing action! Soon-to-be-blue factory rider Broc Hepler did some local racing at High Voltage in Pennsylvania. He was still on his 'Zooks and certainly got some opportunities to work on his mud-riding game. Broc swept every moto but one—props to local prospect Joe Zambotti for getting to the checkered flag ahead of the multi-national race winner!
And now a few words from Ping:
The last 2007 motocross bike to make it here to the States is the Yamaha YZ250F. It finally showed up, and today several members of the press got a chance to have a ride. The new model is three pounds lighter than the 2006 version, making it the lightest of the Japanese 250Fs. The engine is tilted back, similar to the 450 design; it has a new ignition map, new radiator braces, a new front brake system, and, most noticeably, a shortened frame that quickens the handling and turning significantly. The exhaust system meets the AMA requirements for sound, a pre-emptive move by Yamaha that should be applauded. The changes on the new YZF are very obvious on the track. The improved turning was easily the most significant (and needed) change. In the past, Yamaha's 250F has had a tendency to push into turns. That characteristic is gone for 2007, and it should be a front-runner in our upcoming Racer X Tested shootout. We have another guest test rider lined up, so stay tuned.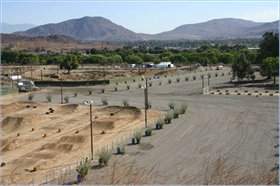 Milestone MX Park in Riverside, California... coming soon
photo: David Pingree
The track that Yamaha rented for the intro is also brand new. If you live in southern California, that is really good news. Milestone Raceway is an all-new facility that is set to open to the public shortly after the first of the year. It features a main track, vet track, pit-bike track, and a quad track and will have lights for night racing. The soil is soft and sandy, unlike any other soil south of Sacramento, and the layout is very fun. Go to
www.milestonemx.com
for more details. Be sure to mute your computer unless you want a blazing headache, though.
The list of riders that are signing up for next weekend's Supermoto finale continues to grow. Josh Hansen and Josh Hayes are racing, and Jeremy McGrath, who is still too sore to race, will be there doing a parade lap and acting as the event's grand marshal. Grant Langston was hoping to ride the event as well. The newest member of team Yamaha has a Supermoto Unlimited championship to his credit already and would be competitive. However, Yamaha was less than supportive when they heard of his interest to race. Something about him getting ready for supercross or something like that. Anyway, the event should be amazing, so be sure to check it out at www.troyleedesigns.com.
Speaking of Langston, the South African has been on a bike again recently (a green one until October 31) and he is enjoying it. "Man, it feels good too just be riding again," he told me. "I hate getting hurt because you have to spend so much time off the bike. I've been riding at Elsinore and some mellow places like that and it's been so much fun. I'm really looking forward to getting on a supercross track here soon."
GL will be wearing M2R gear and helmets next year.
Thanks, Ping.
And finally, a fond farewell to our coworker Tim Boryk, who is heading south for the winter. Hopefully, the MX Sports engine-builder will be back someday soon. It's been a pleasure working with you.
Thanks for reading Racerhead. Happy Halloween, be safe, and see you at the races … and Go Nicky!