Hello, everyone, and welcome to the Rev-Up. I was walking outside today and I noticed something that made me remember how much I miss riding. It wasn't seeing one of the bikes in the shop or the motocross stickers on the vehicles outside the building; it was simply the smell of the crisp autumn air and the way it tickled my nose and my lungs when I took a deep breath. The scorched-earth policy of the summer is long gone and the intermittent precipitation of the fall season has tracks and riding areas all around the country in prime condition. This is by far the best time a year to ride. Especially trail riding. It's hard to find a more enjoyable means of solitude than riding through the woods, throwing dark roost across the scattered collage of yellow and auburn leaves. And it's cool how the trees are just beginning to thin out enough to see through the forest and notice new elements of the ride. But man, it's been a long time since I have taken advantage of riding days like I am trying to describe. And that, my friends, is pretty unforgivable.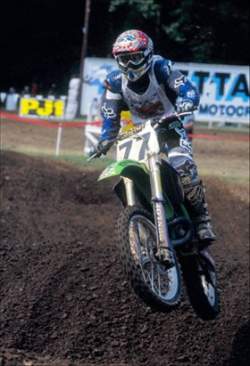 The author hammering at Loretta Lynn's as a Team Green rider
photo: Racer X Archives
With no racing to speak of this weekend, I wanted to talk about how I ended up in such a situation and explain some plans I have to right the train before it gets too far off track. And hopefully when you reach the bottom here, you will be ready to hit up some riding this weekend!
It's weird how some of us get so numb to the simple pleasures of riding. I mean, when you have spent every minute of your free time since you were four years old riding a motorcycle, the only thing that gets you pumped up is winning a race. Other, more dangerous ideas start entering your mind after a while. You begin having thoughts like, I wonder if I can clear both of those tabletops if I hit them fifth gear wide…. Or you think about trying freestyle moves. Take it from me: this thought process only induces more stitches and broken bones.
It used to be so much easier to catch a buzz on the bike, you know? One of the coolest things for me was when one of my friends first got into moto. When I was racing, it was awesome when a buddy got a bike, because I had somebody to practice with. In addition to that, their enthusiasm was a breath of fresh air. Everything was so rad to them, like jumping the smallest double for the first time or getting way out of shape and saving it. I used to just laugh my ass off when they would ride over to me with their eyes bugged out and their leg shaking, but still wearing a gigantic smile.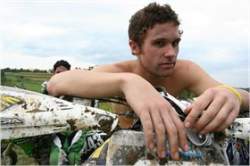 RX designer, Jason Hooper, following an afternoon trail ride
photo: Matt Ware
The ride home was also one of my favorite parts of the session. Usually, two or three of us would bounce stories about the ride off each other.
"Did you see me overcook the sweeper and fly out into the field?"
"No, but I saw you look out the bottom of your helmet when you got whiskey throttle in the whoops."
Riding with newbies is cool, but it's almost better when you go with one of the guys you race with or someone of comparable skill level. There isn't as much conversation and far fewer near-death experiences, but it's such a solid bonding activity. I remember finishing a ride with a buddy after burning 30-minute motos, and then sitting on the tailgate drinking a few beers, not saying a word. We just listened to the wind blow through the grass and watched it get dark in silence. The ride home is pretty quiet, other than talking about chicks.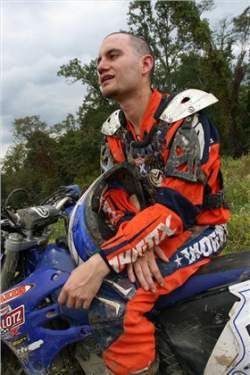 He drives a Subaru, and rides a Yamaha
photo: Matt Ware
The first thing I noticed when I arrived at Racer X was that Jason Weigandt drove a Subaru. He would later explain, "Just wait, you think you'll ride a lot here, but you'll be too busy to. I sold the Toyota pickup and bought this." The Weege still rides as much or more than anybody here at the office. He squeezes it in because he has so much fun doing it. There have been times when he asked me to ride and I didn't because the thought of getting gas mixed, gear packed, filter cleaned, spokes tightened, and loading everything up just didn't equal fun to me. In addition to the possibility of earning some plaster, I knew that blisters, throbbing knees, and sore hands awaited me. But it's been a while, man. For some reason, the air just smelled like motocross today. And for the first time in a long time, I am almost nervous in anticipation of buckling the boots and kicking a bike to life.
As fate and irony would have it, I am going to northern California next week to see my old pals. With my nose still tingling from the crisp autumn air, I sat down at my desk and opened up an e-mail from Rob Salcedo. It read: "Dude! I have gear, helmet, knee braces, and an extra CRF250R ready for you when you get here! Let's hit it, dude!"
I'm going riding, man. Thanks for reading, see you next week.