Privateer Profile: Jimmy Albertson
If you checked out our Yamaha Monday Wake-Up Call this week, you may have noticed the results for the Pismo Beach WORCS race that took place over the weekend. Your regular contenders finished up front, along with Billings, Missouri's Jimmy Albertson, who finished fourth. Albertson is one of the top amateur motocross racers in the country, and he is slowly making his transition in to the pro ranks. Only eighteen years old, Albertson has a bright future, as he was recently selected for the Wonder Warthog Racing Internship Program for the 2007 race season. Make sure to show Jimmy and his sponsors some love by clicking on the links at the bottom of the page.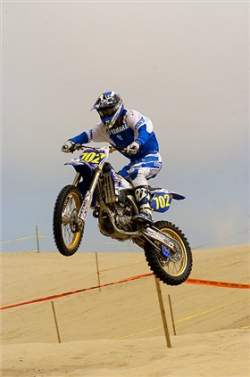 Jimmy Albertson finished fourth at the Pismo Beach WORCS event last weekend

photo: Mark Kariya

Racer X: Jimmy, I saw that you finished fourth at the WORCS race at Pismo Beach last weekend.
Jimmy Albertson: Yeah, it went really well. Actually, I got a decent start, and I led the race for an hour and 40 minutes. At one time I had, like, a minute lead over everybody. I ended up going down, and I went down pretty hard. I got passed and was in second, but after I got up I was really beat and couldn't even ride hardly anymore, so I ended up fourth. But at one point I thought I was going to win it!
That's great! Was that the first WORCS event you've raced?
I did one in Arizona, but it was like racing through rock beds and telephone poles. I got tired there and finished sixth.
Judging from the photos, man, that track looked really fun.
Yeah, it was just like riding on the beach. It was the funnest race I've been to, probably ever.
Did you race those WORCS events just for fun, or are you looking into maybe racing those more in the future?
No, I just raced them for fun. I'm staying with Ty Davis right now, and he's helping us out a lot, so he had some influence in me racing those.
How was it adapting to the sand? You probably don't have much sand where you're from in Missouri.
No, we don't have much sand at all. We rode in Florida a lot when we were in amateurs, so we got used to a little bit down there. Other than that, I don't have much experience, but I ride it pretty well for not riding it all the time.
How did you get started in motocross racing?
My dad actually worked at a Yamaha shop, North County Yamaha, as a mechanic, and he rode a little bit. He decided to get my brother a bike, and I rode his after he got done riding, and that's how it all started.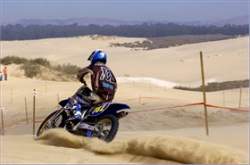 photo: Mark Kariya

You're currently making the transition from amateur to pro, and that's not easy. But before we talk about that, let's reflect on your amateur career. What are some of your biggest amateur accomplishments?
I got a Loretta Lynn's championship, and I have some titles at the World Mini Grand Prix. I won the Florida Olympiad deal in the 250 B class.
Any one race really stick out in your mind?
Yeah, Ponca City was good in 2005. I ended up winning four championships there in one week, so we had some highlights.
Who was your biggest competition as an amateur?
I've pretty much raced everybody. At one time it was Mike Alessi, and then it was Ryan Villopoto. The next year after that it was Josh Hill.
You've been a Yamaha rider for a long time too, haven't you?
I've rode Yamahas all of my life. One year I rode KTMs, though. After I won a championship at Loretta's, KTM offered me a ride and I rode with them for a year. Guy Cooper had a little team going and I got on that. KTMs in '03 had some problems, so we didn't do that well. After that, we sent out resumes asking for a ride, and Yamaha was the only one that came with anything, so ever since then we've been riding for them.
How did 2006 go for you?
It went all right. I struggled a lot with fitness—that was my big deal. So right now, staying with Ty is really good. He's helping me out a lot with training and all of that good stuff. I think my speed was there—I'd just wear out once it came down to it.
How did you get hooked up with Ty?
Actually, I was at the Yamaha photo shoot doing the motocross bikes and Ty was doing off-road stuff. We met there, and the Vegas SX was on live TV, and he said to come over and watch the supercross at his place. Ever since then we've been staying there with him.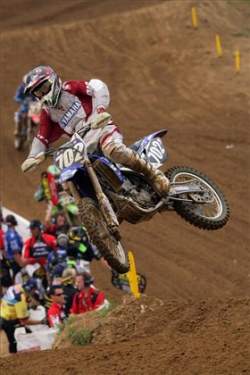 Millville was Albertson's first AMA National

photo: Simon Cudby

You started racing professionally this year at Millville and raced the last four nationals, but looking at the results, your best moto finish was actually your first moto in Minnesota, where you finished 16th.
Yeah, you know, that was on my own bike, too! It was on a privateer bike when I finished 16th. I went out there that first moto and I rode real well. At one point I was running better than 16th. I think I started out around 20th and moved up to 12th, and like I said, my endurance hasn't been good at all, and I faded back. After that, I pulled up to the line for my second moto and it wouldn't start, so I didn't get to race that moto. It was a real bummer. After that I got a call from Star Racing and they wanted me to do the last three rounds. I wasn't really ready to go back east, but at the time it just sounded really cool, so I did it. I ended up going back east, and the next two races were kind of muddy and nasty. I ended up having some bad performances, and I think that ended up hurting me going into next year, for sponsors and getting a ride for next year. It hurt me, but then again, I got experience for next year.
I understand you were one of the riders in the running for the Wonder Warthog Internship Program. How did that go?
I ended up getting that internship, so it worked out really well.
What does that involve?
It's not a contract deal. You just go out and they support you 100 percent. They fly you to the races, pay your entries, and you're in the semi and they give you bikes. You're not signed in to a contract, so if a ride comes up, you get to go and get on a team.
What are you going to be riding?
Actually, we're going to be on Yamahas.
Who is on the team?
It's going to be Ryan Abrigo, Kyle Tobin, Jake Marsack, Chris Blose, and Brady Sheren. It'll be good.
You going to start out in supercross?
Yeah, I'm going to start out on the East Coast.
Anyone you want to thank, Jimmy?
Yeah, I want to thank my family, my brother, Greg, who is going to be my mechanic next year. I also want to thank Ty Davis for all of his help, and Shannon Niday Motocross School—that's about it.
Jimmy Albertson's sponsors:

www.ziptyracing.com