Between the Motos: Eddie Babbitt
Following the AMA District 14 motocross circuit as a kid back in the day, Michigan's Eddie Babbitt had plans for a pro career. Eventually losing interest, as many young men do, he has come full-circle as owner of Babbitt's Sports Center, a motorcycle, snowmobile, and watersports dealership in Muskegon, Michigan. Returning to the starting line with a strong local racing effort, Babbitt eventually developed a team and hit the East Region 250F supercross series in 2005, getting his feet wet at the big show. Changing direction slightly later that year, Team Babbitt's campaigned the 2005/2006 BooKoo Arenacross Series with Josh Demuth and took the Championship in their first attempt – without factory support. Now back with more experience and factory Kawasaki backing, Eddie wants to again win, with thoughts of a possible return to supercross.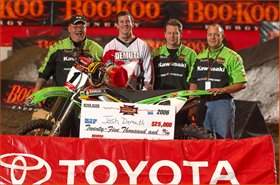 Josh Demuth and the Babbitt's Kawasaki team won the BooKoo AX Championship in their first try

photo: Tony Scavo

Racer X: First, Eddie, congratulations to Team Babbitt's and Josh Demuth for winning the 2005-'06 BooKoo Arenacross Championship. What an accomplishment in your first try!
Eddie Babbitt: Well, it was our first year in arenacross, but actually, the year before, we raced the Supercross East Lites series where Brad Ripple made every main but one. We finished up in Las Vegas and did very well there too, so it just helped my interest and ambition to move forward. But I knew that we weren't really satellite team ready – we didn't have the support, knowledge, or background. So I decided that I wanted to take a step back and perfect ourselves at some level. My goal last year was to go out there in arenacross and compete at the top level. Obviously, a championship was the dream, but did I plan on it? No, not really. I guess I strived to with signing Josh, but you never know in arenacross. I was hoping for a top-three and to grow from there.
By going out there with us having a full semi, team manager, and overall a very professional team we showed the industry that there was a difference between most of the teams and what we were. We kind of set the stage, and set ourselves apart. We really got a lot of attention and press from it. It was a very dramatic season, and fortunately we came out ahead. There was some awesome competition all year, and with the injuries that Josh [Demuth] and Josh Woods had battling for the championship it went our way. Now we are going to concentrate on building from our success for this upcoming arenacross season, and you never know, maybe the following year we will get back into supercross. I always think we will continue in arenacross because it's always nice to be the "best" at something, and believe it or not there's probably more press for us to be among the best in arenacross than there is for us to race supercross right now.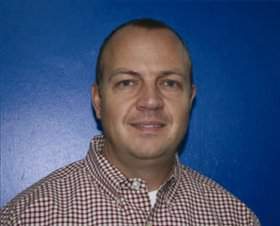 Eddie Babbitt

photo: Courtesy of Babbitt

So your "tryout" in supercross in 2005 gave you the incentive to go after arenacross?
Yes, and although I think we did well in supercross, we didn't get a lot of media exposure by getting top-20s. That's pretty good when you consider the competition, but it's not really good enough to get into the magazines. Not necessarily that am I worried about being in the spotlight, but my whole goal was to obviously build our business, particularly our online business [www.babbittsonline.com], which we are doing very rapidly. Our Babbitt's online store is producing a lot of business, and I want to continue to promote that. So if people are seeing our name out there, we hope that they are going to check out our website.
Last year you had Josh. What about for the upcoming season?
We did have Josh Demuth lined up on a first right of refusal, but Josh—fortunately for him—got a supercross ride, which we are proud of him for. We started talking to Darcy Lange back in February. He wanted to get back into arenacross and wanted to know if we would consider putting him on our team. So we signed Darcy and are extremely excited about that. He's as equally excited, and he knows that he's going to be on the best bike possible, and a very organized team. He and our team manager, Denny Bartz, have a relationship that goes back quite a few years, so that makes it a lot easier. Darcy is bringing his mechanic, Ian, along, and we will have our engine builder, Ed Gardner, back too. Ed joined us midway through last season and brought on another level of technical ability to our team. Jeff Northrop, a veteran pro in this industry, who is still super, super fast, will be with us also. We are excited to have him and I'm sure he's excited to be factory Kawasaki supported - with factory Kawasaki backing it will be a big help.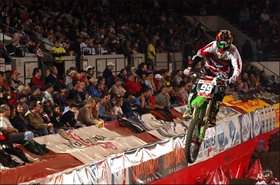 Damien Plotts in 2006

photo: Tony Scavo

Beside the new riders, has anything else changed for Team Babbitt's in this new season?
Just that we are probably a lot more prepared. Denny and I have been pretty much working all summer getting ready for this. We already have bikes and sponsors and a lot of things on our side. Last year we didn't have bikes until a week before we went racing. We went to the first race in Texas without rear suspension for our bikes—they had to be air-shipped to the track. The first time Josh rode the bike last year was in practice before the heats.
Your store is located in western Michigan, so with the motorcycle industry primarily based in southern California, is it a hindrance being here?
Well, it definitely has its downfalls, but we're really the only big motocross thing going on in all of Michigan, so there are some benefits too. Darcy and Jeff are out in California testing right now, and it's tough because we're here and they're there. But Michigan motocross has always been strong, and we've always been involved in it. A few years ago we had to make a decision with our dirt bikes; we were hardly selling any and had to make a decision as to either really stepping it up, or getting out of it. I'm not a quitter and I decided to put in a huge effort before we gave up on it. We started doing some local fairground races in Michigan and got some serious acknowledgement from that and kept moving up and moving up. Then the next thing you know, I'm on the internet looking at a semi, then flying down to Florida and driving it back to Michigan. A month later we had it all lettered up and we're going supercross racing. The first year it was me trying to figure out who is going to ride my bikes. Now I have top riders calling me wanting to ride my bikes. It's a very cool process that's happened in two years' time – it's gone by very fast.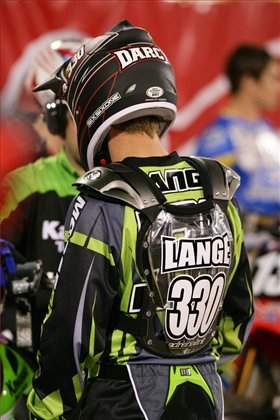 Darcy Lange will be trying his hand at arenacross again in 2007 with Team Babbitt's Kawasaki

photo: Simon Cudby

Who's helping your riders out in California?
Right now we are working with Pro Circuit—they're one of our big sponsors. They are doing suspension and motor work so obviously we get to do some testing at their track. Now with being a Kawasaki factory team we have been authorized to ride at the Kawasaki test track this year, so that makes us feel extremely important – that will make a big difference for us going into this first weekend in November.
I heard that you may also have a team in the AMA Toyota Arenacross series.
Well I am working with Ray Woods from GPF [Georgia Practice Facility, and Josh Woods' dad] who's putting a team together, and I am going to be a key sponsor. His team will also be running Kawasakis and will have the Sewell and Pugrab brothers, along with Josh Lichtle and Patrick Boyle. So I think we will have an awesome B Team, if you will, in the AMA Toyota series. We may not have a championship winning rider in the AMA series, but you never know; it's arenacross - maybe we will have podiums in both series.
What are we going to see from Team Babbitt's in the future?
Well, you know things change everyday, but eventually I think you are probably going to see multiple teams from us – certainly our involvement with multiple teams. We definitely feel that we have a niche in this industry as a dealership with a mind in business and racing. I love motocross and I am trying to be involved with it as much as I can.