Monday Conversation: Ken Block
While there wasn't much motocross racing this weekend, one well-known motocross rider did have a successful weekend, albeit in cars. Subaru Rally Team USA driver Travis Pastrana clinched the 2006 Rally America National Championship, while his teammate and sponsor Ken Block, the cofounder of DC Shoes, won the Lake Superior Performance Rally in the Upper Peninsula of Michigan. Since he won the race, we rang up Block this morning to see how he and his teammate were doing on the rally circuit.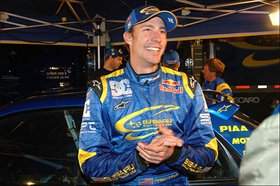 Travis Pastrana can add a Rally Championship to his already impressive resume

Racer X: Ken, there wasn't a lot going on in the motorcycle world here in the U.S., but it sounds like you and your teammate, Travis Pastrana, had a great weekend. Travis won the National Rally Championship, and to make things better for the team, you won the final race yourself.
Ken Block: Yeah, I guess I won this battle but he won the war. But I was really stoked for Travis. He's put in a great year of racing in this transition from learning how to race a motorcycle in to learning how to race a car. In rally, he's been very, very successful, and I'm really happy for him. He's done an exceptional job.
Well, it's obvious that unlike maybe a lot of other times where we've seen people venture off in to other disciplines or types of racing, Travis has taken this rally thing absolutely 100 percent serious. He's really into this!
Yes, I think for both of us, obviously for him much more than me, the motorcycle experience of racing just really translates well to this form of car motorsport. Being able to identify the traction in the dirt and applying our racing skills from motocross; I think that his skill level of racing and love for racing really comes through in this sport, and I think he's got a lot of talent and he's got a long ways to go with this.
Does his star power translate as well, too? When you guys pull in to a rally event, do the kids just flock around him?
Yes, I'm clearly entertained every time I see how people react to Travis. He just has so much star power, it's pretty amazing. And it's actually really entertaining for us to watch some days: even at these small events in the middle of nowhere, people drive sometimes 12, 14 hours to get his autograph! He handles it exceptionally well and he does really good with all the fans.
What about the rally fraternity—the guys that have been doing it for awhile. You and Travis have just came in the last two years and, with the whole Vermont Sports Car team and the DC team, you've taken the whole presentation up a notch, as far as U.S. Rally goes, as well as the popularity.
Yeah, the Rally scene here in America has been around for a long time, but it has been fairly small. I think we've come in and given a lot of exposure to it in the past two years that it just didn't have before. And Travis and his name and everything he brings with that has actually gotten the sport a lot of recognition, and I think the rest of the rally community really appreciates it. He's proven that he's not just a name; he's actually got a lot of talent and drive behind what he's doing. He's not just doing this to screw around; he's very serious about it. So I think he earns and gets a lot of respect from everybody that sees what he's doing.
Take us through the weekend. This was the second to last round of the series, and not only did Travis clinch—he clinched early.
Yeah, he clinched early. He's had such a good, consistent year, he was able to get a pretty big lead on me and the guy that's in second place, and the guy that was in second place in the championship crashed out in the second stage this weekend, so mathematically, Travis instantly won on that second stage. So, he was pretty happy, but he still had a whole event left to race.
Backing up a second, "consistent" is not a word that we in the two-wheel world use a lot with the #199…
[Laughs] I just think that shows his maturity and where he's gotten to now at his ripe age of 23. He really buckled down this year and knew what he had to do win and kept it on track.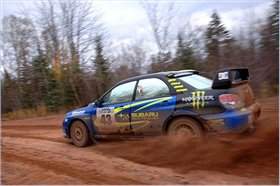 This was Ken Block's second win of the season

Tell us about the track conditions up there at the Lake Superior Performance Rally.
Well, it's in the upper peninsula of Michigan, which at this time of the year is typically beautiful with the leaves changing and all that. But a week ago it snowed two feet on those stages, so we were really expecting snow or muddy conditions, but the roads ended up being absolutely beautiful and it ended up being really good for good competition.
And a funny note about this is this weekend, Travis and my chief competition was actually the guy who taught both Travis and I how to race—a guy named Tim O'Neal. So it was the students taking on the teacher, and we actually did very well against him and it was really fun racing him. He actually ended up in second place. I won, he got second and Travis got third, so it was a fun weekend. For Travis, he wasn't necessarily driving at his full speed this weekend—he wrapped up the championship and was able to cruise a little bit and still get third and be there at the end celebrating for the championship ending on the podium.
How many miles and stages was the event?
I think it was 15 stages, about 110 stage miles.
They do a lot of off-road riding in the UP. In fact, the UP300 is a pretty famous event, and I think Travis has gone up there with Parts Unlimited a few times. Were you anywhere near motorcycle trails, or was this all road?
We were actually in a couple different forests, and it's definitely a big off-road area. There are a lot of dirt access roads and we saw some trails. It's a really beautiful area, and it did seem like there were a lot of motorcycle and snowmobile riders that came out to see Travis and watch the event.
What is next for Travis? I know just from my casual knowledge of Rally racing that the sport really is huge in Europe. Is that what he has his designs on—to one day go race the World Championships?
I know Travis just absolutely loves to race, and he's really having a great time racing Rally and wants it to really be his long-term future. So, he's got his goals set on racing in the World Rally Championship, so he and Subaru are on a plan to get him there. And as far as that goes to, he still doesn't plan on putting the bike away, but I think he's going to reduce his schedule a bit and focus more on just the bigger freestyle events.
By the way, I watched the Jeremy McGrath Invitational yesterday and I saw his back-flip in the bracket racing against Josh Hansen. The guy just never, ever ceases to amaze me.
He's definitely a showman and I've enjoyed the past two years racing with him. It's been an incredible experience for me, and I really truly do have a whole new appreciate for how good the guy is at everything he does, and actually how good of a person he is, too.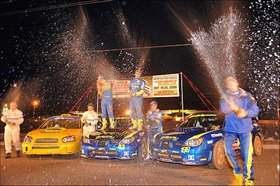 It was a good weekend for Subaru and DC Shoes

I know we as motocross and freestyle fans miss the guy—when he's not around there's sort of a hole in the atmosphere of the event because he just brings so much to it. Even when he showed up at Daytona for one night, that was probably some of the craziest, weirdest and best memories of the 2006 AMA Supercross Series. Forget about the back-flip at the finish line—going down the whoops was really thrilling!
Yeah, he had a very up-and-down year, that being probably one of the low points. The Summer X Games and with this championship, it's really been an amazing year for him.
That's right. During his X Games star turn, so to speak, he not only won FMX, he pulled off the double-backflip and he won the Rally competition!
Quite a good year! He should probably buy some lottery tickets! [Laughs]
I think Travis has already hit the lottery a few times; we need to get the boy more insurance! Anyway, what about you? Are you guys going to get to be teammates next year?
Well, Subaru has been very supportive of both Travis and I as a team, and looks like they're going to continue with both of us as a team for the next couple years. Travis will continue to race here to get experience, and they're going to start having him slowly doing the PWRC (Production World Rally Championship). It's sort of like the 125 class of World Rally: same event, same roads—just a lower spec car. So he'll get his feet wet doing that, and as he gets more experience they'll move him up in to the bigger class. Subaru has been very supportive, they're a great sponsor and I look forward to racing with Travis for many years.
How does it feel to be on the other side of a contract? I know at DC Shoes you've worked with everyone from Jeremy to Travis to Danny Way and more, but all of a sudden you're the athlete and you're dealing with Subaru and your own sponsors. How different is that?
It's very different. I guess all of the funny things about it is when I race with Travis, as a sponsor I'm like, "Yeah, go win!" But as a competitor I'm like, "Screw Travis, I want to beat him!" So every time we finish a stage or a race, I have a funny juxtaposition in my head of like who I am and were I stand with him. But on the other side, as a competitor of a sponsored athlete, it's really kind of funny because I know the inside track of what all of these sponsors wants because I've been a sponsor for so long. I know what it takes to make that sponsor happy. It's been a fun experience for me, and it's actually making me learn even more on how to sort of maximize our sponsorships of all of the athletes that we deal with. Just on how to use the marketing to its maximum. It's been a really good experience for me as a person, to learn that side of being an athlete and actually going out and competing and promoting myself. And also as a company owner/head of marketing-type thing, to see it from the other side of how can even develop those relationship and make them better for the long run.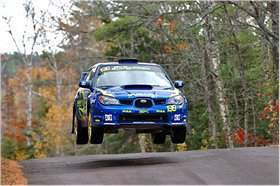 Travis goes airborne

On a personal note, what were you more stoked about this season: Winning these two races this year or getting that bronze medal at the X Games?
[Laughs] It's all good. The X Games was an incredible event and I'm really stoked to have that medal. That was a good one-off event and they did an incredible job with it, but in the long run trying to get second overall in the championship and winning two events—that's just way bigger for me.
But one thing about that X Games event: I've never been under that kind of pressure in my life before. I've built a business and I hired and fired all kinds of people and I've gone through lawsuits and acquisitions and all kinds of stuff, but nothing compares to that second where I was on national TV, and in front of 40,000 live people, and I had to go out and perform for, like, two minutes to either keep a medal or lose it—I've never experience pressure like that!
Right on. Last question: How's the baby?
The baby is amazing. Lucy and Lia are doing exceptionally well. We're learning a new life and it's going quite well.
Trust me, this is where the fun starts Ken. Anyway, congratulations on the win yesterday as an athlete, and the championship as a sponsor.
Thank you, DC!