Kawasaki/Racer X Race Report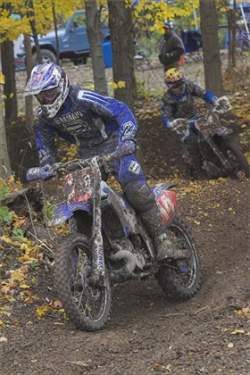 Kanney leads Barry Hawk on way to a win at the final GNCC of the year.

When someone wins a motocross race, you can usually sum the race up pretty easily. The fastest guy won, or the fastest guy had a problem (a crash or bad start) and someone else won. But in off-road racing, it's not so simple. There's a strange mix of skills needed to win a Suzuki GNCC event. Speed is good but everyone has to pace themselves since the races are three hours. So you have to be smart and use your speed and energy wisely, and figure out how to avoid trouble in mud, rocks, hills roots ruts and piles of lapped traffic. That's why the winners are usually a little older than the motocross front runners, because experience is key.
It gets so complicated that even when the riders do figure it all out and start winning races, they are still not sure what changed. The latest to do so is RER Motorcity Yamaha privateer Nathan Kanney. The 24-year-old New Yorker has suddenly figured out the GNCC game, and almost instantly he has gone from a top-ten rider to a threat to win races. A month ago he won the muddy
Unadilla
GNCC in his home state, and many thought it was a fluke due to the mud and the hometown support. But at the next race he battled hard to finish sixth, right behind World Champions Juha Salminen and David Knight. Then yesterday, he ran down Salminen, Charlie Mullins and Barry Hawk to win the season-final Klotz Ironman GNCC straight up. He's not a fluke, he's not lucky. He has just figured out the very complex game of GNCC racing.
"I really wanted to prove to myself that it wasn't a hometown thing at
Unadilla
," said Kanney. "At the beginning of the race I really didn't think I was going to get on the podium at all. I was really tight. Then once I started loosening up and finding better lines, I started getting smoother. Then it started happening. I started riding faster just exponentially, every lap was faster and faster and I was using less energy. I caught Barry and Charlie. That was the story after that. I don't even know how it happened. It's just working out."
Sure is. When the race began, Monster/Pro Circuit/Kawasaki's Fred Andrews grabbed the Racer X Holeshot award in what was supposed to be the final race in his full-time GNCC career. But Freddy rode so well that he's now not sure if he wants to step down! He was up front until he crashed and broke his front brake.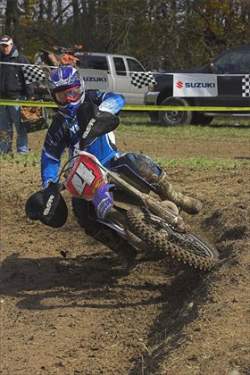 Mullins looked to have a win in hand early on.

Charlie Mullins assumed the lead and pulled away. Mullins, the 20-year-old super talent, has been way, way overdue for his first win, and it seemed obvious that it would come at the Ironman. He was gone. A bunch of riders battled for second, including Salminen, who was riding on the underpowered 250 four-stroke.
What looked like a Mullins runaway quickly changed a few laps in. Mullins made a mistake and Hawk caught up. The two teammates battled hard for the lead. Then, the next thing you knew, Kanney had charged all the way up and passed them both!
"I got off to a good start, and the first few laps I was feeling good," said Mullins. "I made a mistake on a hill, and Barry and Nathan caught up to me. And they were riding really good. It seemed like we battled to the end."
Hawk lost ground when he crashed in a really cold water crossing. "It was good racing," said Hawk. "I was right there with Nathan, and we came down the steep hill into the creek. He got onto the bank pretty good, and then I was at the bottom ready to take off and I just fell over. I don't know if there was a root on the bottom or something, I don't know"
This left Kanney and Mullins battling. Kanney stopped for gas and Mullins closed in right behind him, and then Kanney made a mistake and Mullins took the lead. But then Mullins had to stop for gas and Kanney took the lead back with the white flag coming out. On the last lap, the two young Yamaha pilots were going to have a showdown for the last win of the year.
In the end, Mullins crashed in the water as well, and Hawk closed back in to start a wild battle for second. After a fierce, but clean, battle on the grass track, Hawk secured second from Mullins and looked to have the runner-up spot won. But then…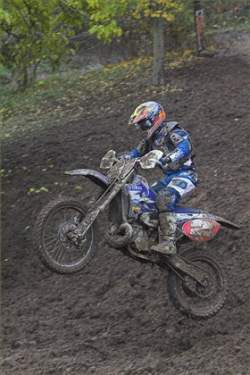 Barry Hawk ended up third.
"My teammate took me out," said Hawk. "I didn't think it would happen, but he just cleaned my clock. He's got one coming. It's been clean racing and friendly all year and then he does this in the last turn of the year. But that's racing, and he got second and I got third. Congratulations to Nathan, he just flat out beat us and smoked us today."
"Right there at the finish, I had a line to use just in case it came down to that for the win," said Mullins. "So I used that line, but I guess it wasn't as fast as I thought. I didn't intend to wreck him or anything. It's racing and everything, but I want to be known as a clean rider."
There must have been some tension in the Am Pro Yamaha pits after that, but luckily they have about five months until the 2007 season begins to cool off. And Yamaha swept the podium, which was the first time a manufacturer did that since Yamaha swept the all-time mudfest in Palatka, Florida, in 2003.
So what's up with this Kanney kid? Well, even he admits it's not just a game of speed. But he has figured it out.
"I think Charlie was a little faster than me on the final laps," said Kanney. "It seemed like whenever I would pull away a little bit he would catch right back up. I think it came down to all of the mudholes. I think that is where you're going to make your passes. I'm not sure, but I think that was the nature of being in second place. You have to really go for it to make a pass, just pin it through those mudholes to try to get into the lead, and maybe that's what happened to those guys. I just tried to say "Hey you know what, even if I get second I'll be happy, or even third." So I just rode my own race."
Apparently that's what it takes. Kanney won't find out again for a long time, because he's headed to Europe to compete in the World Enduro Championships for the CH Husqvarna team.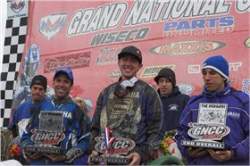 The GNCC podium was all blue.
"After I won
Unadilla
, Barry told me he didn't win his second GNCC for almost two years," said Kanney. "I thought about that and I didn't like it, so I really wanted to get up here again. But next year I'm going to be the rookie for sure, so I don't even know when I'll get another win!"
Salminen's GNCC career ended quietly, as he brought the little thumper in for fourth. That matches the all-time best 250F finish in a GNCC, which came from Shane Watts just two months ago.
"It's a great bike, but it's not a 250 two-stroke or a 450," said Salminen. "I had fun. Today was definitely the most posters I signed of any day I have been here. I am really happy that I came to the U.S. The fans were really nice to me, and they can make it very hard on you if they don't like you. So I guess I did something right! I came here for a new challenge and it worked like I hoped it would. I thank everyone for the good times I had here."
Parts Unlimited/Moose Honda's Paul Whibley finished fifth. Whibley is coached by Scott Summers, and the duo did very well this season. Whibs was consistent all season and ended the year ranked fifth, behind Salminen, Hawk, Mullins and FMF/Suzuki's Glen Kearney.
Kanney finished sixth for the season, and he'll pack up all of his knowledge for his move to Italy this winter. No doubt plenty of other young GNCC talents wish he would just leave the secrets for them to take, but honestly, even Kanney isn't even sure of what he has learned that has made him start winning.