Where Are They Now: Stevie Childress
Growing up in Morgantown, West Virginia, I had a lot of opportunities to meet people from all over the country—especially during High Point weekend, when all the industry guys would come to DC's place for his annual Friday night party. Maybe the most interesting person was Stevie Childress. I met Stevie in 1992 on amateur day and we just clicked. We both went to WVU (that's right, # 4 college football team in the country right now; #3 party school!), and on the weekends we would get in Stevie's S-10 Chevy pickup truck, load the bikes, and head down to Sam Gammon's Mega Series in Tennessee. We would race and then head back north to make it to class on Monday mornings.

As a young kid, Childress picked up a Team Green ride while he was on 80s and continued to ride for them until he finished his amateur career. Along the way he picked up two Loretta Lynn titles in 1987 while riding in the B class and picked up another one the following year in the 250 A class. Childress was among the best to come out of the amateur ranks in 1988 with his constant battles with the likes of John Kitsch, Damon Bradshaw, and Kenny Kizzar. Childress had a lot of momentum going into the 1989 season, and Suzuki's Pat Alexander gave him a shot with a semi-support ride.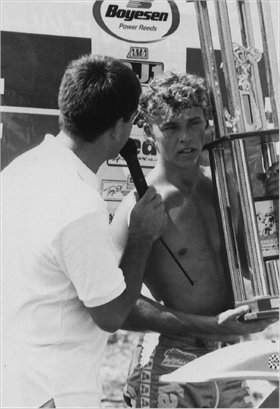 Childress won the 250 A Stock class at Loretta's in 1988
photo: Davey Coombs
"Suzuki gave me $10,000 and all the bikes and parts I needed," says Childress, "but I had to get to the races on my own and pay the rest of my way. The pros were another world from the amateurs—they were so much faster! That first year, I was really training and focused. I was generally in the top fifteen in the nationals, and I earned # 39 that year. But that wasn't good enough for a good ride back then."
While Stevie continued to go to school and race, he also got his degree from WVU. He even scored a fifth in a moto at Broome-Tioga and finished on the podium in the 125 class at the Pontiac Supercross. But his main focus was going to dental school, where he would get his degree and ended up owning his own practice in Beckley, WV. After getting his dental practice rolling, the itch to race came back to him.
In 2005, he qualified for the Plus 30 and 35 classes at Loretta Lynn's. "Man, when I lined up on the line at Loretta's I felt like I was back at the nationals in 1992," says Childress, "Things were going good until Jim Chester and I got together in the back section and the next thing you know, there was a paramedic asking me those same damn questions that I didn't like. 'What's your name? How many fingers am I holding up?'"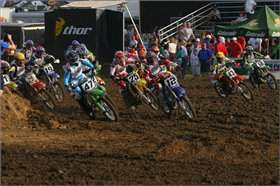 Childress (25) went up against Jeff Emig and Kevin Walker this year at Loretta's
photo: Matt Ware
After he checked out of the hospital in Nashville, Stevie came back to Loretta's and I ran into him. "Hey man, I'll be back next year," he said.
Stevie did come back to Loretta's in 2006 and finished seventh in both the Plus 30 and Plus 35 classes. He battled with the likes of Jeff Emig, Denny Stephenson, Trampas Parker, and Mike Katin. Today, Stevie is happily married to his wife, Susan. He has no plans for kids yet, but I think he will change his mind one day and we will see another Childress terrorizing the tracks in West Virginia.
Do you have a suggestion for a "Where Are They Now?" Please send them to
mikef@racerxill.com
.