Privateer Profile: Justin Brayton
Motoworldracing.com/PPG Yamaha isn't necessarily considered a privateer team, but it's definitely not on the level of some of the other 250F squads. That being said, we decided to talk to Iowa-native Justin Brayton, who rides the #114 Motoworldracing.com Yamaha. Brayton is coming off his best finish yet at the Rockstar Energy Drink U.S. Open, where he finished fourth overall with 3-7 scores. He missed finishing on the podium by one point! We gave Justin a call today to get his thoughts on that race, as well as the 2007 season. Be sure to show Justin and his sponsors some support by clicking on the links at the bottom of the page.
Racer X: Justin, congratulations on a pretty good weekend in Vegas!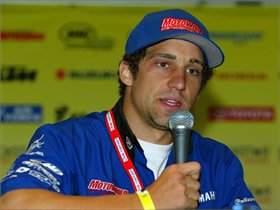 Justin Brayton finished third in the 250F class on Friday night at the Rockstar Energy Drink U.S. Open
photo: Steve Bruhn
Justin Brayton
: Yeah, it wasn't too bad. Friday night was really good—I got on the box for the first time, so that was fun. But Saturday night I kind of had some bad luck. Me and Gosselaar went down off the start and it kind of ruined my chances to get on the podium. But oh well, it was overall a good weekend. I learned a lot and hopefully, I can carry that over to Anaheim 1.
You looked really smooth on Friday night, and you got a pretty decent start. Is a good start the key to doing well at this event?
Yeah, for sure. I think with any race anymore in the Lites class, there's so much competition that if you don't get a good start, you're not going to be in the top five. So my goal was to just get out in the top five, and I think I got a fifth-place start. I got around Townley and Hansen pretty quick and just started riding my own race. I was pretty much by myself the whole time, which was good. It was fun, and it was definitely a learning experience, and I now know that I can run with those guys.
How did you feel for the twenty-lap main event? Did that wear you out at all?
Not really. I've been doing so many motos lately. Actually, I kind of changed up my training regimen. I'm not doing so much bicycling anymore; I'm just strictly doing motos, and I think that's paying off. You know, you go to a race and you don't ride bicycles in the pits, you ride dirt bikes on the track. So that's kind of the way I'm looking at it. The lap times were actually pretty long for a typical U.S. Open—I think they were like forty-five seconds or something like that, which is almost close to an East Coast supercross. So that race was probably longer than any supercross, so I felt good.
You have quite a bit of arenacross experience, so how much of an advantage did that give you inside the MGM Grand Garden Arena?
Maybe a little bit, but at that level, I think everybody can adapt to the track they're riding. That wasn't quite as tight as an arenacross, and it had different obstacles and the whoops were pretty good. And the back section, that's nothing like arenacross. It gave me a little more confidence going in, knowing that it was going to be pretty tight and knowing that I had the experience, but all in all, once you pull up to the gate in the main event, I think everyone was on a pretty even playing field.
What did you think of the track and how they reversed it?
I thought that was pretty cool. It gave you something different each night. The back section was quite a bit different, as far as line selection, and I think it'd be cool for them to do every year.
You also had a new teammate there racing with you—Sean Hackley. What did he think of his first professional race?
Yeah, I like the Hackleys a lot. I just met them a couple months ago and we've been riding together every day and they're an awesome family. And I think he's going to be really good. He hasn't had much supercross experience, but give him a few months for East Coast and I think he'll definitely be a top-ten guy.
Did you offer him any advice?
A little bit. I just told him to calm down. It's his first race—he don't have to set the world on fire. And I told him to just go out there and get experience, because this race doesn't mean anything. I think he listened, because the second night, he settled down quite a bit and got in the main event and mixed it up a little bit. But he hurt his hand during the week, so he was kind of riding injured. He's going to be good come East Coast.
Did you do any gambling at all?
You know, I did. I kind of backed it down a notch by not throwing down too much money right away. I started slow and was up about $480, but then I just went all in before I left on the roulette table and lost it all. It's kind of a bummer, but going home even from Vegas is a win.
Do you have any vacation plans now that you have some time off?
I don't, really. This is my year to do good, and I just want to keep my head down and work hard and keep surprising people all year and put Justin Brayton on the map. I might go home for Thanksgiving for a couple days, but other than that, I think I'm just going to stay out here in California and keep doing motos.
Where do you live?
I rent a house with Jeff Northrop and Jeremy Hoyer here in Murrieta.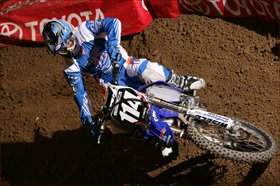 You can expect Justin Brayton to be a contender in the 250F class in 2007

photo: Simon Cudby

I know it's early, but you mentioned Anaheim 1, so are you riding the West Coast for sure in 2007?
Yeah, I'll be West Coast on a 250F, and I'll ride a 450 in the East.
Will we see Team Motoworldracing.com in Canada?
We're not sure yet. It just kind of depends. We might be doing some overseas racing here coming up. We'd like to, but we'll see when the time comes.
Anyone you want to thank, Justin?
I'd like to thank my team manager, Paul Lindsey, for just believing in me. I want to t thank my agent, Steve Aldaco, and definitely my mechanic, Gunzy.
Justin Brayton's sponsors:


Ignite
CSI
Lightspeed