Between the Motos: Roger DeCoster
As you may have heard, Ricky Carmichael is getting into car racing soon, but not before spending a little more time with Makita Suzuki and his team manager Roger DeCoster. RC explained his plans in a press conference last week at the U.S. Open of Supercross, but how does "The Man" feel about the new path of the best motocross racer of all time? We gave him a call.
Racer X: Well congratulations. I think we are now finally and truly at the end of the 2006 season.
Roger DeCoster: Yes!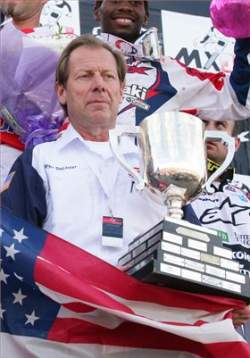 2006 marked yet another MXdN win for The Man

photo: Simon Cudby

And it was a great one for you and your teams. Not only with Ricky winning indoors and outdoors, and then a great close by Broc Hepler on the 250F, and then finally another win at the Motocross des Nations by Team USA.
Yeah, the last two years have been great, and hopefully we can get ready for next year. It's a little bit of a bummer for us since Ricky is going to semi-retire from motorcycles. But on the other hand we're are lucky that he has been with us for two years and still will be with us at least for half of the events, and will be available to guide and coach our young riders.
Well, working with Carmichael the last two years has to have been great vindication for you and the Suzuki program. He not only came and proved he could win on your bikes, he won like he never has before on your bikes.
I feel that, especially this last year, especially the outdoors, he picked it up to another level again. It's pretty amazing that a guy who had already accomplished so much prior to this season could find a way to better himself again.
Well, where do you go from here? And I'm talking about Ricky—he brought his car to the U.S. Open. It's a reality that the fans and Suzuki will have to deal with, as well as the car team.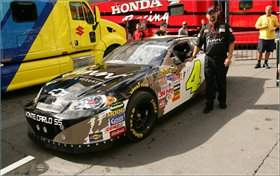 RC is going to four wheels
photo: Simon Cudby
Well it's my understanding that he's going to keep testing. We did more testing this week, and we tested right before the U.S. Open, and he seems to have the same focus as before. He's as focused as ever. I just hope that we get the bike really, really good, and if we make the bike good, it will be more difficult for him to sit out of an event!
I also know that in his first year in the car deal, it's not like he's driving Nextel Cup. This is a learning year for him, and they're going to do testing. I'm just hoping that will be kept to a minimum. Maybe I'm fooling myself, but the best thing we can do is make the bike as best we can and give him all the support we can and make the decision as difficult for him as we can make it.
And whatever he decides, I am fine with. I understand he wants to do something different. With all that he has done, I can not say "You can't do that!"
To some degree, haven't you crossed this bridge before? When you were working with Honda back in the early nineties, didn't Jean-Michel Bayle come up and say, "I want to go race super bikes."?
Yeah, that was kind of a bummer, too. But JMB, he dominated in '91, and by '92 his mind was already so far into the road race thing that he didn't pay too much attention to the motocross, so it was more of a gradual thing. With Ricky, he has been so dominant—he's never lost a championship that he started—but sooner or later he's going to get beat. He knows that and everyone else knows that; it's just difficult to accept that.
But on the other hand he has delivered and he has been up front about everything. It's not like he surprised us. So whatever he does I'm okay with it. And with Ivan [Tedesco], I think he has the potential to go to the next level if he does everything right this fall and into the winter. He has shown flashes of speed—even this weekend. In Vegas he had good speed and lap times. I think with hard work on both sides, from him and from us, we could have good results from Ivan. And Ricky is definitely going to help him get there.
Well, I saw one of your other riders, Ryan Dungey, this weekend. It sounds like he is ready to go, and it looks like he is riding 250F East.
Yeah, that's what our plan is: to give him a little bit more time. By himself he is going quite well on the track, but there is still a big difference between going around a supercross track by yourself and then doing it with 20 other guys around you.
Beyond Ivan and Ryan, then we have a new team with WBR and Rockstar. I think they're going to do a better job than last year. They will have more support from Suzuki and Yoshimura.
Hey as a kind of funny aside, I remember a long time ago, in Torsten Hallman's book, wasn't there a photo of you sitting in Dan Gurney's car?
Yeah that's right!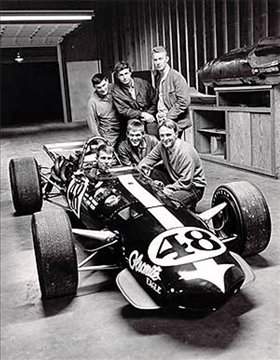 That's DeCoster in the driver's seat

photo: Courtesy of allamericanracers.com

And it showed up again on Mototalk (posted by Rex Backman). In the 1970s you were at the same level of motorcycle celebrity in Europe that Ricky is here, now. Did you ever think of making the jump like maybe Mike Hailwood or John Surtees did to F1?
Yeah I one point I did. I had become acquainted with some people in the McLaren team, and at the time I would visit with them in England. They had offered me the possibility of trying out, you know? That was at the end of the '73 season, and I had just won my third championship at the time. Nothing came from it. At the time Suzuki was pretty aggressive about resigning me. At that time there was no agents involved, and it did not look to me like something I should risk giving up—being dominant in motocross and going into something with a lot of question marks. But it was tempting. When they open the door to you on trying some expensive cars, it's tempting. But I'm glad I did what I did.
Well to a young man in Belgium the McLaren team must look pretty appetizing. But imagine a young man of the same age in Tallahassee, those NASCARs would look pretty tempting.
[Laughs] Yup. From what I understand Ricky grew up watching it a lot. His dad watched it a lot. And some of his friends are into it a lot, like Clint Bowyer and Kasey Kahne, they're all friends. And I can feel that when you have dominated the way Ricky has, it's very tempting to try something new. And also financially he is in a different situation. I wasn't in a situation where I could retire for good. Ricky is in position where he doesn't need an income now. Everything he does is icing on the cake.
Last thing. I remember two years ago at Steel City on Saturday night. It was me and you and Ken Block, sitting with Goose and RC, watching NASCAR in the Suzuki rig. Did you ever think at that moment that just over a year later you would see him going that way?
I had a feeling from early on that he has aspirations. I maybe didn't think it would happen that quick, at the time Ricky was only 24 years old. If he wants to do this he has so many good years left. But I understand his side also, and I'm okay with that.
Well, I guess we as motocross fans or a sponsor, we have to be stoked on one hand, but on the other hand be just a little disappointed…
I am! I am a little bit bummed out. Like this weekend when they rolled out the car, it was like pouring a bucket of water on a lot of hope, you know? Well, he's thinking about the cars. We'll see how he finishes out this year. Hopefully he will represent us well there. And maybe if he does well it will add some credibility for us and in motorsports in general.
Right on. We'll let you get back to testing. Always a pleasure, Roger.
Okay. Thanks, Davey.