Monday Conversation: James Stewart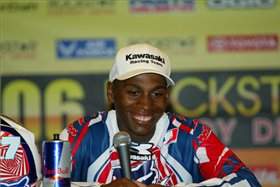 James Stewart is $150,000 richer after his big weekend at the U.S. Open

James Stewart had an amazing weekend at the Rockstar Energy Drink U.S. Open. He won both nights and some of the extra cash offered by taking the Toyota Trifecta, and it all added up to $150,000 for two nights of racing on the Las Vegas strip. With that kind of money on the line, something is going to happen—and it did, during a heated battle with Ricky Carmichael on the second night and Stewart got the better end of it. A hundred grand was on the line in that race, and it ended with a couple of simple mistakes. Stewart said he was going to put the money in the trunk of his new Bentley and "roll up the I-15." So before he rolled, we stopped him to get his thoughts on the weekend.
Racer X: James, how does it feel? You won the U.S. Open!

James Stewart
: It feels good. The last time I raced here was on 80s, and I won that. To come out here for my first time and it win was great. Last night was pretty easy: I just got out front and rode. Tonight, I just rode. Ricky was behind me. I wasn't really too worried about him. I knew he would push it at the end. I knew I was in shape enough to do it. I was really calm this weekend. It's an awesome feeling.
Tonight was really the big showdown. One of you last night said, "It's on!"

Yeah, I think Ricky said that, and it was. I was fine. I knew it was going to be on. I knew he was going to race as if it were his last time racing for a while. I knew how we are—we'll find each other on the track. I came out on top. It feels good. He put a good race in. It's too bad he fell. I felt like it was going to be a good race. I was going to switch up my lines the last few laps because I knew what he was thinking, to dive underneath me and pass me. I was planning for it.
What exactly happened out there in the back?

I went back, and I think I was in third gear instead of second, and I just stalled it. He tried running around me and I was kicking my bike and I felt a nudge, so I just kept my arms straight so he wouldn't mess me up. He tried going for it again and just went down and fell over. I stalled it and he just ran into me. It would have been better off if he would have let me start it, or get out of the way, at least. I think he was thinking, This is my shot, and he tried to go around and just fell over. I was in the track, but I didn't make him fall, though. He tried to go around and fell on the concrete.
You must feel this makes up for last year when you didn't get to race here?

[
Laughs
] Yeah, it's definitely a lot better than last year. The whole season, just from the Motocross of Nations, the last national, to this, it gives you a lot of confidence going into 2007. I'm looking forward to getting there and just being myself.
You got a nice gift this weekend, a Bentley from Red Bull! Are you selling your Rolls now?

[
Laughs
] Oh, no! I'm definitely not going to sell. Those guys have been super cool to me. They always just come around and hand me stuff like that, but when he gave me a Bentley, I was like, I might be the only person in motorsports that ever got a Bentley for a present from a sponsor! It was awesome, and they really shocked the hell out of me.
About the money, top guys are always just saying it's not that, it's just a race, but you don't seem to mind. You like winning money, don't you?

It feels good. I think everyone feels like that. I came here to race the race, but money was on the line. It was no big deal. If you come here thinking about money, you should just start gambling a lot. I came here to race. The last race, when you have the title on the line and it's a hundred grand or go home broke, things change. I'm sure Ricky and I and everybody are thinking about that. I have a good time no matter what. I was really stoked on how I rode.
Do you think Ricky has been stepping things up in the last twelve months?

Yeah, he's been riding really well. I rode strong tonight, and I knew it was going to be a battle. It's going to be great and go on a real supercross track and just try to do my deal.