It's Friday the 13th, which usually doesn't mean much good. Sad news to report: A fellow rider named Nick Rienert from Cedar Rapids, Iowa, lost his battle with cancer this week. He was twenty-one years old. Godspeed, Nick.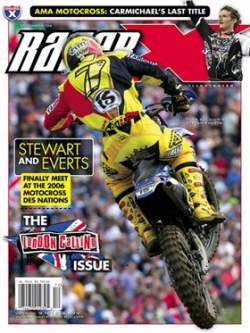 Stefan Everts is on one new cover …
Before I get into the JeremyCross, the U.S. Open, NASCAR,
Mike Goodwin
, murder, and more (how's that for a lead-in?) I have to go back to the Motocross des Nations one more time.
Last week on Racerhead I brought up the out-there rumors percolating in Europe about some kind of deal between AMA Team USA and the FIM to put exemptions in place on noise-, fuel-, and drug-testing before the Americans would come and race. It's an outright fabrication—it never happened. But in explaining how the rumor gained traction, I mentioned a post by Rob Andrews on Mototalk that really got the ball rolling, and said that accusations of cheating are fighting words in American motocross….
But Andrews never accused anyone of cheating. He posted a letter to the attention of the FIM's Wolfgang Srb asking the man to address the rumors, but he did not invent the rumors (apparently, they came from a Dutch or Belgian board) and was only passing it along in the hopes of getting an answer so it would stop the rumors in their tracks.
I have always known Rob, a member of the British team in 1985 alongside David Thorpe and Kurt Nicoll, to be a stand-up guy, and I should have clarified straightaway that he was neither the inventor nor the promoter of the ridiculous tale. In taking aim at shooting down the bullshit, I shot the messenger—good and proper—and for that I am sorry. Andrews believes in the integrity of the event and the athletes who ride for their countries, and I did not mean to lump him in with the haters who didn't like the outcome of the race and went online with their frustrations. I am sorry for not being more clear about that, Rob.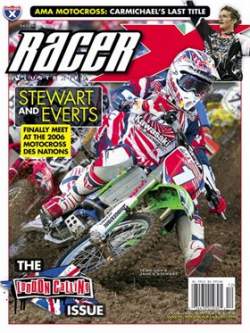 ... and James got himself one too!
Now we're back to supercross in America, but just for one more weekend in Sin City. And Bob Ketchum of Spy already has the quote of the weekend: "I came to Vegas a day early, and I'm already ready to go home."
The worst-kept secret since Honda pulled back the curtain on its CRF150 was announced yesterday in Las Vegas. Ricky Carmichael, the best motocross rider our sport has ever seen, is beginning his final transition into NASCAR racing in 2007. The GOAT will split his time between SX/MX and the circle tracks of stock car racing, doing his best to help set Makita Suzuki up with a good bike and team for the future while also giving his moto fans a chance to say goodbye.
I wasn't at the press conference yesterday in Las Vegas—I was en route on a delayed flight from Pittsburgh—but I had a pretty good idea what was going to happen. Like everyone, I'm sorry that the end is near (well, maybe not the AMA Pro Racing card-carrying members of the 450 class), but I also think it's going to be really interesting to see how our #4 does on four wheels. We were lucky enough to see him focus on dirt bikes for a decade as a pro (and a decade before that as a kid). I'm proud of the guy and will—gulp—start watching NASCAR with even more interest than I did this year when RC's old friend (and Andy's little brother) Clint Bowyer started making things happen in the #07 Jack Daniel's car. See, I already know the lingo!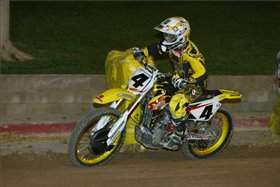 Ricky's going stock car racing—and he's going to be a dad!
photo: TFS
So, what makes RC think he can succeed in NASCAR? And what makes the
Bobby Ginn
-owned MB2 team think a dirt bike rider can manage a stock car? My guess is that it has to do with two things: the fact that Carmichael knows how to race, and that he knows how to test. NASCAR, from what I understand, is a matter of science, feel, and feedback. Carmichael (and, maybe further down the road,
Kevin Windham
and
James Stewart
) has a decade of factory testing under his belt, which is something that most up-and-coming car drivers do not have. Sure, it's a motorcycle, not a race car, but it's bona fide shop experience.
Ricky knows what momentum is and what racing lines and strategy are about, and he's excellent with crowds and the media. If he can translate some of his knowledge and competitiveness from two wheels to four, I really think he will do just fine. But it ain't going to happen right away, and he seems ready for the long haul. "He starts a developmental program in 2007 that will consist of events in late model stock cars, ARCA and possibly the NASCAR Craftsman Truck Series," offered one car-industry report—no word on when he will be out there with Jeff Gordon, Dale Jr., Ricky Bobby and the rest of those good old boys.
To read what RC had to say yesterday, check out TFS' press-conference notes.
Of course, there have been other motorcycle racers who went from two wheels to four; some with great success (John Surtees and Mike "the Bike" Hailwood), some with moderate success (Jeff Ward) and some who just couldn't get a break in the car world (Rick Johnson and Broc Glover come to mind). I have no idea what lies ahead for Carmichael, but I do know that if there's one guy who seems ready and capable to make this drastic leap right now, he's the one (and Windham is next, I believe).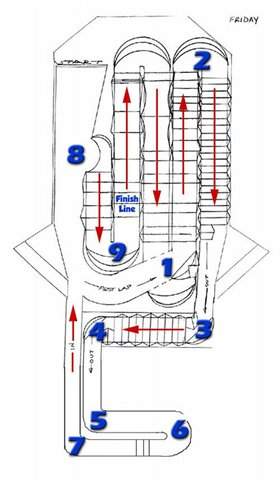 Here's Friday night's track
Further up, I said this was not exactly the best-kept secret in motocross. I think it's safe to say that most of us moto-media guys had an idea it was coming down but didn't want to ruin Carmichael's big announcement on Thursday in Las Vegas by jumping the start. But that didn't stop people on the car side of things from dropping the news a little early.
The first report I saw came yesterday on NASCAR's own site, followed by a Daytona International Speedway press release, then stories in the Orange County Register, and then a paper in North Carolina, and so on and so forth.
"Ricky Carmichael, considered the greatest motocross racer of all time, is moving to NASCAR," wrote NASCAR. "He will join the Bobby Ginn-owned MB2 Motorsports operation, which currently fields Nextel Cup teams for Joe Nemechek and Sterling Marlin and will add Mark Martin in 2007."
"Ricky Carmichael, a 15-time American Motorcyclist Association (AMA) national champion and holder of a record 144 career wins in Supercross and motocross, is moving to NASCAR," said the Daytona folks, before adding, "But even with his stock car aspirations, Carmichael is not forgetting about continuing his success at Daytona International Speedway where he owns a record five Daytona Supercross by Honda victories."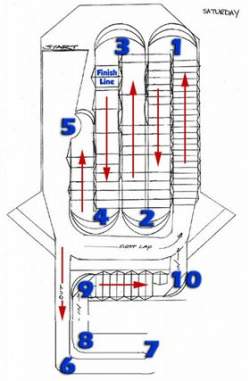 And here's Saturday's track
"When we go there for that race, we park our transporters coming up for the tri-oval there," the PR from Daytona quoted Carmichael. "It's hard for me to focus on the motorcycle race because it's such a dream of mine to get out there in a stock car on that track. Especially this year, when I wanted to get something going in NASCAR, that's all I could think about the whole time I was there. Man, I would just love to get in a stock car out there."
But that's later. Right now, #4 has one more U.S. Open left in him, plus as many as sixteen World SX, AMA SX, and AMA MX races left—total, though I think I did hear him say he really wanted to do the Motocross des Nations at Budds Creek next September, possibly as the end-all race of his motorcycle career … until he's eligible to come back to Loretta Lynn's in the +30 class! (Thought I wasn't listening in the beer tent that Wednesday night there, didn't you, champ?)
And don't forget to listen the U.S. Open tonight on www.supercross.cc.com. Racer X's own Jason Weigandt and former supercross star Jim Holley will be back on the mics for the weekend. (And look for Jeff Emig and Ralph Sheheen to make their TV debuts next weekend on CBS.)
Lost in this media burnout this week was another farewell from professional supercross. Jeremy McGrath, the King of Supercross, didn't exactly ride into the sunset after his own eponymous Invitational Supercross. In fact, he limped off with what turned out to be a fractured neck and broken toe (C-7 and has broken two bones in his right big toe) following a frightening early-evening crash. It was a terribly unjust farewell to the king, who I would guess will not race a major supercross event again after what happened last weekend.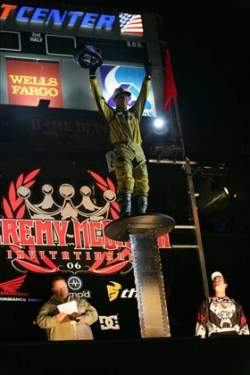 Jeremy at last weekend's opening ceremonies: It was all downhill from there.
photo: Simon Cudby
What Jeremy tried to do with his race in the Home Depot Center was every bit as ambitious as what Carmichael is getting himself into, only with a different risk on the line. MC was hoping to reshape a single supercross race with his own vision, and I have to say it was a pretty damned impressive vision. He wanted the camaraderie of the good old days, where the riders didn't spend the time between races in semis surrounded by publicists and trainers and managers and gear and goggle and whatever reps and entourages of friends and family and all those things that have changed since the mid-1990s.
But Jeremy himself brought that on—and in a good way. With Jeff Emig and Mike LaRocco and Ezra Lusk and the rest in hot pursuit, he helped raise supercross to the level it now enjoys. Jeremy reached a level of success that not only made the sport more popular and more professional but shaped the future by showing the athletes what was available to them if they worked hard and won races. It's all so much different now—so much bigger and more lucrative—and MC just wanted to get back to something fun and carefree. He was a guy who got into this because he just liked riding dirt bikes. He still does, of course, and the event he built was meant to showcase just that: talented racers riding dirt bikes.
Kevin Windham rode this ramp to $185,000 paycheck
photo: Simon Cudby
From all accounts, it was a pretty good event. They tried lots of new things, like metal ramps, a hidden start chute, and one-on-one bracket racing ("up the bracket," for you Libertines listeners). The problem was with some of the promotion itself.
First of all, I'm not on expert on SX promotions, as my experience with supercross promotion extends to two events: the two races my dad and mom promoted at the long-gone Three Rivers Stadium in Pittsburgh ('78 and '83) and an amazingly fun but sparsely attended Acapulco Supercross in Mexico back in 1992, where I helped my friends Tommy Rios, Pete and Greg Fox, and Todd Hicks build a racetrack outside the La Costa Resort north of the city (and a story I hope to one day tell in the magazine). So I'm no expert.
But there are a few things I will speculate about as an armchair quarterback. First of all, races on Friday nights in early fall do not work—that's high-school-sports time for your local newspapers and lots of your targeted audience. Also, Carson, California, which is just southwest of Los Angeles proper, is a very difficult place to reach by car on a Friday during rush hour. Finally, with literally no place to ride dirt bikes in the area, the big draw for the people who live around the home of the X Games might have been the freestyle exhibition, with Travis Pastrana, Nate Adams, Ronnie Faisst and more, but the FMX portion was under-advertised. Maybe that should have gotten equal billing on the posters and the radio and TV blitz.
Pastrana's show at the MC Invitational SX was awesome as always
photo: Simon Cudby
Beyond that, one thing that I think everyone should start paying attention to is just how fast and competitive the 250F riders—
Josh Grant
and
Josh Hansen
—were against the 450s. With the bikes getting so unbelievably fast and powerful (and loud now), it seems like 250Fs would be more fun and more competitive (and maybe a little safer) on supercross tracks. With MC,
Nick Wey
and
Ryan Clark
(and
Michael Sleeter
) all getting hurt last weekend, it's food for thought. (Clark, by the way, will not be riding the U.S. Open this weekend. He has seventeen stitches in his hand right now, and even though he thought about trying to race in Vegas, he's decided against it.)
Another thing that was remarkable about MC's race was the purse: $500,000! Yet a lot of top guys didn't show—including MC's old team, Pro Circuit. It seems like James Stewart or RC (who was riding in California) could have popped right over there and left with a big fat check (heck, third-place David Vuillemin made something like 60 grand). Guess it just goes to show how long the season already is and how well these guys at the top really are doing.
Looking ahead now to the U.S. Open, I just received an e-mail with a shot of a special one-off sprocket that Renthal did for James Stewart for the Open this weekend.
Which leads me to the odds: With RC having not raced since
Steel City
, more or less, I gotta go with
Bubba
this weekend. I think he's probably a little miffed at some of the treatment he got after leading Team USA to the win at the Motocross des Nations and is now ready to take it out on his supercross competitors.
Quick note: I'm hearing that Travis Preston has landed on his feet and will have a good gig next year. Stay tuned for an announcement in the near future.
And down in Los Angeles, it sounds like the Mike Goodwin murder trial is finally close to getting underway. For those of you who don't know the name, Goodwin is the man who invented modern supercross with his 1972 Superbowl of Motocross at the Los Angeles Coliseum.
Fifteen years later, his former business partner Mickey Thompson (another race promoter) was gunned down along with his wife, Trudy, in their driveway. Goodwin has been a suspect ever since, but only as a result of his broken relationship with Thompson, not as a result of any tangible evidence that has surfaced.
After years and years of charges filed and dropped, imprisonment and various TV special reports, the case is going to trial within a couple of weeks. It should be fascinating to the say the least.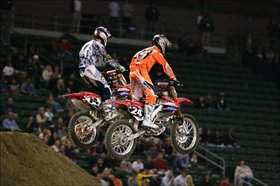 Josh Grant was almost on KW's pace on his 250F
photo: Simon Cudby
Dear
Racer X
,
I saw where
Heikki Mikkola
was inducted into the AMA Hall of Fame. Was he there and/or where is he now? I saw him win at Honda Hills in '74. Also, I saw a "Legends" documentary on the deuce a while back can I get this video anywhere?
Uncle Moped (Chris Mosher)
Mikkola wasn't at the Hall of Fame ceremony, Chris, because he's now a reindeer-and-elk farmer of sorts back in Finland, and this is the height of reindeer season there now! Actually, Mikkola doesn't get to many races anymore, as far as I can tell.
As for the video, can anyone out there help out Uncle Moped? Letters@racerxill.com
This morning I ran into Team Makita Suzuki's Ryan Dungey stepping off the elevator. He's not racing this weekend, but he said he's hard at work testing and all for next season. He will probably ride the 250F East Region.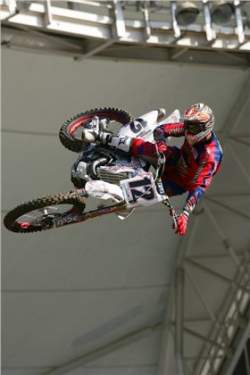 The Cobra does a little goon-riding last weekend
photo: Simon Cudby
I also ran into 1988 125 East Region SX Champion
Todd DeHoop
down in the gym. Todd's out here on vacation to watch the races and enjoy the city. One day, we gotta do a story on Todd's long odyssey through the motocross world.
I was also hoping to run into Ping and tell him what a good job he did riding with The Dogger and Randy Valade and the boys on the Racer X 450 Shootout and how good he still looks with Ben Townley's #101 on the Racer X Films movie of the shootout, but I think he's still recovering from last night.
One other funny thing: I ran into Steve Whitelock this morning and asked him what was going on with the 2007 numbers and whether a decision been made on who was going to wear #2. His answer? Jamey Grosser.
Unfortunately, that's all the time I have for Racerhead today—we're doing a photo shoot with some girls downstairs, and while it's a tough job holding the lights and all, someone's gotta do it. Check back in with Racerxill.com all weekend for information, updates, photos, and more from the U.S. Open. Thanks for reading Racerhead. See you at the races.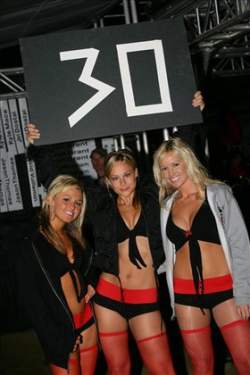 photo: Simon Cudby