Privateer Profile: Willy Toth
In his first year racing professionally this year, 18-year-old Willy Toth was able to qualify for three AMA Toyota Motocross Nationals in the ultra-competitive 250F class. Riding a privateer Suzuki sponsored by his parent's Suzuki shop, Willy's top moto finish was a 24th; coming at a track he's raced his entire amateur career—Budds Creek. Although this Carlisle, PA-based resident didn't earn any national points—he learned a lot, and will take that knowledge and confidence in to the 2007 season. We talked to Willy for this week's Sponsorhouse.com Privateer Profile. Be sure to show Willy and his sponsors some support by clicking on the links at the bottom of the page.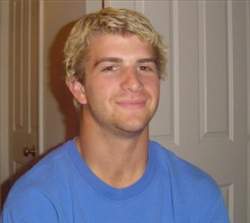 Willy Toth

photo: Courtesy of Toth

Racer X: Willy, how did you get started in motocross racing?
Willy Toth: I was about eight years old, and my first race was at Sleepy Hollow MX Park. Actually, my uncle raced and my gram and pap used to own West Shore Suzuki, and my dad bought it from them. So, I was around motorcycles my whole life.
How was your career as an amateur racer?
I wasn't the top rider in my area, but I did pretty well. Jason Lawrence would come over to Pennsylvania a lot, and we would battle a lot.
Any Loretta Lynn history?
Yeah, I raced Lorettas's from 60s to 125 B. My best finish was ninth. I remember that year Sean Hackley and I swapped finishes down there. One year he got ninth and I got tenth, and the next year we swapped.
Does any one race stick out as a memorable one while you were an amateur?
Um, we did Branson, MO, in the 250 B class, and I was actually winning. I got second the first moto and I was winning the second moto, so I had the overall wrapped up but crashed out.
So when did you start riding expert?
I got moved to the A class two years ago – I got bumped up in District 7, against my wishes. But I just got my pro license this year.
Well, for your first season you did pretty well—you qualified for a few nationals in the 250F class.
Yeah, I qualified for High Point, Budds Creek, and Unadilla.
Tell us about your first national at High Point. Were you nervous?
Well, I really wasn't nervous. I didn't have any goals—I just wanted to make the main, and I did it right out of the first qualifier, so that was nice.
So you were surprised you did that?
Yeah, I surprised myself. But I know I have the speed; I just have to work on the endurance part.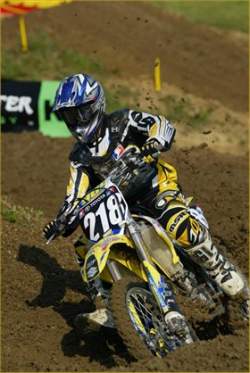 Toth qualified for three nationals in 2006

photo: Zak Lowery

What was your best moto finish in the nationals?
I got 24th at Budds Creek.
What aspect of the pro nationals surprised you the most? Is it the difficulty of the track or just the fact that there are 39 other guys out there just as fast as you hanging it out for 30 plus two?
Yeah, how long those guys can go fast for really surprised me. I could go good for 20 or 25 minutes, then I just drop.
So back at home in Eastern PA, who's your toughest competition?
Oh, there are a lot of guys. Barry Carsten is still going strong. I really look up to that guy because of how fast he is for his age.
Any plans for this winter?
I'd like to go to Florida or somewhere south so I could ride all year and keep my speed up and keep working on my endurance.
Do you go south every winter?
Well, it was difficult because I was in high school and we'd have to go between Christmas and New Year's. But I'm graduating this year, so that'll free up some time for me.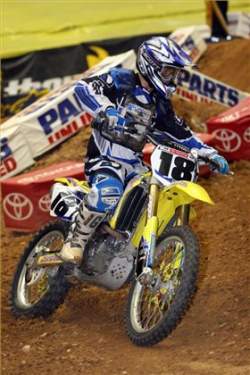 Toth at last year's Baltimore AX

photo: Jason Hooper

Is racing going to be your full time job then?
I go in and help my mom a lot at the shop, but I'm mainly concentrating on racing.
Any supercross or arenacross plans this winter?
Well, I don't think I could ride supercross because I didn't get any points, but arenacross is definitely an option. We might do that, but I had a bad experience in Baltimore last season—I endoed in the whoops. I wasn't in the right gear.
And then next summer you going to race the nationals again?
Yeah, I think I'll have a better chance next year.
What's your ultimate goal in motocross?
I'd just like to run in the top 15 consistently, get some points and get my name out there.
Willy Toth's sponsors: