We've been saying it all along: numbers can be very powerful. There seem to be several amazing stories behind each number we dig into with the arrival of every Wednesday. But this number is different. This number can be downright spooky.
Would you drive a couple of blocks out of your way to avoid a black cat? Would you open up an umbrella inside a room? Have you taken extra-special care when handling a mirror? Some of you non-superstitious types may scoff at such notions, but I would be willing to bet that most of you racers would answer those three questions a little differently. Racers are superstitious in general because of the dangers our trade entails; whatever we can trick ourselves into thinking makes us safe, we usually go with.
Be that as it may, there is one superstition in particular that most motocross racers exercise extreme trepidation with. And that superstition would be running the ominous #13 on our number plates. With this Friday being Friday the 13th, we decided to give a nod to the odd number and showcase some of the brave riders who turned up their noses to superstition and chose to make their own luck.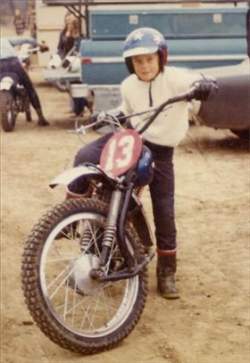 Scott Wallenberg
photo: Courtesy of Wallenberg
Up first, we have a feel-good affiliation with the #13. Our very own publisher
Scott Wallenberg
's first motocross bike was this cherry 1970 Sachs 125, which was adorned with #13 on its oval plates. Scott raced this machine in October of 1970 at Motosports Park in Byron, Illinois. "I raced the first two motos of the three-moto format, and then the promoter told my dad that I had to get faster before he would let me back on the track!" Thankfully, this would be the extent of the bad luck Scott suffered while wearing a number he's been hanging out with ever since.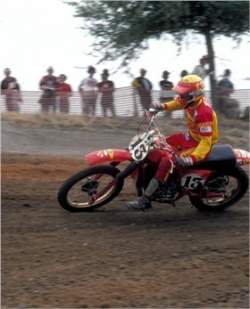 Gaylon Mosier
photo: Dick Miller Archives
Here we have the late
Gaylon Mosier
. He was one of the most popular riders on the AMA circuit in the 1970s, riding for Wheelsmith Maico, Honda, Team Kawasaki, and more. Gassin' Gaylon won a 125 National, a pair of 500 Nationals, and two different supercross races, including the 1978 Anaheim Supercross. He was killed the following year in a cycling accident while training on the road near
Unadilla
, New York. Needless to say, the sport was devastated by the loss of the man who wore #13 in 1976.
After Mosier, I looked through the archives pretty deep, and I couldn't find much history or pictures of riders racing with the #13 throughout the '80s. But when
Rick Johnson
broke his arm to end his 1989 season in practice of the outdoor national opener at Gatorback, he had earned enough points in the first six SX races to earn the dreaded #13 for the following year. As headstrong as he was, Johnson proclaimed something to the effect of, "That's how many points I earned last year, and that's the number I want to use—besides, it's closer to #1."
It all began to work out again for Johnson, as he would actually go on to win the 1990 Gatorback National after a sensational battle with his younger teammate Jeff Stanton. Not even the cursed #13 could dent Too Hip's determination. Alas, it was not to be. He would break his arm the following week at the Daytona Supercross and effectively end his career.
As fate would have it, Johnson earned enough points in his tumultuous 1990 season to earn, that's right, #13 for the 1991 season. But when the AMA issued their numbers the following year, #13 was offered to Mike Fisher, then a KTM factory rider, who promptly passed on the unlucky number and went with #14 instead. On the AMA press release that listed the 1992 numbers, it said the following beside the #13: "Not given out for superstitious reasons."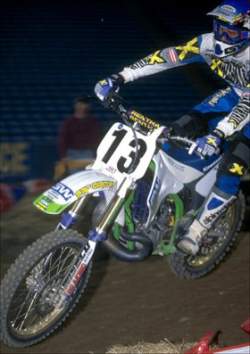 Phil Lawrence
photo: Racer X Archives
It would be a while until a brave soul turned a blind eye to the uncanny bad noise racing with the #13 brings. I was watching a motocross video a long time ago and noticed that
Phil Lawrence
didn't have a chest protector on at
Unadilla
. When asked why, Phil boasted, "'Cause I'm so bad, I don't need one." While that offers some speculation, "Factory" Phil was definitely bad enough to run the #13 for the 1996 season. And he did pretty well with the number, finishing a rock-solid fourth in the AMA 250cc Supercross standings while riding for the Great Western Bank privateer team.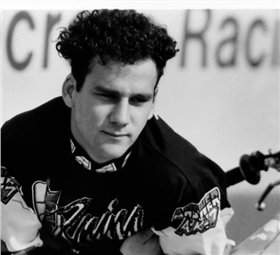 Brian Swink
After being dropped from the factory level,
Brian Swink
seemed like he was done heading into the 1997 season, but then he decided stick #13 on the side panels of his Moto XXX KX250. While Brian showed he still some speed, his stamina wasn't up to par and he soon slipped back into retirement.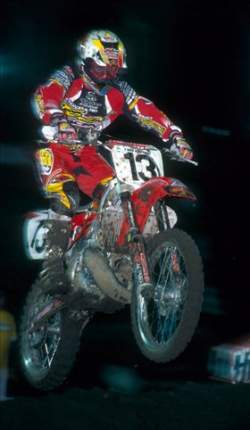 Mike Craig
photo: Racer X Archives
Like karma, it's commonly said that you create your own luck. Toward the end of his colorful career—which in 1994 saw him win a 250 main event one week and then get hurt tripping over his boots in his hotel room the very next, then lose his ride from factory Yamaha—
Michael Ray Craig
decided to throw caution to the wind and run the #13 in 1998. Bad move. He would suffer a horrible crash at
Budds Creek
coming down off the finish-line ski jump (the track ran backward that year) and break his femur.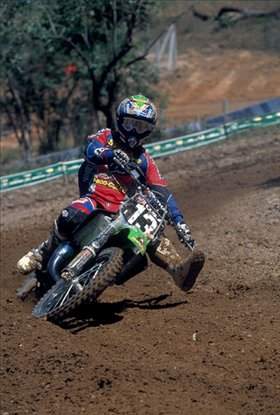 photo: Eric Johnson
Ricky Carmichael
can count the bad days he's had in his pro career on one hand. One of them was the day he raced with #13, for the first and last time, at the '99 Motocross des Nations in Brazil. I was working for
Fox Racing
in 1999, and Todd Hicks had me sweating out in the warehouse printing jerseys. I remember printing the jersey in this picture and taking a second glance at the #13 I had just ironed on the back. My speculation came to fruition for RC down in Brazil, as he was pummeled early in both motos and had his bike run over and crunched up too much to continue.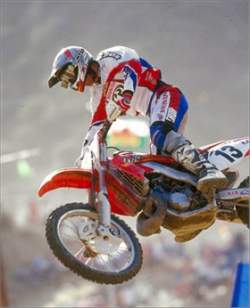 Sebastien Tortelli
photo: Simon Cudby
When
Sebastien Tortelli
changed his number from #21 in 2000 to #13 in '01, it got ugly really quickly. Seb would suffer a string of injuries that has not ended to this day. After he had missed enough races in 2003 to finish out of the top hundred, he decided to throw a zero in between the one and the three for 2004. Again, Seb missed most of the season with injuries. In 2005, Tortelli seemed to be getting it all back together. Roger guinea-pigged him to ride the brand new RM-Z450 in the supercross season. Amazingly, Tort rode well (and injury-free) all season long and came into the outdoor nationals looking better than ever. Sadly, shortly before
Hangtown
, he crashed and badly broke his wrist. A move back to Europe and a switch to KTM followed, though he kept the 103. Sadly, he got hurt again this year.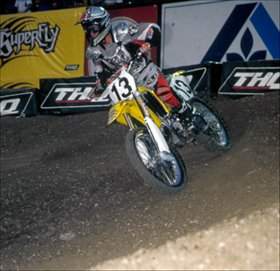 BJ Smith
photo: Simon Cudby
Here we have
BJ Smith
at a 2003 Crossover Challenge event at Angel Stadium. DC told me he went down a few times in this Suzuki-sponsored event; otherwise, he might have had something for Victor Sheldon. And while the #13 may have provided rotten luck for him on the track, his luck sure as hell turned for the better, as he spent all summer in 2006 hanging with Erin Bates and the twins.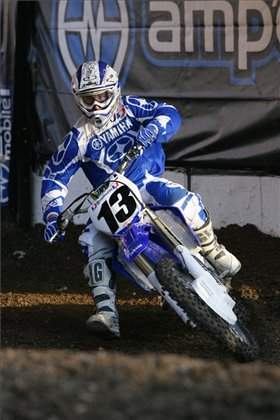 photo: Matt Ware
Heath Voss
never set the world on fire in the amateur ranks, as he was never a fast tiddler pilot, but with an incredible work ethic and hard-as-nails determination, the soft-spoken man from Minnesota went on to become the 2004 World Supercross Champion. His efforts landed him a factory ride with Team Yamaha, but Heath rolled the dice and chose to run #13 on his factory YZ450F. Since then, his luck and results have mostly gone south. He will begin the 2007 season as a privateer once again, riding with #13.
That is all we have for you this week. In closing, here are a few #13 facts:
- Fear of the number thirteen is termed triskaidekaphobia.
- "Bad" Billy chimed in and reminded me how most hotels don't have a thirteenth floor.
- Jeremy McGrath's supercross win streak ended at thirteen.
- Ricky Carmichael's supercross win streak ended at thirteen.
- Team USA's Motocross des Nations winning streak ended at thirteen.
- The atomic number for aluminum is 13.
- Dan Marino, #13, passed for more yards than any quarterback in NFL history but never won the Super Bowl.
- There are thirteen steps leading up to the gallows and thirteen turns on a hangman's noose.
Of course, not everything is bad with thirteen—a baker's dozen is actually thirteen donuts. Be that as it may, if you find out you have turned in thirteen laps of practice, we suggest you go ahead and burn another one, just to be safe.

Know of another #13? Drop me an email at andy@mxsports.com.