Between the Motos: Live Nation's Dave Prater
Admittedly enough, it was difficult getting in touch with Live Nation's Dave Prater this week. With the 2006 Rockstar Energy Drink U.S. Open quickly approaching this weekend, Prater is already in Las Vegas preparing for what looks to be the best U.S. Open of Supercross to date. Fortunately, we caught Mr. Prater during some very rare down time to briefly discuss this weekend's race inside the MGM Grand Garden Arena.

Racer X : Dave, sorry to bother you. I know you're probably very busy. What were you doing before I called?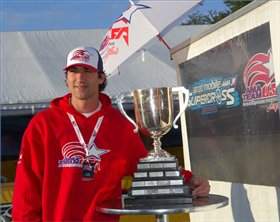 Prater poses with the Peter Chamberlain trophy at the 2006 MXdN
Dave Prater: The Supercross team arrived in Vegas on Saturday night. We start our move-in for the Rockstar Energy Drink U.S. Open at 8:00 a.m. Sunday morning. We begin with all of the opening ceremonies equipment; trussing, lighting, lasers, etc. That takes all day Sunday and most of Monday morning. Dirt starts coming in on Monday at noon and Dirt Wurx gets started on the track. When you called I was up on the north concourse, meeting about the layout of our VIP party area that we build every year for the U.S. Open.
So far has everything gone according to plan?
So far, so good. With any production of this size, there are going to be obstacles, but our supercross staff does a great job at planning and executing their plan. Jayme Dalsing, Supercross Manager, and Jeff Oppelt, Operations Manager, do this eighteen times a year, so they have it under control.

It seems that everyone is excited to hear what Ricky Carmichael's big announcement is going to be tomorrow – can you give us any hints?
I'm excited to hear the announcement myself. Sorry, no hints.
[Laughs] Well, it was worth a try! Well, we've seen the press releases about all of the format changes that are going into this year's program. Personally, what change are you most excited about? The bigger purse, the Toyota Trifecta, the head-to-head races?
I think the Toyota Trifecta is going to be the most exciting change. It gives the event even more of a Vegas feel--$10,000 for the Super Pole, $5,000 for the Progressive Holeshot, and the chance for one rider to walk away from the event with $250,000. Vegas has always been associated with big money. It's going to be fun.
Another big change was the addition of Rockstar Energy Drink as the title sponsor. It seems they have really stepped up for this event.
Rockstar has been great. They've really been hands-on with their title sponsorship. We're extremely excited to have them involved at such a high level.

Also, are you excited to have a former U.S. Open winner Jeff Emig doing color analysis for the TV show?
Jeff can bring things to the television show that most analysts could not. He can get the viewers into the riders' heads. A lot of people can explain to the television audience what is happening on the racetrack, but it takes someone with experience to actually convey the riders' emotions during the two nights of racing. He also will give us insight into different strategies each rider may have for the weekend.

How have ticket sales been for this year's event, compared to other years?
Ticket sales have been great—comparable to the best years of the Rockstar Energy Drink U.S. Open. We anticipate a great turnout for both Friday and Saturday night.

Any advice for a fan reading this who's coming out for the weekend?
Just come out expecting to see a great show and a great race. Get to the MGM Grand Garden Arena early on Friday, October, 13, and Saturday, October 14, to walk through the pits [open at 12:30 p.m.] and watch practice [begins at 1:00 p.m.]. The show begins at 7:00 p.m. Vegas is always exciting. Add the best supercross riders in the world, and it only gets better.