Monday Conversation: Kevin Windham
Kevin Windham's payday at the Jeremy McGrath Invitational Supercross was $185,000. He won both the bracket racing (one-on-one match races) and the main event for both nights. Making a lot of money is fun, and he showed it with plenty of whips over the event's metal ramps.
The event format was way different than a usual supercross and, as planned, the riders just stayed trackside during the night to watch. Windham hit the track for two intense laps at a time in the match races, then he watched freestyle with everyone else before he did the main. We caught up with him after he got his big check and a crazy glass-helmet trophy.
Racer X: How were the races here Kevin, starting with those match races with Josh Grant?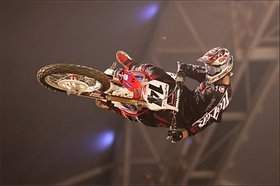 Windham looked great all weekend
photo: Simon Cudby
Kevin Windham
: The match race was something that kept you on the edge. It was a little scary. You could get put out with one move. You had to ride a lap and a half completely perfect. That's tough to do through all the brackets and not make any mistakes. The first couple were a little unevenly matched, but when you got to the final couple, you couldn't make any mistakes. Josh was riding so well on a Lites bike too—none of us on the big bikes wanted to get beat by a Lites guy! There was some pressure with that. It was awesome. Everything worked out the way I wanted to, but you never know with that kind of thing.
How different was the event for you with this weird format?
It was different because you really didn't know what to expect. There was a bit of a change in the program [Saturday, due to moisture]. It was great to have the TV coverage, like the X Games or something—it was kind of one those races. They were trying to work in the freestyle stuff, so we were just down here [trackside] all night. That was cool. Jeremy made this platform for us so we could watch the show, and when it was time to go race, you go race. There was so much racing, like when you go through the brackets, it seemed every time I turned around I was doing a race. That was the way to get to the money!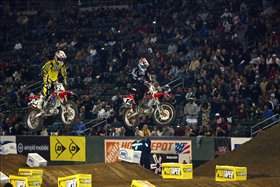 Since this was an off season race, KW didn't have points to worry about, but he still didn't want to get beat by his teammate Josh Grant on a 250F!

photo: Steve Bruhn

Jeremy isn't here tonight, but he said a few weeks ago his measure of a good event would be if the other riders tell him afterward they had a good time and would like to do it again. Would you say so?
Yeah, he had a good event, a successful event. I wish some of the other top riders would have been here. There are more years to come, and I think other riders will start to come. It was a great event and hopefully, it will continue going. It should be a success for him. It's hard to say with him hurting his neck and cracking a vertebra or whatever he did. I wish him the best. With the guys that were here, I never heard anyone say anything bad or that they didn't have a great time.
Any thoughts on the number of injuries?
This track was really slick, and when they watered it, for the night, I think it's why they changed the format a little bit. The air tonight has a lot of dew in it, and it made the track real slick. This is what we expect in Southern California, what we get at Anaheim. This was our first supercross, and we have the MGM Grand next weekend and the Canadian rounds, then back into the supercross series here.
What are you going to do with the $185,000?
I have no idea! At this point in my career it would be smart to put it in the bank, but no, I'm not doing that!
Did you figure out how much you made per lap?
I don't even know how many laps I rode—I guess four in brackets. I can do math, but I'm not good at it [laughs]!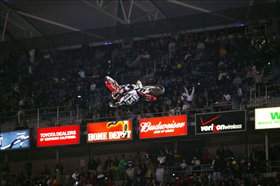 Windham had a good time with the big air thanks to the metal ramps

photo: Steve Bruhn

On press day, you just went right for one of the metal ramps and floated over it perfectly the first time. Were you expecting them to be fun?
That's thanks to Travis Pastrana. He's been to my house a little bit. I actually own one ramp. I haven't hit it very much recently, but I spent a little time doing some tricks with Travis—real modest ones, nothing like these guys are doing these days. It's been really good to be able to hit these ramps every lap. You could hit them a million times. It was hard to actually go up to it and say, "I'm racing, I have to do it the best I can," but you just want to throw a fat whip or just something like that off it because it is so fun to hit.
We saw a lot of people hitting those with some style.
That's what is cool about it: You don't have to worry about the Northeast, where the tracks are a little softer, or the South, where you get a lot of grip. They're real consistent, the same every time. You could throw some big tricks, some big whips. That's about all I can do—I'm not in the trick business.
Anyway, it's a lot of fun. But I don't know if they would fit in [AMA] supercross, to be honest with you. There are times, like on the start, where you can't do it. Every race tonight, there were guys that went around it. Fortunately for me, my SoBe/Samsung Mobile Honda got good starts all night and all weekend and I wasn't one of those that had to go around. On the first lap it gets scary and a bit of a risk. Other than that, when the race is going, it's a kick.