Kawasaki/Racer X Race Report
"I'm all right," said Jeremy McGrath, slumped on a Honda scooter inside a tunnel of the Home Depot Center. A few moments earlier, McGrath had gotten off hard during a qualifying session for his new race "the Jeremy McGrath Invitational Supercross" now here he was trying to pull it together. "You know what? I'm not all right," he added after a long pause. "I took the whole crash on my neck and head and my hand is numb. I can't believe it happened. What a bad time for it to happen." McGrath looked spooked, and very dejected, for not only was he in pain, he was bummed his race had gotten off to, in his eyes, a bad note.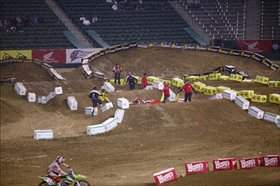 MC's night ended early
photo: Steve Bruhn
McGrath, although he didn't know it then, need not worry. The opening night of his race, while held before a light crowd of probably 10,000 fans or so, was equal parts spectacle, showbiz and good old Los Angeles movie back lot-like razzmatazz. Although things started off with a few qualifying sessions (a bit confusing), the program really got off the ground with the first heat race (which would set the gate for the main later that night). After leaving the starting gate, the field of riders headed pell-mell for the first echelon of large metal ramps, and upon hitting, all were sent ineffably high into the Los Angeles evening. To this write, it looked like 20 MX bikes leaping off an aircraft carrier. The crowd loudly bellowed its approval and cheered
Kevin Windham
on to a declarative win. KW looked as fast and smooth as ever and let it be known that he was the man to beat in Carson, California. Soon, the program evolved into the man-against-man bracket races. Although you had to be there to understand, the races, especially as the riders began to eliminate one another, became quite intense and had the crowd completely captivated. Even the riders got caught up in it, many of them standing at trackside to cheer each other on.
Arguably the best race of the entire evening was the grudge match of death between
Kevin Windham
and Heat Voss. "People don't know it, but I've been riding back in Texas with
Travis Pastrana
for three weeks and we've been practicing these bracket racing things. Travis has taught me quite a bit." And it showed. Voss, on a new Honda CRF450R, both led and fought Windham to the bitter end. So close was the race that at one point, David Vuillemin screamed, "Show me the money!" It was funny stuff. Speaking of Pastrana, he likely would have won his bracket race, but he decided to do a backflip along the way and that was that (it certainly shocked the crowd, though, as nobody was expecting it). "Even with the backflip I thought I could win," reasoned Travis after his defeat. "Oh well, I think I have to get ready for the freestyle demo," he added with a gleam in his eye, probably betraying what part of the evening meant the most to him.
The backflip demonstration that followed was, arguably, the greatest motorcycle thrill show ever performed. Riders like Nate Adams, Travis Pastrana, Adam Jones, Ox Kargola, Ronnie Faisst and Mike Mason absolutely blew minds with every conceivable freestyle trick and backflip variation possible. And not only did they display just how far the sport of FMX has come, all the guys looked like they were having a hell of a good time doing it and had to be almost pulled off the stadium floor. The fans were sorry to see them go. Although it's an old Vaudeville cliche, the FMX show alone was worth the price of admission. (Oh, and Nate Adams and Travis Pastrana's side-by-side backflip was just astonishing.)
Afterwards, the bracket races picked back up and it all boiled down two a two-man main event featuring
Josh Grant
and
Kevin Windham
. Very much akin to a boxing match, in one corner was Grant on his SoBe/No Fear/Honda CRF250R and
Kevin Windham
on his 450F. Windham won, but Grant fought hard and well. "If I would have had one more lap, I think I could have caught him," said a smiling Grant after the race.
The 16-lap main event was, for all intents and purposes, a Josh Grant and Kevin Windham show. Windham grabbed the holeshot, checked out at the front, and stayed there. Grant experienced a midpack start, but within a few laps was in second and trying to chip away at his teammate's lead. When it was over, it was Windham with the big win, Grant second, Nick Wey third, David Vuillemin fourth and Heath Voss was fifth (that's five Hondas). "I'm really happy to go 2/2 tonight to my teammate here," smiled Grant. "This whole thing was a lot of fun. It was like you never knew what to expect. I really enjoyed the format and trying something new. I'm excited to race again tomorrow."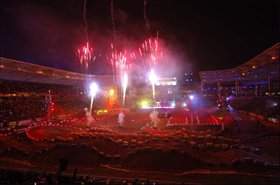 Night two should provide a lot more fireworks
photo: Steve Bruhn
If you're anywhere near Los Angeles tonight, try and make it out to the night two of the
McGrath Invitational Supercross
. The weather will be cool and sunny (it was nice to be at a race and actually not be sweating!) and things won't get going until 7:00 p.m. (so there's plenty of time to make plans). Truth be told, the McGrath race has something for everyone. Whether you're a hardcore supercross or motocross enthusiast, freestyle/X Games fan or guy who just likes to ride his CR250 around Lake Elsinore's Vet Track, the JMISX is a highly entertaining festival of all things motocross. It may not be what Edison Dye had in mind when he brought motocross to this nation in 1968, or even what Mike Goodwin was thinking when he launched the Superbowl of Motocross in the nearby Los Angeles Coliseum in 1972, but that's the event's charm. It's nonstop action from beginning to end and an excellent forum to display just how brave, committed and innovative the motocross, supercross and freestyle MX riders of this era truly are. Go check it out. You won't be let down. In fact we're on our way back out there right now. Later.