Where Are They Now: Spud Walters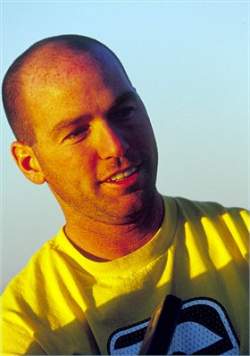 Brian "Spud" Walters
The name Brian Walters probably doesn't sound familiar to many people, but if I said "Spud" Walters, you've probably heard the name. Spud works for American Honda but it has been a long, strange road getting there. Walters was introduced to dirt bikes when he was seven years old. His dad rode a Maico in the fields behind his house and before long he bought a bike for junior. The hobby eventually became more serious and soon he and his father were racing at all of the tracks near their home in Folsom, California. By 1987, Spud was signed to Kawasaki's Team Green program.
"I remember talking with Jose Gonzales," said Walters of the former Team Green higher-up. "It was so awesome to get signed by a team that was so successful. Back then, the Golden State Nationals were the biggest races around and I was doing pretty well. I was a pretty solid top-three guy."
He continued to tour the country racing the amateur national circuit as a member of Team Green until 1992. Spud won a title at Loretta's in 1989 in the 85cc 14-15 division, which came with a free trip to Japan, courtesy of Yokohama Tires and the Kayo Corporation.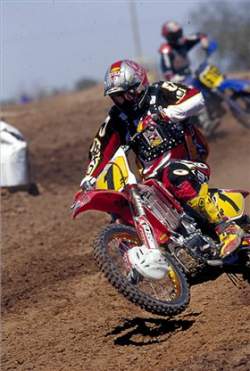 Walters won the four-stroke title in 2001
In 1992 Spud went straight from the amateur nationals in Tennessee to
Washougal
Motocross Park for his first national. "I remember being pretty nervous about that race," he says, "but I got points in both motos, though. I think I finished, like, 18th and 20th and scored three points. It wasn't enough for a national number the next year but I was pretty happy considering it was my first national ever."
The next decade saw Spud become a true journeyman racer. His budget limited him to racing only the nationals on the west coast. In between those races he found contingency races and purse races west of the Rocky Mountains to earn a living. The four-stroke revolution turned out to be a blessing for him—Spud was hired by Honda and White Brothers to compete in the Four-Stroke Nationals. After having success in that series, Yamaha hired him to help with development of their YZF450. He continued racing the four stroke nationals, finally winning the championship in 2001.
From there his relationship with Honda began to grow and he was hired to assist in the development of Honda's pre-production off-road motorcycles. Today, Spud's job title is Off-Road Test Engineer at American Honda and that covers every aspect of off-road, including motocross, two-strokes and off-road bikes.
Spud just had his ninth anniversary this week with his wife, Allyson. They have two kids, Lauren (8) and Garrett (4). When asked if his kids ride at all he responded without hesitation, "No, my boy loves riding his bicycle and he is pretty fearless on that. As far as motorcycles go, he's not too interested. That's fine with me. I don't want to be a mini-dad!"