One week after Stefan Everts' championship motocross career came to an end with an individual victory at the Motocross des Nations in England, back at home in Belgium, he said an emotional farewell to his legions of fans.
The venue, his home track at Neeroeteren, has been used for an end-of-season party for several years. But for this final goodbye, Everts, along with his family and friends, pulled out all the stops to send thousands of fans home with lasting memories of the greatest GP career of all time (and with hangovers).
Unbeknown to Everts, the celebrations would actually start on Friday night. Convinced he was filming the first episode of a new show on Belgian TV, he was flown in by helicopter to a large entertainment complex in Bree, just north of Neeroeteren, on Friday evening, and persuaded to place a blindfold on as he entered the venue.
But rather than the TV studio he'd been expecting, waiting inside the hall were some five hundred invited guests seated around forty or so tables. "I was in shock when the blindfold was taken off," Everts would say later. "I couldn't believe all those people were there. I didn't realize I knew so many people, that I had so many friends. I was looking out from the stage trying to see who was there."
Among those from the world of motocross present were former World Champions Andre Malherbe and Eric Geboers, former teammates from throughout Everts' career such as Mark Eastwood (Honda), Miska Aaltonen and Daryl King (Husqvarna), and his final teammate, Cedric Melotte (Yamaha).
Other guests at the party, organized by Stefan's girlfriend, Kelly, included all his Belgian Motocross des Nations winning teammates: Joel Smets ('95,'97,'03), Patrick Caps ('98), Marnicq Bervoets ('95,'97,'98), Steve Ramon ('03,'04), and Kevin Strijbos ('04).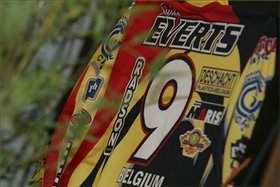 MX des Nations - 2001
Two presenters from a popular Belgian TV sports show interviewed Stefan about his life, and several short films were shown documenting his astonishing career. Other Belgian sporting icons like French Open Champion tennis player Justin Henin-Hardenne, multiple Tour de France winner Eddie Merckx, and 2005 cycling World Champion Tom Boonen paid their respects by video.
Later, several of Belgium's top rock and comedy acts appeared on the stage before the DJs kicked in and the party took to the dance floor. The doors to the venue were finally closed on the last of the revelers, including the man himself, who was still standing, just a couple of hours before dawn.
There was little chance of sleeping in, though, as Everts was due at Neeroeteren's town hall the following morning for a civic reception honoring him for his contribution to sport in the local area. Just across the road from the hall, the school where Everts spent his formative years was decked out in posters and displays by the current students. The ceremony was concluded with the unveiling of a statue in honor of Everts outside the hall.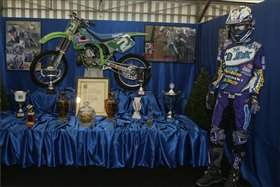 1995 250 World Championship bike
Then it was off up to his home "De Keizelgroeve" circuit for the afternoon and evening. In the weeks leading up to the event Everts had been gathering mementoes from throughout his career, with the aim of showing them in a one-off exhibition on the day.
Housed inside two large tents were all his World Championship-winning bikes, the racing gear from those years, and no end of trophies from his 101 GP wins. Other pieces of memorabilia included all his Belgian MXdN shirts and helmets, riding gear from his amateur career, and number plates from the few AMA races Everts competed in.
One of the guides inside the exhibition was none other than Stefan's father, Harry, himself a four-time World Champion. One of Harry's winning Puch machines was also featured.
Even a full-blown poster of Everts' Racer X cover from his triple GP win at Ernee in 2002 was hanging on the wall, and the three trophies he won that day were placed in front of it. Everts remains the only non-American rider to make the cover of Racer X during a GP career.
The exhibition was so well-received that Everts was later approached by the local council with a view to opening a full-time museum in the nearby city of Maaseik – a place that will surely become a pilgrimage for MX fans from all over the world.
Other stuff to keep the thousands of fans who turned up to the track entertained included a rock band, bungee jumping, and plenty of activities to keep the little ones amused. Of course, Everts himself was running around making various personal appearances and completing mammoth autograph-signing sessions.
The queue for the exhibition lasted throughout the afternoon and into the evening, as the entertainment moved into the largest tent seen outside of the Munich Beer Festival. Just like the night before, but in front of a crowd of thousands now, Everts was interviewed on stage and various clips of his career played on a large screen.
One clip from his early teens showed an unmistakable Everts attacking a steep downhill with his elbows raised and feet on the pegs in familiar style, starting off a wave of appreciation through the tent.
The most emotional piece of film was surely the shots of the Stefan Everts Fan Club members watching his final GP in Ernee with tears rolling down their cheeks. And we're talking grown men here. That in itself set off another wave of emotion both on and off the stage.
After a hearty singsong to Everts by the crowd, the stage was passed over to Praga Khan, Belgium's coolest rock/dance act, for a full-on set including dedications to the ten-time World Champion. Everts himself was called up onto the stage to join the band on drums and even partook in some crowd-surfing over the throng!
Just like the night before, the evening carried on with a DJ session, plenty of beer, and a lot of bad dancing, finally winding up about 4 a.m., allegedly after some complaints about the noise from local residents. Mind you, those with the gumption to carry partying headed twenty or so miles northwest for Joel Smets' Sunday retirement race and bash.
The weekend was a fitting tribute to both Everts himself and, of course, to his loyal fans, many of whom will now have a large hole in their lives. But maybe there will be a third coming, for Stefan's two-year-old son, Liam, is already said to already have some kind of contract with Yamaha. It's possible then, that in the years to come, those very fans who shed tears on Saturday night might just be waving their #72 flags once again.