Hello, everyone, and welcome to the Rev-Up. Being in Kansas last weekend reminded me of a couple things. First off, I had forgotten how hard the wind blows in the Midwest! Back in the covered-wagon days, during the great western push, legions of people made their way left in hopes of achieving prosperity by beginning new lives in the far away gold-and-fertile-soil-laden terrain of California. Some were deterred by rightfully pissed-off Indian tribes, but most lost their drive and turned back before they made the Rocky Mountains due to the driving winds that sandblasted their faces and drove them to the brink of insanity. The wind sucks (or blows, take your pick).

Secondly, being back in my home state on "vacation" reminded me why I now live in West by God Virginia. The winds of change had blown me east due to the fact that motocross has continued to grow and evolve. The (original) Racing Paper became Racer X newspaper, which became Racer X Illustrated, which spawned www.racerxill.com and well, here we are!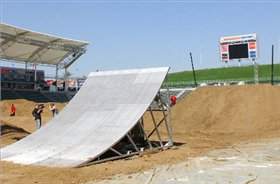 Metal ramps in supercross?
photo: Steve Bruhn
Motocross is growing and changing so fast, it's hard to keep up with all of the different elements. Like 150cc four-banger minibikes, double backflips, transponders, and now metal ramps. Wow! It's all really cool and exciting, and the train of evolution just keeps picking up speed. I wanted to talk a little about motocross evolution and get you Revved Up for a very cool event that will go down in Southern California this weekend.
Jeremy McGrath has always been an innovator. From throwing the first nac-nac during a main event to making colored hair, tattoos, and piercings acceptable in the pro pits, Showtime has always run his own race, so to speak. So it comes as no surprise to me his
Jeremy McGrath Invitational
Supercross event incorporates so many new and different elements. I call the JMI an event, because I don't really consider it a real race, but more of an X Games, made-for-TV-type gig. But hey, that's what we need. Over the years, more and more people have turned their otherwise unimpressed attention toward this great sport of ours because of Jeremy alone. Of course, his feats would not have been so impressive had he not had Jeff Emig, Ezra Lusk, and the gang chasing him to his seven SX titles, but one cannot be too quick to discount the effectiveness of his charisma alone. McGrath the person has done a lot for the sport, and this new event has a lot of potential to continue to carry it forward.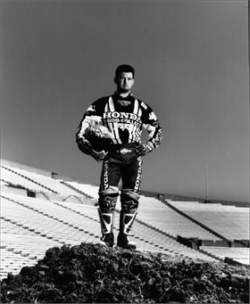 Jeremy is still the king
photo: Fran Kuhn
There is quite a large drag between the last round of the outdoor nationals and the Anaheim season opener. Back in the day, if the boys wanted to make some off-season coin, they had to pack their bags and hop the pond. A lot of them still do, but their attendance overseas didn't help American motocross much at all. The
U.S. Open
, which takes place next weekend, has done a great job of stringing the off-season together. The sport needs to remain on the televisions in the homes of America, and the riders need the money in their pockets. I mean, take a look at that $500,000 purse! A cat can go out there and knock off a good-looking chunk of cheddar at MC's event, then take it to Vegas the very next weekend and take a shot at another six-figure payday there (and don't forget, the top ten pays pretty damn well too).
Another big thing to remember about both of these events is that they both have strong television packages. McGrath's shindig nailed down NBC, while the U.S. Open will be broadcast on CBS. That is big-time stuff right there, folks. It's exactly what we need to keep this smoke wagon rolling.
Now, what about these metal ramps? I have to be honest: being an old-school guy, I cringed when I saw them on paper. But when I saw some of the pictures that have been rolling in and saw
Josh Grant
and the boys laying down whips off them, they don't look so bad. Of course, my immediate concern would be weather. If there is any precipitation at all, they might be in big trouble. And racing up one of those side-by-side just seems like it would be sketch. Although, unlike dirt jumps, there is no variance in the face, and they certainly aren't going to get rutted out. They saved on the amount of dirt it takes to make the track, and they actually look pretty cool (how cool would it be to see some cool graffiti painted on those next year?).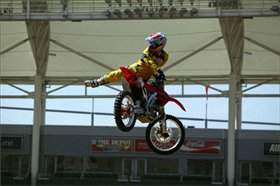 A signature MC nac-nac
photo: Steve Bruhn
Be that as it may, I play devil's advocate in about every situation I'm in, and what drew a red flag on my risk meter was seeing the rhythm section that will have the riders heading toward the backs of the ramps. Whiskey throttle does occur, and hitting one of those ramps would be bad (no worse than hitting, say, a boat, but scary all the same). But hey, there is a certain danger element surrounding us at all times; whether walking on the sidewalk or eating at a small-town Mexican restaurant, bad noise is always right around the corner.
Supercross racing is the coolest sport in the world, and being cool does come at a price. Supercross is growing and growing, and the Jeremy McGrath Invitational is going to bring the sexiness, excitement, and the danger of riding motorcycles directly into more homes of mainstream America.
Thanks for reading, see you next week.