Privateer Profile: Phillip Nicoletti
One of the biggest amateur motocross events in the Northeast went off this past weekend in Englishtown, New Jersey, and the winner of the fastest class there (250 Expert) was Cochecton, NY's Phillip Nicoletti, who has been turning some heads this past season. Only seventeen years old, Phil scored two top-three finishes at Loretta Lynn's this past season in 125 A and 125 A Pro Sport. With results like that, you'd think teams would be knocking at the door, but unfortunately, that hasn't been the case. Phil is unsure of his plans for next season, but for the time being he's going to continue being a high-school senior at Sullivan West High School. Be sure to show Phil and his sponsors some support by clicking the links below.
Racer X: Phil, what's going on?
Phil Nicoletti: Well, I just got home from school. I'm going to then get ready to go riding and put in some laps.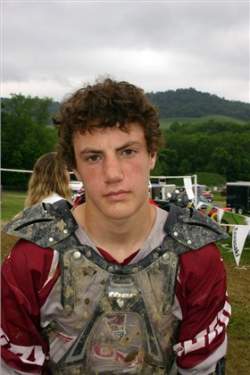 photo: Billy Ursic

What grade are you in?
I'm a senior.
It's almost over!
Yeah, almost.
Well, congratulations on winning the 250 Expert class at the Kawasaki Race of Champions last weekend!
Yeah, it was good. In 125 A, I was pretty bummed because in the first moto they had to restart and I was running second behind Kyle Chisholm. When they restarted I had a bad start and went down and hurt my shoulder a little bit, so it threw me off for the rest of my motos. Other than that, it went good.
I understand Kyle Chisholm was riding really well.
Yeah, he was going good. We did twelve laps in the 250 A class, and Chisholm had a pretty nice gap on me. But I just wanted to hold my own because I knew he had no chance for the overall, so I stayed in second and got it.
Who was some of the other competition?
Robby Marshall was there. Damien Plotts, Barry Carsten … I think those were the only guys that were really up on the podium.
You've been racing Englishtown for a long time, haven't you?
Yeah, that was actually the first time I've done pretty well there. Normally it's stacked! When I first did it on 80s I was racing against James Stewart and Kyle Chisholm. Ever since I've been working my way up, and this was the first year I actually won there, so that was good.
Before the 2006 season, you suffered a pretty bad injury which kept you on the sidelines for a while. Tell us about that.
I was at a local track, and I came down an off-camber sweeping hill and the berm blew out and my rear wheel hit a tree and it swapped me into the face of a jump. I shattered my femur up top and I broke it down low by the kneecap, so it set me out for about six months. I really didn't get my name out there in 2005, so I was the underdog going into the Mini Os and Loretta Lynn's this year.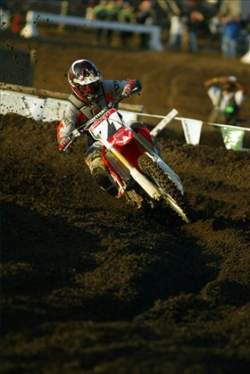 Phil took the win in the 250 Expert class at the Kawasaki Race of Champions last weekend

photo: www.lukaitisphoto.com

But prior to that, you were a pretty top gun on an 85, weren't you?
Yeah, in '04 I got third at Loretta Lynn's behind Zach Osborne and Mike Picone. I had about a twenty-five-pound disadvantage to those guys, so it was pretty hard off the start. But I was very happy that year because it was the first time I ever pulled off a podium at Loretta Lynn's.
Were you a Honda-supported rider back then?
No, not in '04. Honda of Houston and Shawn Martin helped me out, but American Honda stepped up in 2005 and 2006.
Speaking of '06, you put in some great rides this year. What were some of the big amateur races that you did?
Well, I did Ponca City for a little warm-up race, and that went pretty well. If you didn't get a start there, you were done.
Did you win any championships?
No, not at Ponca. I was in the running for one, but then me, Dungey, and Hackley all hit it one corner and that messed us all up. I got a third and two fifths.
At Loretta Lynn's you finished second overall in the 125 A class and third overall in 125 A Pro Sport. Did those results meet or exceed your expectations?
Yeah, that was good. In 125 A I went 2-2-3 and went 5-5-8 in Pro Sport. I kept crashing in Pro Sport, but in 125 A my lap times were up there with Josh Hill. It was good. I was happy to be able to run with those guys, and hopefully, next year I can maybe get a championship.
Well, all the guys that you've mentioned battling with this past year—Hackley, Hill, Dungey— they all have factory rides next year. What are your plans for '07?
I really don't have any. I'm pretty much just stuck in my hometown till the winter passes, waiting for the snow to melt. No teams really looked at me. I guess I didn't have the results or the publicity that they wanted. I don't know what I need to do. I guess I just have to go and win some more.
You were a member of the new PDL Racing/MXPayday.com team this past season. What happened with that?
Well, I guess it was a Payday loan company, and I don't know what happened—they must've folded. Before Broome-Tioga, I went and got my pro license and wanted to do a national to see how it was, and the Wednesday before that, they dropped me. But they helped me a lot and treated me great. As of right now, I don't know where they are or what they're doing.
You raced Broome-Tioga and Steel City—your first two pro nationals ever. How did those go?
I got a 20th in the first moto at Broome, and I was running seventh or eighth in the second moto but crashed really hard in the whoops and DNF'd. And then in the first moto at Steel City, I went down with Kelly Smith and got, like, 22nd. In the second moto I was running 11th with Chisholm and Tommy Hahn and my bike blew up. I just can't catch a break.
Did those two races give you an idea of how you compare with those guys?
I thought I did well, and I think I have the speed. I just need to get on good equipment. I need a month to get used to the bike, and I know I could get top-ten every weekend. I just need that break and I need to get on a good team that can help me out. It's hard to find that, though.
Do you feel the odds are against you living in New York?
Yeah. I don't think New York, like California, gets all the press. New York has some of the best tracks in the country, and we have fast riders—we just don't get recognized as much as the other guys.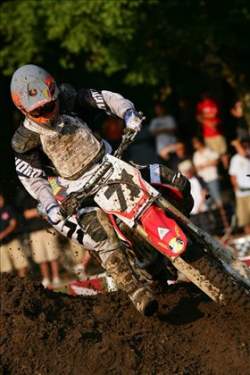 Nicoletti had two podium finishes at Loretta Lynn's this past August

photo: Simon Cudby

Have you ever thought about relocating?
No, no. When I get older, and if I can get a ride, I'd maybe move to Florida or North Carolina or something. I have three sisters and a little brother, and they like it here, so it'd be hard for my parents to just pick up and move.
What's your favorite track in New York?
Definitely Broome-Tioga. I'd probably say Unadilla, but I never got to ride on the pro track.
Do you have any plans for racing in the winter? Maybe doing some arenacross or something?
I don't know what I'm going to do right now. Right now I'm just looking to get my 2007 bikes and getting them ready for the Mini Os, so maybe I could come back with an Olympiad or a few titles. That's my main goal right now.
What if a team approached you and asked you to ride supercross this upcoming season. Would you do that?
I don't know about supercross. My dad and I talked about this and if they really wanted me to, maybe, but I'd prefer to get my feet wet in outdoors first. Because supercross, you have to train and practice on that stuff a lot. We don't have anything like that right now, but I like supercross.

Phil Nicoletti's sponsors:
Frese
Moto Graphic
Bruno Pro Performance