Between the Motos: Kevin Windham
Having placed second overall in the 2006 Toyota AMA Motocross Series, Kevin Windham rolls into the premiere Jeremy McGrath Invitational Supercross this weekend at the Home Depot Center in the South Bay region of Los Angeles as the odds-on favorite. Sure, Ricky Carmichael and Chad Reed are hurt and James Stewart is not on the tote board to start the race, but Windham came on strong at the end of the 2006 season and has had his nose to the testing grindstone at the Team Honda track out in cosmopolitan Corona. With a $500,000 purse slung over Jeremy's shoulder and a shot at winning his first race of the year, the wily veteran of AMA circuit is both optimistic and excited about his chances for success in a stadium he last rode in (and out of) on a Supermoto bike. Prior to the McGrath Invitational press conference, we cornered the SoBe/No Fear/Samsung Honda rider.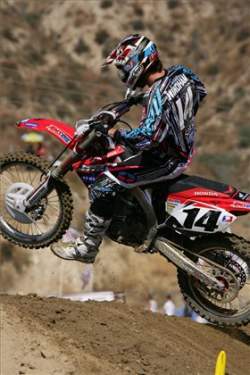 Windham ended up second overall in the AMA Toyota Motocross Series for the fifth time in his career

Racer X: Kevin, what are you up to today?
Kevin Windham: Well, right now I'm holding this couch down. I'm coming off of two big days of testing that went really well. We knocked off early today to get ready for press day at the Home Depot Center tomorrow.
We're at the very tail end of the 2006 season and you're already into testing for '07. What types of things are you working on at the moment?
Right now we're going through the big things—the things that make the huge difference, like engine changes. We'll do things like that right now and get a baseline. Later, we'll do things where we'll start fine-tuning; we'll work on the smaller, integral pieces. We're also working on the new sound regulations. I think we have to be at 99 decibels next season, so we're also working on that.
What bike will you be racing at the Home Depot Center?
The bike I'm off of today, we'll wash that bike up and I'll ride it at press day tomorrow. For the race on Friday and Saturday, I'll have a new bike with the latest stuff we have tested on it.
Have you been riding a lot since Glen Helen?
I rode two days since the last National at Glen Helen. I took a good three-week break after that race. But at the first two days of testing, I rode good and felt good on the bike.
The inaugural Jeremy McGrath Invitational Supercross will include metal ramps, a hidden start, and man-to-man battles. It doesn't sound like a typical Amp'd Mobile Supercross! Do you know what you're in for?
It's a little bit of a mystery, but I'm up for the new stuff—I'm into the ramps and stuff. It'll be a fun, low-pressure race. I just wish more top guys were racing it. I'm stoked to be supporting the race. I mean, our current supercross format is fine, but trying a new format with a race like this will be cool.
Did you ever compete at the Fastcross in Italy, where man-against-man races were part of the overall program and show?
No, this will be the first time I've ever done bracket-style racing. I never did the Fastcross, so the one-on-one racing will be wild. I mean, anyone can throw down and go fast for one lap, so it'll be weird to see what happens. It'll be the first time I've experienced anything like this.
The purse is $500,000. That's a lot of wood, huh?
Yeah, yeah. Half a million dollars is a lot of money, so having a chance to win a large amount of money is an added bonus. It should be a good time! I have a good shot at winning it; it's a new race and there is a lot of open grey area and anything can happen, but I'm prepared and excited about the opportunity to have a good shot to win a lot of money, get some good publicity, and gain some steam heading into the MGM race in Las Vegas. I've raced the U.S. Open several times now, and I enjoy it. It's a different supercross—it's tight. I like the atmosphere there a lot, and it's also a big-dollar race and there's a different type of pressure there than at a typical supercross. It's another good race to get some testing and training done, and it's another reason to go to Vegas.
What'll you do after the U.S. Open?
We'll test between the McGrath race and the U.S. Open and then I'll take a little time off as my supercross track is being prepared back home in Mississippi. But I won't be off long. I've already taken my break for the year. So I'll go home and start putting the laps in.
Kevin, you've been racing professionally since 1995. You're about to put one season behind you and begin yet another. Do you see what you do as a unique profession or more of a job?
You know, you go through trainers and you keep logs and it gets easier as time goes by. You know what to expect and what to do. When you go into the limelight of pro racing, it's pretty overwhelming. But as the seasons go by, you begin to realize that, hey, this is a lot of work! It's not like it was when you raced when you were growing up when it was fun, fun, fun. It's work, but like I said, it gets easier. When you do it as long as me, I have a way I like to test, and you develop timelines and get to know what you like and what you need to change. Things pretty much stay the same, and it really helps to get in a groove.