Racer X Tested: 2007 Suzuki RM-Z450
Suzuki's theme for their all-new RM-Z250 is "Return to Dominance." The team that used to be referred to as "yellow magic" has won more 125cc/Lites championships than any other brand. Suzuki started their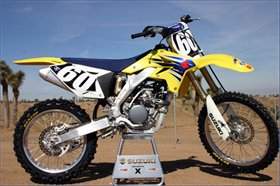 The 2007 Suzuki RM-Z250
winning ways with Mark Barnett and carried on with champions like Guy Cooper, Brian Swink, Ezra Lusk, Damon Huffman, and
Travis Pastrana
. Their collective list of achievements is impressive, but Suzuki needed a hit with their 2007 model after making very few changes to the 2006 edition. And they came out swinging.
The 2007 RM-Z250 is completely new. In fact, there isn't one part number that is the same as last year. The entire bike looks just like its older brother, the RM-Z450. From a short distance you would have a hard time telling the two apart. To help me get a feel for the new RM-Z at Competitive Edge MX Park, I enlisted Malcolm McCassy, front man at Alpinestars Racing, as my official test rider. While he may not have the supercross wins or national motocross experience that some of our other test riders possess, he does have his own action figure. And he's still got game on a dirt bike. That didn't stop nerves from getting the best of him, as he warned that he could be a little rusty.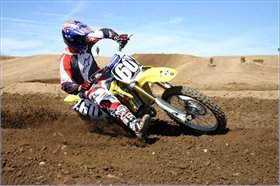 The RM-Z is amazing through turns
"I haven't even ridden in, like, eight months," he said as he pulled his gear on. "Just don't take a picture of me if I crash or if I have to pull over because my arm-pump is so bad." I agreed, but I think we both know I would have snapped away like a madman if he went down. He put in some laps and then gave his initial impression of the bike.
"Oh, man, this bike is fun! I felt really comfortable on it right away," he said. "The last 250F I had was, like, a 2005 model, and this feels quicker than that did for sure. The cornering is awesome and the suspension is really good. It seems like you could just jump right on this thing and go racing. The power is really smooth, too. It never hits too hard or pulls out of your hands. I got arm-pump because I haven't ridden in a while, but I think this bike would be really good for that. The power delivery is so smooth and it turns so easy that you don't have to fight the bike at all. Most people could probably ride this bike longer without getting pumped up. I really like it."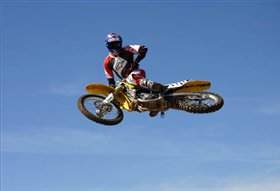 Malcolm throws out his best on the new Suzuki
While Malcolm tried to work the blood out of his forearms, I geared up and headed onto the track. The first thing I noticed was the smooth power delivery. There is no hit from the engine but rather a smooth, broad acceleration that really allows you to flow around the track. The best feature about the new RM-Z, without question, is the way it turns. I can honestly say that it is the best-cornering 250F I have ever ridden. You can carve inside of any corner or rail around the outside of a berm without muscling the bike through it. I had a blast cutting through ruts, berms, and even flat turns on this bike. The handling was good, though the track wasn't super-rough, so it was difficult to get a read on the suspension characteristics. However, the chassis feels comfortable and the bike definitely feels stable and precise. For heavier riders, Suzuki does offer an optional stiffer suspension kit. This isn't just stiffer springs but actually a stiffer valving setup. Check with your local Suzuki dealer for details.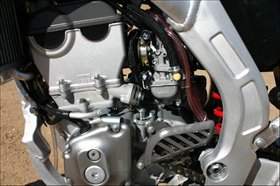 The Suzuki powerplant is strong and smooth
There are far too many changes to list on this bike, but if you want to read all the specifics, go to
www.suzuki.com
and click on the Motocross tab.
Thanks to Joe and Dave at Suzuki and to Malcolm, who took a day off to come riding with me. Check back soon as the Racer X Tested crew gets ready for our 2007 shootouts.