Monday Conversation: Dusty Klatt
Newly crowned Canadian National Champion Dusty Klatt has had an amazing season. With only one Canadian race left on his agenda, he had one item left on his to-do list: win the MX1 class at the Montreal Supercross. After casing a triple while leading the MX2 final and finishing seventh, Klatt shifted his focus to the big bike. He pulled off a convincing win over a tough field of U.S. and Canadian riders, taking the win with a fifteen-second lead over last year's Montreal SX champ, Jason Thomas. It was the perfect way to end the season and to say goodbye to his Canadian fans before he heads to the U.S. this fall.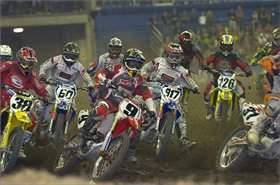 The start of the MX1 main event in Montreal

photo: Jason T. Griffiths
Racer X: So, Dusty, how did that feel?
Dusty Klatt: Awesome. Yep, that just about sums it up right there. Since the MX2 didn't go the way I had planned, I was really looking forward to racing the MX1 class. The last three laps of the MX2 final, I was just over it, I just rode around. I just wanted to make sure the MX1 class went well, and I decided to concentrate all my energy on that. I just put my head down and went for it.
What made you decide to ride both classes?
Dean [Thompson] mentioned it to me, and I thought it might have been cool if I could sweep both classes, but that's the way it goes. I think the lip on that rhythm section was a little bit lower, and I wasn't able to quite get over it that time. I was determined and kept my head straight and wanted to come out with a win in the MX1 class. I got a great start. I held it on for the last little bit and took the outside and was able to get out front of Thomas right away. I just went from there and rode a consistent race. I did the rhythm section every time, so that was good.
It looked like it took you a little while in practice to get used to the rhythm section.
Yeah, it was bugging me. I was kind of worried about it. I didn't want to get hurt and ruin things for myself before heading down south. I knew that if I did that section, it would make things a lot easier. I was just being a wimp about it. I knew as soon as I did it that it would be nothing. I did it and it was nothing. I did it every lap consistently, and it worked out well. Now I can concentrate on getting ready to go down to the U.S. I'm pumped and I'm ready.
So what happened in the MX2 class?
The lip was lower than it had been in practice, so I cased it. When I landed, I was getting ready to ride off and Johnny Montes tagged my back end. That threw me off the bike. After he hit me, it stalled. It's so tough to make up time in supercross, and Marco [Dubé] was about fifteen feet wide and I couldn't get by him. I just finished the race and saved my energy for the 450 class. That was just my main focus. I wanted to win it badly.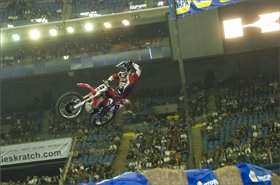 This win meant a lot to Klatt, who is heading to the U.S. full-time in 2007

photo: Jason T. Griffiths
How much did it mean for you to win this race?
To be quite honest, it meant a lot. It's my last race and I knew it would be good if I could win the last race I was in here at home. I was pretty pumped about it. I had a good year. To claim the MX1 championship at the nationals and then to win this … and it was awesome to do it in front of such a big crowd. There's a nice little bonus there at the end too, so that's pretty sweet.
Your teammate JSR missed Montreal with an injury this year. He's a crowd favorite and a past Montreal SX champ. What was it like without him out there?
It was interesting. I wonder how it would have gone if he were out there. I imagine his conditioning is probably better than mine. He only took a week off and I took a nice, long break after Walton. I feel good and ready to get back at it now, though, and I'm looking forward to a new beginning.
How does it feel to know that this is probably the last time you'll race in Canada for a while?
It will be my last race here for quite some time, yes, but I definitely don't think it's going to be my last race in Canada. I'm excited and pumped and I can't wait to try and make something of things down south and to keep the red-and-white flag flying. Who knows? Maybe it will open more doors for more Canadian riders if I do well there. If I could be the person who made that happen, that would be awesome. Three championships and then winning Montreal, I never thought it could all happen. It's been good, and I want to give a big thanks to Blackfoot for helping me get through all of it. I'm just glad I could win their last race for them.
How do you feel about the fact that this could be Blackfoot's last race?
It's crazy. I mean, they've raced for ten years now, winning. This is the most professional team up here and you can't deny what Blackfoot has done. They have cleaned up for so many years and won so many championships and races. I'm just glad I could be part of it and claim three championships for them. I am really glad I could end it this way.
How close are you to finalizing your U.S. deal?
I'm just waiting for my final contract. I'm heading down in a week, and I may just sign it when I get there. Then I'll start testing and getting ready. I'm going to be on a different bike, so it's going to be very different. I'm going to train hard; I definitely need to drop a few pounds since it looks like I'll be on a 250F. When I rode 125 in the past here in Canada, I was a little bit lighter than I am right now. I think I put on a little bit more muscle mass for supercross last winter.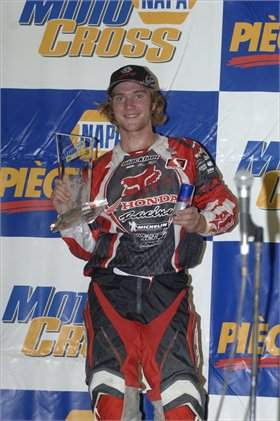 The win was a nice way to say goodbye to Canada

photo: Allison Kennedy
What are you expecting to get out of your first full year in the U.S?
I believe I can run up there. There's no reason that I can't. I've proven that I can run inside the top ten. My best finish was an eighth at Orlando, but I think I can definitely improve on that. I'm going to be on a good bike and on a good team with the right support. I'm looking forward to it. I'm going to buckle down and try to make the most of it, for sure. For the first year, I think it's just going to be good to make it through healthy and not get hurt during supercross and then get ready for outdoors.
You're leaving Canada on top to go south and start over. How do you feel about that?
I'm leaving a lot behind, my friends and family, but I'm going to put my head down, and hopefully I will further my career and set some new goals down there. Who knows? Maybe a championship could happen down there someday. It's a big reach, but I'm going to do my best to be up there.
Is this a new beginning or just the next step for you?
Both, I guess. It seems like a new beginning. I'll be living down there, I'll be making new friends, I'll be on a different bike on a new team, new faces, everything. It's pretty much like a whole new life and a new beginning. I'm just going to go down there and do the best I can.