Hello, everyone, and welcome to the Rev-Up. How is everyone? No, really, how are things in your life right now? It's a simple question, but I'll bet it's been a while since a lot of you have been asked that. Sometimes people ask me that, and I offer a quick reply and say something like, "I'm great, how are you?" Shortly thereafter, I typically find myself having a conversation under my breath telling myself, "No, I'm not. I'm behind on bills, I've been late to work a lot lately, and I'm bored."

But not right now. Right now I am riding a wave of positive energy I have not felt in a very long time. I guess a lot of it is simple, what with the beautiful fall weather and all, but I have very simple and specific reasons for my current state of positive mental being. I tried some new things and went to some new places. I was fortunate to have a friend share something with me. In addition, a tremendous event occurred within my family. I also attended a very special event. And heck, never mind the fact the Team USA went over there and got the job done; it has been an amazing five days, my friends. Now I want to share some of the things I have been so fortunate to experience that got me in such a state. The Rev-Up has always been intended to be a motivator and a stoker. Please allow me to share my experiences with you, and when we meet on the other side down at the bottom, I hope some of it rubbed off on you and you go into your weekend with a smile and a little extra positive motivation.


It all began with a book. DC strolled by my desk and gave me a book about the early years of the Indianapolis 500, which had been given to him by Eric Johnson. Against Death and Time is an absolutely brilliant book that talks about real men of courage in the early 1950s who plopped themselves in 3,000 lb., 180 mph iron deathtraps with drum brakes, wearing T-shirts, leather crash helmets, and optional seatbelts. I am completely enthralled by the stories that author Brock Yates tells about these cigarette-chewing men of grit. I love a good book. Reading helps my vocabulary and sentence structure, so maybe Davey had an ulterior motive for giving it to me, but all the same, it's the best gift I have received in a long time.
As I mentioned last week, I had planned a trip to Niagara Falls and was able to read on the way to the majestic international waterfall. Upon my arrival I called my dad to see how things were going over at Dover. I told him I was at Niagara Falls and he laughed and told me to make sure and see the Maid of the Mist, a boat that takes you right to the base of the pounding falls. So the girl and I adhered to the old man's advice, bought the ticket, and took the ride. It was one of the most enjoyable and fun things I have done in a long time.
After drying off, we retreated to our hotel to watch my brother Clint's NASCAR race. It's been a tough year for Clint, but last Saturday he put his balls on the dash and drove past the best drivers in the world to take a very overdue victory. I watched the last twenty laps on my knees in a Days Inn hotel room, a pillow in my teeth and my fist punching the bed. When he took the flag it was both arms up and a couple tears down for me. There isn't anything better than winning.
Things just kept getting better from there. On the way home, the Motocross des Nations was heavy on my mind. Just as I went to grab my cell phone, "Fubar" showed up on my display. I answered and Mike told me that Team USA took the win going away but that Stefan Everts had beaten James straight up two motos in a row. Sissly. This was very good news about the team. I was really nervous about Ivan and, to some extent, James. Ivan had pressure; James has a tendency to crash every once in a while....
I want to rap a little about that noise. I have been reading the message boards with my teeth gritted. Here is the deal on that: From an American perspective, the 2006 MXdN could not have played out any better. James rode consistently, like he was supposed to. Ivan and Ryan rode to their potential, just like they were supposed to. And one of the greatest motocrossers of all time rode off into retirement in victory. That's how it's supposed to be, damn it! Look, people, give up the grudge already. Last weekend, Stefan put his boots on and climbed aboard his bike and things felt right. All you racers out there feel me on that. It happens every once in a while, and when it does, the Almighty Himself cannot stop you. Good for you, Stefan. You're a legend and one of the classiest riders I have ever read about. And you're lucky Ricky ate shit at
Glen Helen
.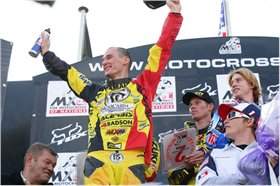 Congratulations, Stefan
photo: Simon Cudby
The ripples of this huge wave of good vibes were just reaching the shore as the coolest aspect of the past five days occurred for me on Tuesday night. If you are a fan of the Rev-Up or know me at all, you are aware of my obsession with the rock band Tool. I was fortunate enough to experience their live performance last night. We don't have the space on here to go into that, but I wrote an 1,800-word concert review on my experience, and if you want to read it, just e-mail me (
andy@mxsports.com
) and I would love to share it with you. In short, I can offer that in my opinion, music is the ultimate healer. We humans have the ability to do a lot of amazing things, none more so than our ability to create art and sound and possessing the intelligence to combine the two. Let me just tell you that nobody can do it better than this collaboration of musicians hailing from various parts of the Midwest. I've been in a smiling trance all day, and I hope it never goes away.
All of this leads me into what is probably the biggest weekend of my family's lives. Clint began racing on a dirt track that lies just over four miles south of the Kansas Speedway. He used to drive by there every Friday night and stare over at the huge facility and wonder what dreams may come. Well, every racing fan in Kansas will stand a little taller when he takes the green flag in the Banquet 400 this Sunday. Everybody who has ever known him will be there. Teachers, grandparents, high-school buddies, and all his old dirt track buddies. My youngest brother, Casey, and I will be shoulder-to-shoulder with him on pit road during the pre-race ceremonies, arms crossed, chest ready to bust the buttons on our polo shirts. This one is going to be big. His team is taking The Bullet (Clint names all of his cars) for him to drive—the same car he started with on the front row at Indy, the same car he got his only top-three with, the same car that could bring sweet victory to him in the most competitive motorsport division on the planet. This one's for territory. Our territory. Those guys better look out, because the storm is coming.
I am so happy to be able to write to you all today. We are all floating around like that feather in Forrest Gump, but I really believe that if we try, we all have the ability to blow that feather in the general direction we want it to go. I realize how lucky I am to be in such a good mood, but it all came to be this way surprisingly easily. I have been reading more; I have been traveling to different places and experiencing as much as I can with what I can afford. I have been trying to get up early in the morning and get my lazy ass to work. And it is all paying off. I just want to thank my friends, co-workers, and all of you readers. I hope everybody gets on a positive kick in the days to come. We have to before it gets cold and it all turns to shit again.
Thanks for reading the Rev-Up, see you next week.
Oh, and if you're by a television this weekend, check out NBC HD around 3:00 EST. Please give the 07 a prayer or a chest thump—he's trying to win this one for the motocross crew.