Welcome to the Shift Number Cruncher. I can imagine that some of you by now are beginning to ask, "How long can those cats keep churning these out?" Well, I have news for you: The bag we reach into to pull these pictures and information out of is deep—really, really deep!

Moving right along, let's divulge into this week's number of choice. It's been a long time since a number has surprised me as much as the incredible #51. There have been some wild guys that have worn the Five-One to battle. Some of these cats are very intelligent, others are versatile, and one in particular went "Mad" a long time ago.
It has been an intense history lesson for me each time I do these. While I know most of this text you read off the top of my head, it always requires a picture or a slide to provide a spark that triggers the information. And that isn't even the fun part. What's really cool is when I ask somebody what he or she knows about a number.
For instance, Monday morning I asked Mike "Fubar" Farber if he knew anything about number 51. He was typing away about something (God knows what) and without breaking stride on his keyboard he replied, "Mike Jones, Number 51 on the BT Honda in 1990. He finished second to Denny Stephenson about a hundred times in a row."
Shocked, wide-eyed and smiling, I just walked over to my notepad and jotted it down. Shortly thereafter an instant message popped up on my screen. It was from Jason Berry, who was still beaming about Stefan Everts beating an American, and it read. "Blair Morgan was number 51 at the MXDN yesterday." And when DC returned, he said, "Gotta get Blair Morgan in the Cruncher—he ran sixth on Saturday!"
That really got me going and I managed to dig up a few more 51 guys. Here is what we have for this week.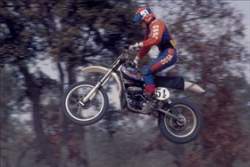 Marty Moates
photo: Dick Miller Archives
#51 on a Ossa? Who the hell…. Actually, it's a bonafide American motocross hero. Back in 1977,
Marty Moates
was a Carlsbad regular just trying to make something happen. He went back and forth across the Atlantic Ocean for a few seasons, but never found himself in the right situation. At least not until June 22, 1980. Then it all came together and he absolutely dominated the 500cc USGP at Carlsbad on an LOP Yamaha, becoming the first American to win what was then the biggest motocross race of the season. He now helps run the show at FMF and No Fear (and EJ says he still hauls ass!)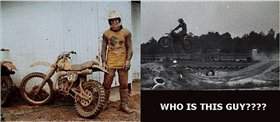 That's TFS!
I'd bet my truck that 95 percent of you reading this know whom
Steve "TFS" Bruhn
is. I'd bet the keys that start the truck that not a single one of you could match this picture to that of the infamous motocross Internet pioneer/pirate! Check out our boy Bruhn! The younger, thinner TeeFuss is standing proudly beside his 1978 YZ125 at Wausau, FL. Oddly enough,
Ricky Carmichael
grew up practicing at a track in Florida of the same name. While trying to track down some pictures of the MXdN I asked him if he knew anybody that raced with the 51. His reply was a link to this picture. How about that!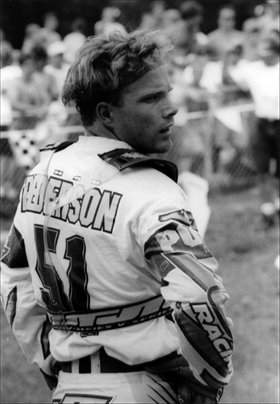 Chad Pederson
photo: DC
I couldn't find a pic of Mad Mike in '90, or even Jeff Glass wearing the 51 in '93—and what about JoJo Keller way back in 1981? Does '83 digit-wearer Fritz Schlegel of LaCosta, CA ring a bell? What about this: In Damon Bradshaw's last amateur race—Loretta Lynn's 1988—he wore the #51 on his YZ125 and YZ250 as he battled with Jeff Emig for the A class titles.
But here's one DC spotted in an old box of B&Ws he shot. That's
Chad Pederson
, riding for the DGY Yamaha. The original "Swap" is still fast, and he currently teaches motocross schools in the Midwest.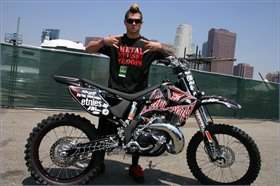 Brian Deegan
photo: Simon Cudby
I am pretty sure that this is the last number that
Brian Deegan
earned in AMA Pro Racing. Its hard to believe the transformation as a person and as a rider Brian Deegan has gone through. I first met Brian at a track in Kansas in the mid '80s with his older brother, John, and his father. He beat Skaggs and I in the first moto, but Robbie sacked up and put it to the future general of the Metal Mulisha in moto two.
Years later I was watching a DVD of him wearing a G-string while being struck by Mike Metzger with a leather whip. A couple years after that I saw him rolling around on the grass in front of the Hard Rock Hotel fighting Shawn Palmer. A couple of broken femurs and a handful of X-Games Gold medals later, he is now a church-going family man. Hey, all is well that ends well, right? Don't get me wrong; Brian Deegan is a bad dude. He pulled the first 360 in competition – and he earned the number 51 for the 1999 season.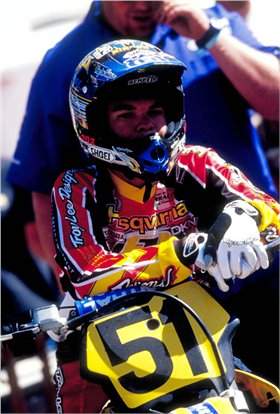 photo: Simon Cudby
It's hard to believe that
Chris Gosselaar
has been at it for as long as he has. Chris has always shown flashes of brilliance, but continues to get struck down with crashes just when he reaches his full speed potential. I know he probably still wants the one that got away from him on the last lap at Anaheim 1 in 2002. Here he runs the number 51 in 2001 at Mammoth.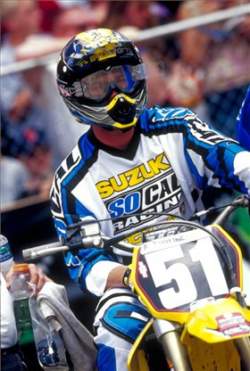 Paul Currie
photo: Simon Cudby
Paul Currie
is a name I am sure a lot of you have forgotten about. At one time Paul was an up and coming privateer, raced for the Plano Honda team, and then he seemed to just drop off the face of the earth. We know he is still around and here is hoping that the 1995 winner of the 125 A Modified class at Loretta Lynn's sees this column and gives us an update.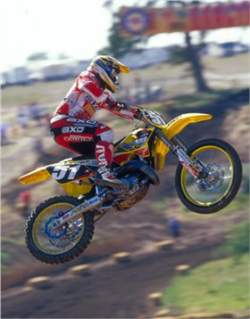 David Pingree
photo: Simon Cudby
David Pingree
, one of the fastest 125 riders to never win the SX title, wore the 51 in 2003. What is weird about this picture is if you change the 5 and put a 4 on there he would look exactly like
Andrew Short
did when he ran the 41 on an identical Motoworld Racing Suzuki in 2004. I've read most of electronic Pingree's work and I have to say that his interview with the current #51 is one of my favorite pieces he has ever done. Coming in a close second is Ping's interview he did with # 4.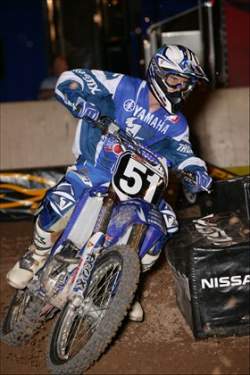 photo: TFS
While he raced with #1 during the arenacross series,
Josh Demuth
had earned number 51 for the AMA Supercrosses and outdoor nationals. 2004 was a tough year for "The Sheriff" as he was on an incredible hot streak before he went down hard and broke both of his arms. He would return to win the BooKoo title in 2006.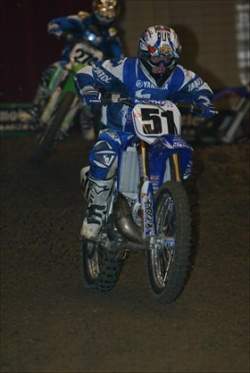 Riley Kurosky
photo: Steve Bruhn
Riley Kurosky
is yet another extremely fast kid from Texas that just hasn't made it yet. He is still out there going for it in the BooKoo AX Series, but he has yet to fully break the ice on his career. Pretty cool fact I discovered was that he rode for the Shogun Yamaha AX Team in 2005. His amateur number was 51, subsequently; the same number his teammate
Josh Demuth
had earned in 2004.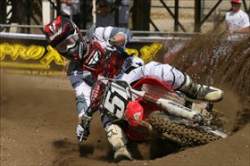 photo: Matt Ware
There was something about the number 51 that
Andrew Short
just didn't like, because he dumped it for the 29 for the 2006 season.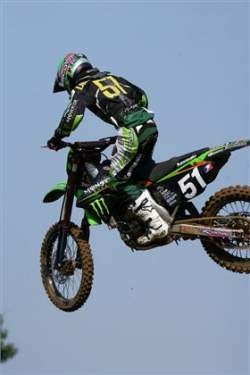 photo: Simon Cudby
But the number 51 sure worked for this kid! The rumor is gaining steam about the possibility of
RV
Park dumping the 51 for a much, much lower number for 2007 and beyond. Apparently, the newly crowned 250F class champion wants McGrath's number two. I am betting it won't take Ryan long to take the number 2 to victory lane—just like my brother Clint did last weekend in the Busch Series!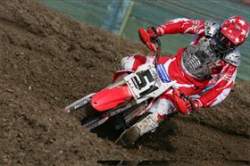 Blair Morgan
photo: Simon Cudby
I am telling you, these numbers just keep popping up.
Blair "I am faster than you on a snowmobile" Morgan
ran the 51 at the MxdN last weekend.
So that will wrap it up for this week's Shift Number Cruncher. Once again, let me remind that this is not meant to be a definitive account of every guy that raced with number 51. We enjoy the interactive element of this column, so if you know of any more number 51's send them to
andy@mxsports.com
and
bill@racerxill.com
and we will post them in the Number Cruncher Redux.