Where Are They Now: Bryan Emig
September 22, 2006 12:13pm
Motocross has a long history of racing brothers, including Tyson and Tallon Vohland, Ivan and Gio Tedesco, Keith and Kevin Johnson, Shane and Ezra Lusk, Brandon, Forrest, and Karsten Butler, and of course, Mike and Jeff Alessi. While most of you out there are very familiar with current Racer X Illustrated cover boy Jeff Emig, far fewer of you know about or remember his older brother Bryan. While Bryan hasn't raced a professional event in over ten years, he still rides quite a bit and is surrounded by motorcycles every day. In fact, he now owns and operates a motorcycle modification business in Kansas City called Strategic 3.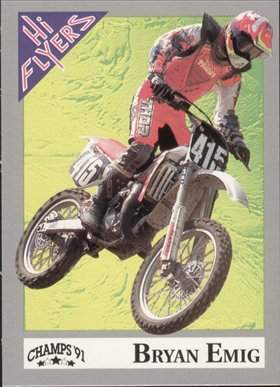 Bryan ran pink gear and a strong mullet in 1991.
There was a time very early in Bryan's career when he was actually faster than his more famous brother. When the Emig brothers were both racing minicycles, Bryan held the advantage for a while but kept getting hurt. Then, after breaking his femur, he began backing off the throttle while his younger sibling got faster and faster.
Bryan's father owned and operated Gary Emig Racing, another high-performance motorcycle modification business, to fund the family's effort. It was here that Bryan began learning how to work on and modify motors and suspension components. Learning these skills would become very helpful once the curtain began to fall on Bryan's racing career. Soon, a door of opportunity opened up with factory Kawasaki.
Bryan would become an employee of K.H.I. (Kawasaki Heavy Industries), where he would be the mechanic for factory rider Michael Craig. Emig and Craig enjoyed some success while working together, as Mike was able to earn some podium finishes in the supercross series and outdoor nationals. The highlight of their tenure was winning the 1992 Ultracross Championship. While Bryan enjoyed being on the pro tour and living in California, life took a different turn and he found himself heading back to his native town of Kansas City to join his father, Gary, and sister, Paige, and also raise his son, Cody.
"The last time I raced a national was at the 1995
Millville
National," Emig says. "I tried to stay racing for as long as I could, but making a living and raising my son have always been my priorities. I guess my proudest racing accomplishment would be winning my Loretta Lynn's championship in 2000. I had been trying to win there forever and just seemed to have an incredible streak of bad luck following me. One year I had it in the bag and I ate it on the tunnel jump after the finish line. The weird thing is, a couple of years ago, Jeff had a championship in his grasp and he went down in the exact same spot! It all came together for me in 2000, and I remember it like it was yesterday. Fro was there to see that, so that was cool. It was also cool to go back this year and work as his mechanic—although it did make me think quite a bit about racing again! But for now I'm really excited to get Strategic 3 up and running and provide a service to the local and national riders. There is a pretty good racing scene here in Kansas and Missouri, and I know if I work hard there may be some good things in my future."