London calling, a little late but no worse for the wear and tear. It's been a truly fantastic week over here in England, and the real races won't go off until tomorrow. I'm sorry I couldn't get Racerhead going last night; too many meetings, too much driving, too much Stella Artois in the hotel bar. As far as the whole week goes, so much as happened that I really don't know where to begin, so I'll work my way backward.…
After rain all day Friday, the weather turned perfect for today's practice and qualifying. Team USA did just fine, as James Stewart took control of his MX1 heat leaving the first turn and pulled away from Stefan Everts, Ryan Villopoto kept a smoking bike out front to edge out MX2 world champ Christophe Pourcel, and Ivan Tedesco got his racing stride on and earned a close second to Belgium's Steve Ramon to give the USA the best scores out of qualifying.
Overall, the event has been great. AMA Team USA has a great setup, thanks in large part to Fox Racing and Live Nation, who stepped up to help defray the huge costs of getting a good paddock and keeping everything tight. And of course, Loretta Lynn's is the main sponsor, and the country crooner's signature is pretty much everywhere on the riders, their bikes, and the team gear.
And speaking of the team, Ricky Carmichael showed up and got a huge ovation from the large crowd—maybe 20,000 today to watch the prelims. RC said he wished he could do more to help, but he's really not sure what to tell the boys other than to relax and enjoy the ride. He did say that he loved the track and is still really mad at himself for missing the whole gig after his Glen Helen crash.
Want to see what it all looks like? Check out www.racerxfilms.com for a practice and qualifying video that Simon Cudby and I worked on. And I want to give special thanks to Mario Marini for coming through on the access and the video passes.
The Fox Racing gang has a behind-the-scenes film going as well, and each day they plan on offering up updates. I helped out as host, with Ian Schiller as the shooter/director. Check them out on www.foxracing.com.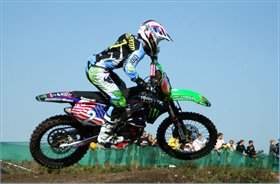 RV won the second heat from start to finish.
photo: TFS

Stefan Everts, the ever-classy champ, told me that this is it for him. I went over to show him the new magazine at his motor home and we had a good chat about his career, the new mag (with a Matt Allard feature on his last Namur race), and how he really is glad to be putting this all behind him. I don't think we're going to see Stefan doing "return" races like Jeremy McGrath or Greg Albertyn and Doug Henry. He's lived in a fishbowl over here for the last fifteen years, and his fans are rabid. For instance, a couple from Spain showed up on their honeymoon and wouldn't leave the fence around his bus until he came out for a photo, which he did. Then the man told Stefan he loved him. For real.
Beyond that, there really isn't another big star over here besides the Americans. Pourcel is the world champ and all, but he's young and not very well known. Ben Townley has lots of fans over here still, and the British riders get air horns every time around. But with Chad Reed and Kevin Windham at home and RC on the sidelines, everyone wants a piece of the Americans. There are people just everywhere around the U.S. compound.
The MX2 class over here is just like our 250F boys. Five guys were on the pace, led by Villopoto and Pourcel. Italy's Tony Cairoli is really fast, Townley was fast but tentative, and Tyla Rattray and Brett Metcalfe should also be fast tomorrow.
Villopoto, Townley, and Pourcel will all be riding together this winter in supercross with Kawasaki and Pro Circuit. Those are going to be some amazing practice sessions!
Make sure you watch the Fox Motocross des Nations on www.mediazone.com tomorrow. It's a pay-per-view site, but it's the only way you're going to see the race, because once again it's not on TV in America. That was the topic of a brief conversation I got to have with Youthstream's Giuseppe Luongo last night. Mario Marini organized a round table for American journalists to meet with Luongo, and that was one of the hot topics. The other was the fact that the 450s are going so fast that he seems prefer the manufacturers maybe go lower on the cc's, just like several higher-ups in the U.S. The racing in Europe's MX1 class hasn't been that exciting, just as the 450 class has been a one- or two-man runaway for the most part in the States. It's an issue that we're going to be hearing more and more about in the future.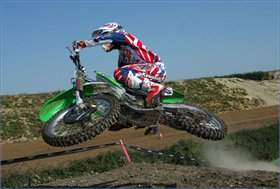 Stewart's scrub has made an international impression

photo: TFS
Seeing Villopoto wear #2 is interesting, because I'm getting the feeling that's a number we might see him wearing throughout the rest of his career. With Jeremy likely not racing next year, the number may open up, and Villopoto would be a worthy recipient. (And if you're thinking they should maybe retire #2 for Jeremy, I don't think he wants that—Jeremy will always be remembered as #1.)
Once again, the gang at Alpinestars has really stepped up to help Team USA and some of their other top riders. The hospitality rig is packed with red, white, and blue for most of the day, and Gabrielle Mazzarola and his crew are excellent hosts. It's amazing the stuff you find out sitting at those tables over lunch….
So will we win tomorrow? If the weather holds out, I think so. The track looks a lot like Steel City, though it's got much bigger jumps and the clay can be tacky. They did an amazing job getting it in shape after yesterday's deluge, so we should hope for the best. What's weird is seeing how many guys have adopted the American supercross style—particularly Cairoli, the very fast Italian. While Carmichael's work ethic will always be the standard, I think it's safe to say that Stewart's scrub move is the most influential technical development since guys like Keith Bowen and Jean-Michel Bayle started blitzing the whoops rather than jumping through them two and three at a time.
Jeff Emig has been here all week with "Fro-in-Law" (his brother-in-law Josh) and Tony Strangio. He had a chance to do a little Superbike riding out at Donington Park with James Dobb, Britain's last motocross world champion, and Leon Haslam, the son of road racing legend Ron Haslam, who runs the riding school there (www.haslamraceschool.com).
Fro and his crew joined me on our little tour of London a couple of days ago. Being a huge history buff, I often take the lead when we tour other countries, and Emig is a pretty serious student of the old school. We went to the British Imperial War Museum (the coolest museum in London), St. Paul's Cathedral, Westminster Abbey, 10 Downing Street, the old Temple Bar gates, Trafalgar Square, and more.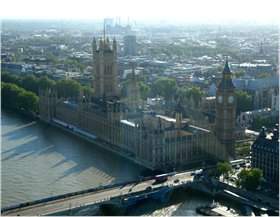 London is one of coolest places in the world
photo: Simon Cudby
It was in the war museum that I saw the 1932 Brough Superior SS100 that
T.E. Lawrence
crashed and died on. He was better known as Lawrence of Arabia, and he died on his way through Cloud Hills when he swerved to miss two boys out on the road. It's probably the most famous motorcycle in the world. Having mentioned that, I can now write this whole trip off.
Strangely, we also bumped into Fox Racing's Chris "Beeker" Onstott and his girlfriend Megan as they were getting off the subway over near Kensington. They joined the tour, along with Tim and Amy Ritchie of Red Bud fame and MX Sports' Tim Boryk, Scott USA's Bevo Forti, and "Spy" Johnny and "Scott" Johnny. And somewhere in London, AMA Tours had a huge group of people running around, including "Bad" Billy Ursic.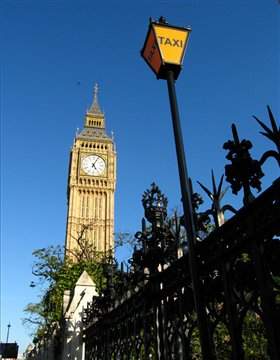 London's Big Ben
photo: Simon Cudby
Coincidentally, the Ryder Cup is also taking place in the United Kingdom, though it's over in Ireland. It's a golf match between the ten best Americans and the ten best Europeans, and it's strange how big the event is here. It's front-page headline news everywhere here, and every bar has people watching it on TV. It's the Motocross des Nations of golf!
They announced the winner of the Etnies Moto Photo contest on their site.

There are also wallpapers for the top eleven photos.

Unfortunately, that's all I have time for. We're up against a deadline, there's a million people running around here, and I have another meeting to attend. I apologize again for not carving out more time, but this is a busy week.
But in closing, I want to mention Dave Mungenast, who passed on September 20. Dave was a motorcycle man through and through, not to mention a Green Beret, a business entrepreneur, and just one of the most extraordinary gentlemen I have ever had the pleasure of knowing. He lived an absolutely full life, filled with doing the right thing by so many people…. I can't even tell you what a good man Mr. Mungenast was. If you ever had the pleasure of meeting him, you know what I'm saying. We've lost one of our best.
To learn more about Dave Mungenast, please visit Ed Youngblood's site: www.motohistory.net/news.html.
Next week, Racerhead will be back on schedule. Thanks for your patience, and thanks for reading. Go, Team USA!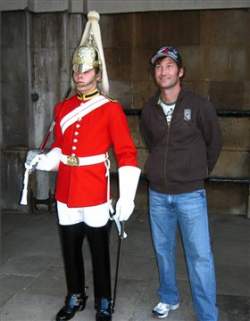 photo: Simon Cudby