Thursday Rev-Up: Moto Epiphany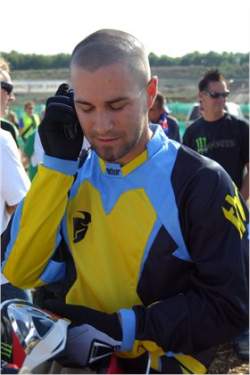 "Ivan, this is Ricky. That bike likes the throttle wide open, got it?"
photo: TFS
Hello, everyone, and welcome to the Rev-Up. While staring across the office at "Bad" Billy Ursic's empty desk, I had an epiphany: There is a reason motocross is the second-largest-attended motor sport in the country and growing at such a rapid rate.
Billy's desk is empty because he jumped on an airplane yesterday and flew across the Atlantic Ocean to Great Britain. Billy is a normal kid who grew up on a farm and spent his weekends racing motocross. His riding career didn't lead him to Anaheim 1, but it land him at
Racer X
. Today, Billy's involvement with motocross landed him in a different country to see historic sights and the 2007 Motocross des Nations. While his path and story is truly exceptional, it's just another—and my most recent—example of how cool motocross can be. There are so many educational opportunities if you make the most out of the motocross experience. Let's talk about how cool motocross is for while, and hopefully along the way you may have an epiphany of your own as to why the 2007 Motocross des Nations mean so much.
You are in the middle of a heated battle. You are three laps away from the finish of the first moto at Fat Whip Raceway. All of a sudden, the kid in front of you hits the kicker on the finish-line step-up and you see his feet rise off the pegs and hear his bike panic rev. Out of the corner of your eye, you see the ensuing calamity of riding gear and broken fenders crash off to the side of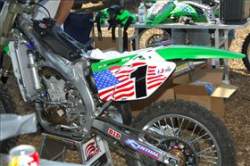 James will now run the big #1
photo: TFS
the track. Your initial reaction is, "Damn, better you than me." The next lap, you come around and see a half dozen yellow flags and a couple white-and-red medic's flags urgently pointing you to the opposite side of the track. As you slowly ride by, you fight the urge to look. The final lap of the race, you can barely hit your lines because you want to know is if that guy was okay. Two weeks ago you hit that same kicker, and you know exactly what kind of drama comes with endoing on that step-up. You finish the race, and as you're taking your gear off, you see the guy who went down walk back to his trailer and sit down in a lawn chair. His dad is standing by his bent machine with his hands on his hips. You walk over, ask him if he's okay, and tell him you did the same thing a couple of weeks ago. Right there, you have pal for life.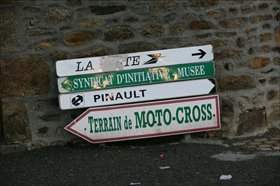 I think that says "terra firma" at the bottom.
photo: Simon Cudby
That's just a fictitious example. You don't need crashes to form that kind of bond, either. Maybe it was just an epic five-lap battle where you bounced off another rider turn after turn and squeaked ahead right at the checkered flag. Nine times out of ten, I would be ecstatic if I won or lost. Usually both dads are happy too, because both riders were going for it. On any given Sunday you can venture out to a track and watch kids walking the track together and using hand gestures and sound effects to show how to hit a rhythm section. Later in the day, those same kids will race each other like their lives depend on who wins the moto. Later that night, you can see the same guys walking around trying to chat up girls or berming around the blowout area on their pit bikes. It's the common pain and struggle we motocross folks share that forms such tight and lasting friendships. It's so much more intense than any stick and ball sport can offer. Or is it?
Do you know what it's like to be hit with a 70 mph fastball playing high-school baseball? How about being a 130 lb. freshman running back and running up the middle against 180 lb. linebackers? Hey, I don't know what it's like, because I was out practicing turns behind my dad's shop. But I hear both of those instances are no disco and are akin to casing a triple or swapping out in a high-speed sweeper.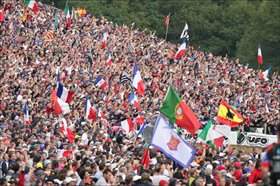 The world will be watching
photo: Simon Cudby
I stand fast, though, that motocross is a greater sporting element in the educational and cultural opportunities it offers. For instance, I have a trip to Niagara Falls planned for this weekend with my girl. She asked me if I had ever been there before. I replied that I had raced there in 1995 and 1996 in the arenacross series. It reminded me of how many other places and things I got to see just because of motocross. The Grand Canyon, the Hoover Dam, the Great Salt Lake, the redwood trees of the Santa Cruz National Forrest, and the Florida Everglades, to name a few. Trying out for the Emporia High football team would never have taken me to Las Vegas. Playing junior varsity soccer didn't land me in Mile High Stadium. Motocross did.
Billy Ursic's motocross involvement has him getting ready to watch the greatest motocross event of the year in a country he likely would never visit if he had pursued his early interest in the school debate team. (Just kidding, Bill!) Like I mentioned, he is truly an exception. Guys like him and Davey Coombs, David Pingree,
Ryan Clark
, and Jeff Emig are very unique in what they can do other than go fast on a dirt bike. And earlier this week I received word that
Tommy Hahn
will be moving into the factory Honda big rig. I met Tommy at a shanty track in Kansas when he was a squeaky, curly-haired kid, and now he's racing as a member of the most elite team in the sport.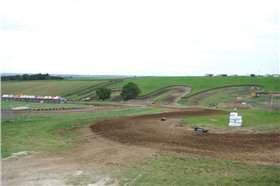 This is where it will all go down
photo: TFS
Ninety percent of you reading this are motocross people. And if you are a motocross person, there is nothing going on this weekend that can match the importance of the upcoming war of the worlds. Here in America, we are still the best motocross racers. I don't know about you, but that means a lot to me. It makes me very proud of my heritage as a former professional American motocross racer.
I want to extend my personal well-wishes to Team USA. Good luck, RV Park, just go out there and pretend there's a #800 on the back of everyone in front of you. James, just win, baby. Don't try to spin the world off its axis by going ludicrous speed. Just win. Ivan, just be the man you were last year. And Ricky, if you can ride, kick their asses! Good luck, boys.