Between the Motos: John Dowd
September 20, 2006 11:06am
Team USA is headed to Europe this week, but another American hero just got back from there: The veteran John Dowd took his family on a racing vacation to Sweden. Dowd was invited over for a Swedish Championship race at Vimmerby by Ola Svensson of Pulseracing Sweden. The race took place at Vimmerby, the old Grand Prix and Motocross des Nations track, and the forty-one-year-old Dowd acquitted himself well with a 1-4 moto tally for a podium finish.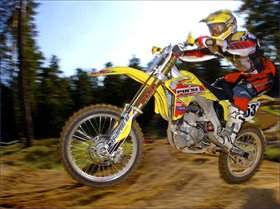 John Dowd at Vimmerby
photo: Racefoto.com/M.Andersson

Racer X: I understand you went racing in Sweden at Vimmerby. I was actually there a long, long time ago for a GP.
John Dowd: Yeah, it was pretty cool. The thing I didn't like about it was that it was kind of a sand track and pretty loose on some sections, but there was a hard base to it underneath. It got some big holes in it, and I don't like that. I have trouble with that for some reason. I'm good in the sand, but if there's hard stuff in there it screws up my rhythm. It was a little skinny there this year too. Some of the local guys were telling me it used to be wider, but over the years it's gotten narrower.

How did you get over there in the first place? If I'm not mistaken, this is the second year that you've raced this particular event, right?
Yeah, last year I went to race. Ola, who owns Pulse Racing, is just really into bringing over riders. The fans there like it and so do the riders, I guess. I think he brought Ryno over before me. Somehow he got in touch with me, and it worked out great—especially this year, because I really didn't have anything going on. It was fun.

What was it like taking the two kids over?
It was really neat. It seemed like the enjoyed it, so that made it better for us.

How were they with the time-zone changes?
[Laughs] Well, that's a different story. It was hard at time, and both of my kids are high-strung. I don't even think they slept on the way over. We had a red-eye flight, and they maybe slept an hour. They were still going wide open the next day.

Was it sunlight most of the time?
No, not at all. I never knew that about Sweden—that it gets either stays light in the summer or really dark in the winter for almost the whole day—but both of the times I was there it got dark at the normal time. It was pretty just the time of year I went.

How was the competition?
Well, I went 1-4, and actually, there were three or four guys that were pretty fast. I mean, I won the first moto, but I only won it by ten seconds. Last year I actually did a little better—I won both motos last year by a good margin. Last year I think I was in a little better shape and I had my own suspension and everything. This year I didn't have any of my own stuff, and in the second moto I screwed up my start.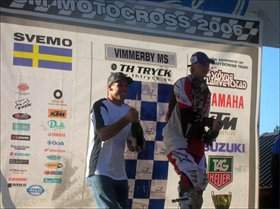 Dowd on the Vimmerby podium

How long were the motos?
They were thirty-five minutes plus two laps, so I was hurting at the end of those things, for sure! I guess apparently I missed the two-lap board by like fifeetn seconds in the first moto, so I went like thirty-seven minutes plus two laps.

Did they have a backward-falling gate or forward?
It was a backward gate with a concrete start, which normally isn't a problem, but I just spun real bad. The way the track was it seemed to be really hard to pass, and it took me a long time to get by guys and get up there.

Once upon a time, Sweden was the place for motocross in Europe. In the 1960s and '70s lots of world champions came from there [Torsten Hallman, Rolf Tibblin, Bengt Aberg, Hakan Andersson, Hakan Carlqvist] but when Husqvarna moved to Italy, it started to change. Did you see any hints of past greatness there? Did a lot of fans come out and did everyone treat you well?
It seemed like there was a good amount of fans there, and I felt pretty welcomed there. I did have people asking for my autograph and stuff like that. It wasn't the same size crowd we'd have here for a national. But overall, it was a pretty cool place.

Did your son Ryan get to ride?
No, not over there. There really wasn't any little bike stuff going on.

Did you do any tourism-style stuff?
Not really. We just did some shopping in town and went to the ocean and looked around. We went fishing, too, and I caught some sort of a Swedish pike fish. It bit me! It surprised me because I didn't expect it to have teeth. It was long and skinny and I guess the bigger ones actually eat other fish and birds.

Now, you have a trip tomorrow—aren't you going to Upper Peninsula ride in Michigan with Parts Unlimited?
Yeah, I have a flight at like 6:15 a.m. in the morning. That thing is fun, though.

I've heard the riding up there is amazing.
Yeah, I love it. The trails up there are awesome. Everyone is just hanging out and riding—a bunch of guy stuff, I guess.

Thanks, JD. And belated Happy Birthday on your 41st
Thanks, DC.